Chicago area up 241K jobs, rest of Illinois down 41K jobs from before recession
Illinois' uneven recovery reflects national trends, but also raises important questions about the state's economic future ahead of a key tax hike vote.
Illinois' economic dependence on the Chicago area is pretty clear, so if the Chicago-area job market slowed down or even began shedding jobs the outlook for the rest of the state is not good.
There are signs that picture is developing, and that a tax proposal could quickly make it ugly.
During the Great Recession downturn from November 2007 – November 2009, jobs plunged across Illinois. Then began a recovery and expansion that continues today but is unevenly distributed across the state. On net, the Chicago area is up 240,900 jobs from before the Great Recession until present, while the rest of Illinois is still down 41,300 jobs.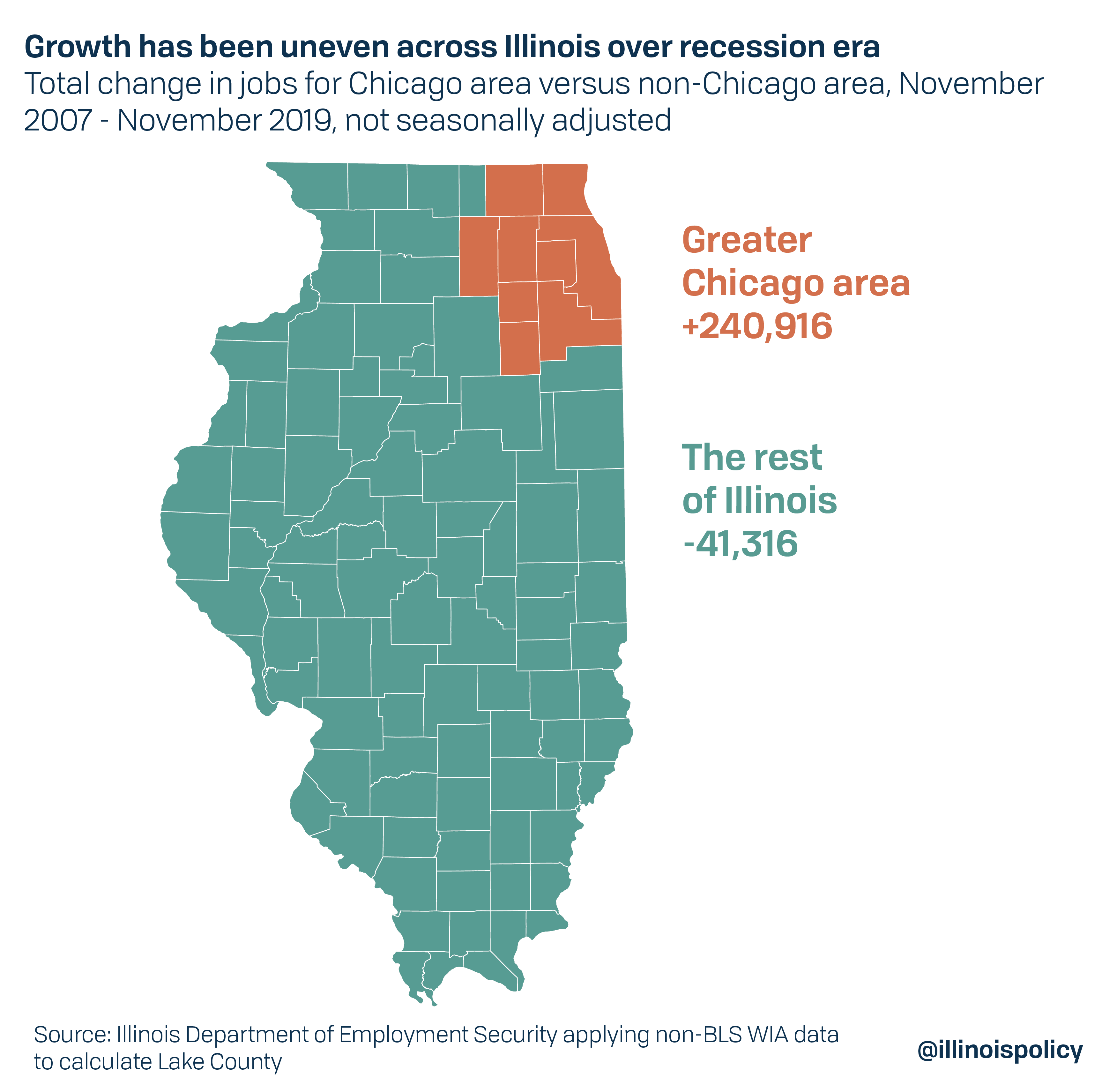 Megacities such as Chicago have been the beneficiaries of globalization and deep, secular economic trends.
However, Chicago consistently underperforms other large and mid-sized American cities in terms of economic expansion, population growth and real estate appreciation. Chicago remains affordable compared to the coasts, but repeated tax and policy blunders threaten the competitiveness of Chicago's high-end industries.
A recent Brookings Institution study named the Windy City as the nation's biggest loser of "innovation industry" jobs from 2015-2017, dropping 12,600 jobs across innovation industries. The study focused on the 13 highest-tech, highest-research and development industries that drive productivity gains and thus economic growth. Chicago's economic future depends on successfully attracting these high-growth industries.
Chicago's business real-estate market is also pointing down, according to a study from Real Capital Analytics. Chicago prices for office buildings, apartment properties, retail properties and industrial real estate fell by 4.1% year over year, a worse performance than Hong Kong (-2.6%), which is locked in a months-long standoff with the Communist Party of China.
Even though the Chicago area has dramatically outperformed the rest of the state from before the recession until now, it has vastly underperformed other large metro areas. Chicago has only seen 5.3% net jobs growth since November 2007, beating out only Detroit at 3.5%, which underwent bankruptcy during these years. Dallas has the best jobs boom of all major metros, with five times the growth rate of Chicago.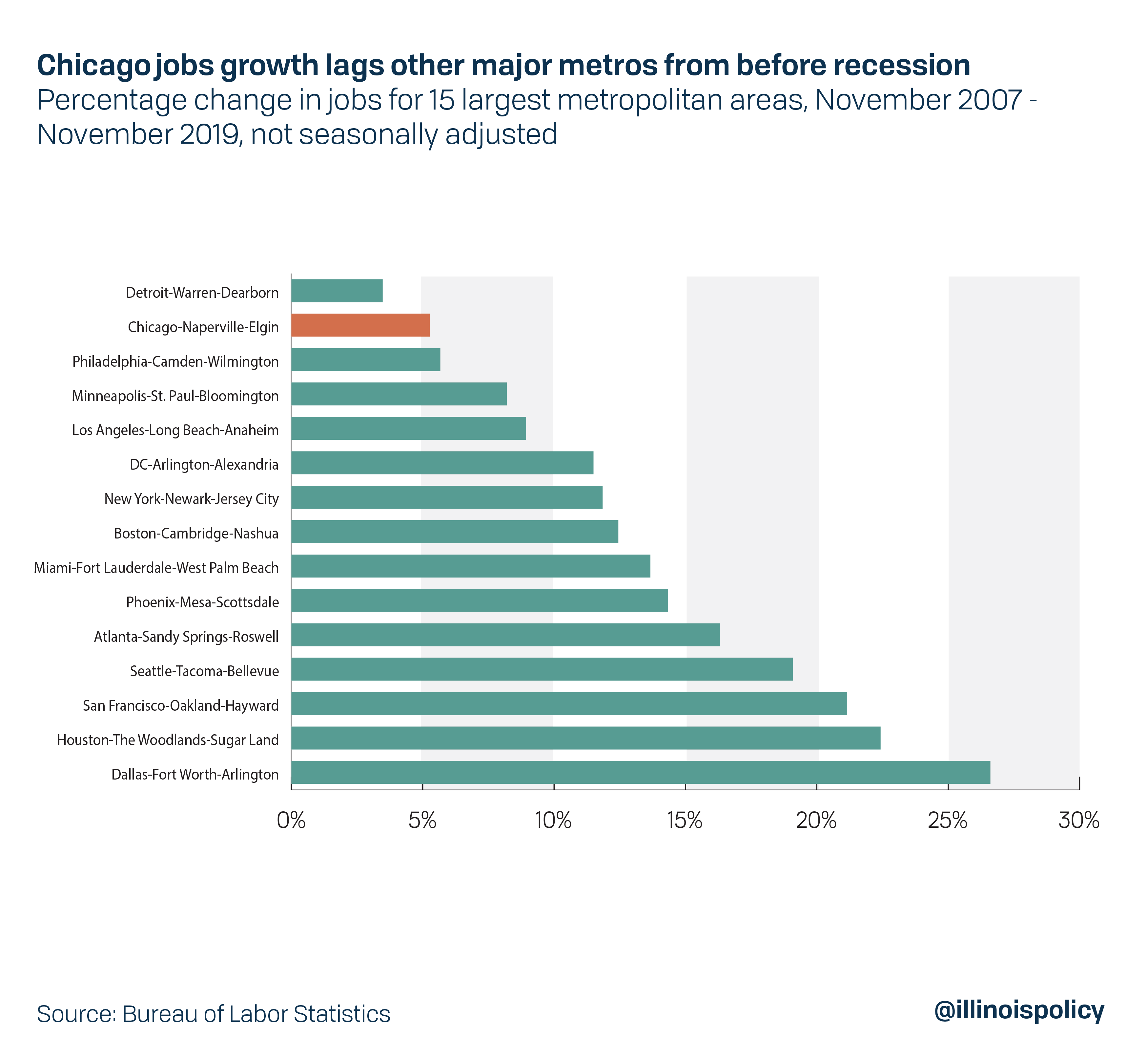 A 2018 analysis by Green Street Advisors warned Chicago is nearing a death spiral of taxes and resident loss, a point at which tax increases drive away enough taxpayers that the increases become highly inefficient.
If real estate investors are correctly anticipating a weaker jobs market in Chicago's future, where does that leave the rest of the state?
That is the question policymakers should be asking themselves.
Downstate Illinois communities are on the wrong end of both global trends and a state policy environment that is uncompetitive and getting worse. A $15 state-wide minimum wage will undoubtedly make downstate communities less competitive while having proportionately less negative impact on Chicago, where labor costs and the cost of living are already significantly higher.
A significant portion of Gov. J.B. Pritzker's progressive income tax is a tax on capital, as much of the plan's revenue comes from higher taxes on corporations, pass-through businesses, and capital gains and investment returns. Rates will increase by 3 percentage points across the board for many investors, making the Chicago area uncompetitive and unwelcoming for some of the investments that drive the growth of innovation industries.
Large parts of Illinois' economy are already uncompetitive. A progressive tax that punishes investment will only fade Chicago's remaining advantages.