Chicago dominates competition for most red-light cameras
Chicago has more red-light cameras and revenue from them than any other large city in America. The cameras are costly for drivers, create government mistrust and foster corruption.
Chicago can claim another title from other American cities: more red-light cameras and more revenue from them than any other major U.S. city. It's not even close.
Out of the 10 largest cities in the United States, only four actively operate red-light cameras. Chicago is joined by New York City, Philadelphia and Phoenix in operating the traffic control devices.
Chicago currently has 309 red-light cameras in the city, according to data obtained through the Freedom of Information Act. At the peak of the program in 2010, there were 394.
New York City has 164 cameras. Philadelphia is third, with 30 cameras. Phoenix follows with just 12. To put it in perspective, Gurnee, Illinois, has 15 red-light cameras.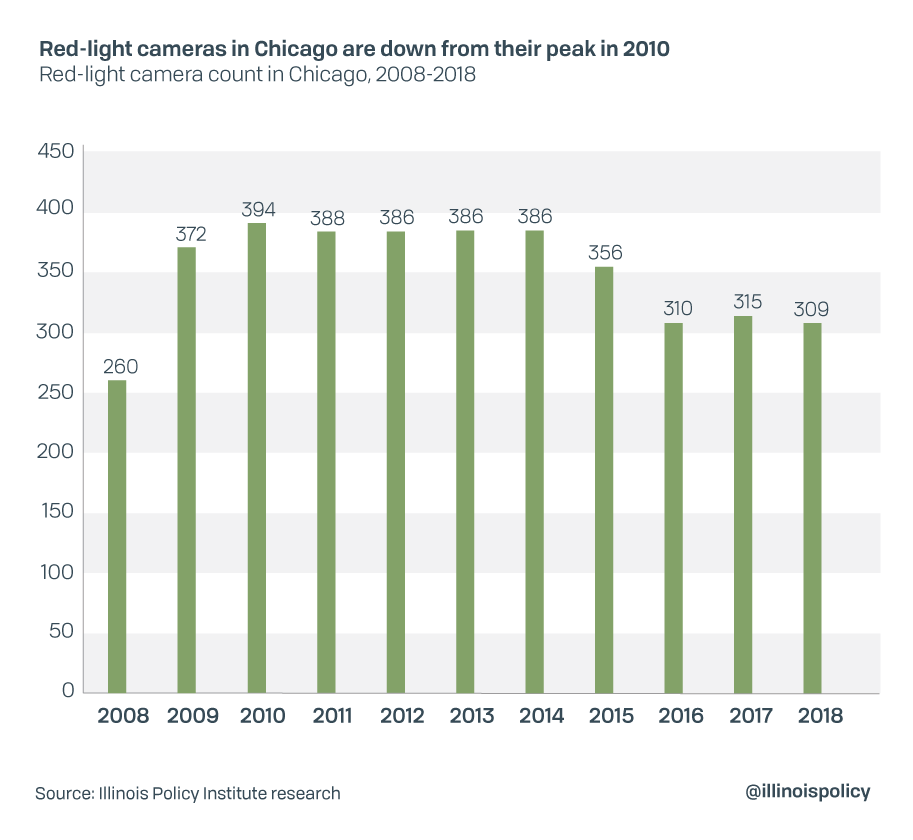 Chicago's revenue is far greater as well. Since 2008, Chicago has amassed $719.7 million from red-light cameras. New York City has gathered $286.7 million since the program started in 1994, a decade before Chicago. Chicago has managed to raise over twice the revenue New York City has accumulated in half the time. Philadelphia and Phoenix do not publically publish the revenue generated from the cameras, but it is unlikely their relatively few cameras generate near the revenue that Chicago's do.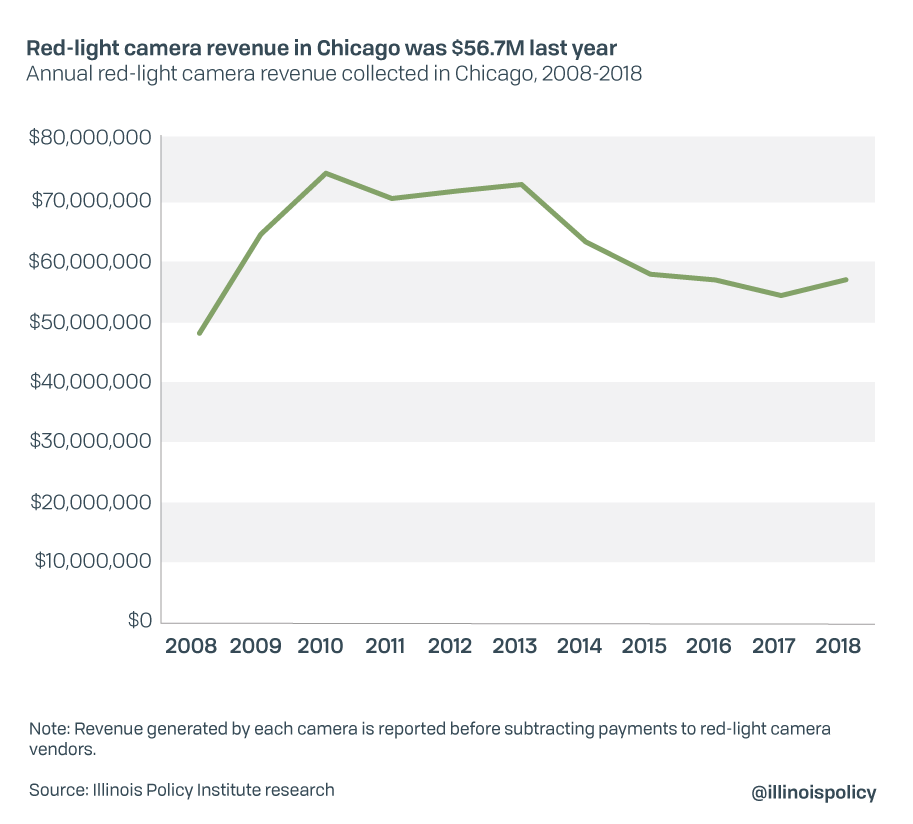 Red-light cameras in Chicago have been a frustration for drivers, plus they carry the added cost of creating opportunities for government corruption.
Leaders from both Chicago and Redflex Traffic Systems Inc. were sent to prison in 2015 and 2016 for their roles in a bribery scheme. John Bills, formerly of the city transportation department, was convicted on 20 felony counts in a scheme in which he accepted hundreds of thousands of dollars from Redflex in exchange for ensuring the company's continued presence in Chicago. The scheme helped make Chicago home to the nation's largest red-light camera program. Redflex's CEO was also sentenced to 30 months in prison. In response, Chicago terminated their agreement with the company.
Another probe involving red-light cameras threatens to rock Illinois once again. State Sen. Martin Sandoval, D-Chicago, had his Springfield office raided for information about his dealings with camera vendor SafeSpeed LLC, according to the Chicago Tribune.
Regardless of where they are installed, red-light cameras lack clear safety benefits. A 2018 study from Case Western Reserve University found that red-light cameras likely do not increase traffic safety. Researchers looked at traffic accident data from Houston, which operated its red-light camera program from 2006 to 2010, and found that while T-bone collisions did indeed decrease during that time, non-angle collisions, such as rear-end crashes, actually increased. Moreover, rather than reducing traffic accidents, the study found that red-light enforcement cameras may have increased accidents overall.
A similar study by the Tribune in 2014 found the same results: rear end crashes were up 22%. In some cases, the number of crashes at an intersection actually increased after the camera was installed. Many cameras in Chicago were also placed at intersections that already had few accidents.
Although a 2017 report paid for by the Chicago Department of Transportation recommended Chicago continue its red-light camera program, the university study's less favorable findings follow that of other independent research on red-light camera programs.
While Illinois has been slow to follow the nation's hard turn away form red-light cameras, a recent push to ban the devices has found bipartisan support in the Statehouse. In January, state Reps. David McSweeney, R-Barrington Hills, and Jonathan Carroll, D-Buffalo Grove, introduced House Bill 323, which would ban the use of red-light cameras statewide. On Oct. 4, state Reps. Rita Mayfield, D-Waukegan, and Sam Yingling, D-Grayslake, signed on as chief co-sponsors.
On Oct. 7, state Reps. Grant Wehrli, R-Naperville, and Mark Batinick, R-Plainfield, introduced a second bill to ban the cameras, House Bill 3909. State Rep. Margo McDermed, R-Mokena, recently added her name to the proposal.
Texas Gov. Greg Abbott signed a bill in June 2019 to ban red light cameras throughout the state. Texas politicians said the cameras simply declared drivers guilty without giving them a chance to defend themselves, and only for the sake of profit for local governments.
Red-light camera programs diminish trust in local government, and impose unfair financial burdens on residents subject to questionable ticketing practices.
Whether or not they are proven to be part of Illinois' culture of corruption, communities should bring the programs to a full stop.