Chicago teachers' strike, salary demands ignore what Chicagoans can afford
During the past 10 years, the median salary for a Chicago teacher has grown 75% faster than the median salary for private-sector Chicago workers.
Chicagoans on Oct. 17 face the start of a Chicago Teachers Union strike as the union continues to push for a long, expensive list of demands including higher wages – wages that the data shows have been growing far faster than the pay of the taxpayers who fund them.
Union officials are stopping work over higher salaries, lower health care costs, lower class sizes, 55 new community schools, thousands of additional support staff, affordable housing and much more. The extra salary expense, additional support staff and new community schools alone could cost the average property taxpayer at least $235 more, compared to the mayor's offer costing $13 more, if the new contract were solely paid through property taxes.
Nearly 60% of college-educated Chicago workers earn less than the median Chicago teacher salary of $75,000, data from the U.S. Census Bureau shows.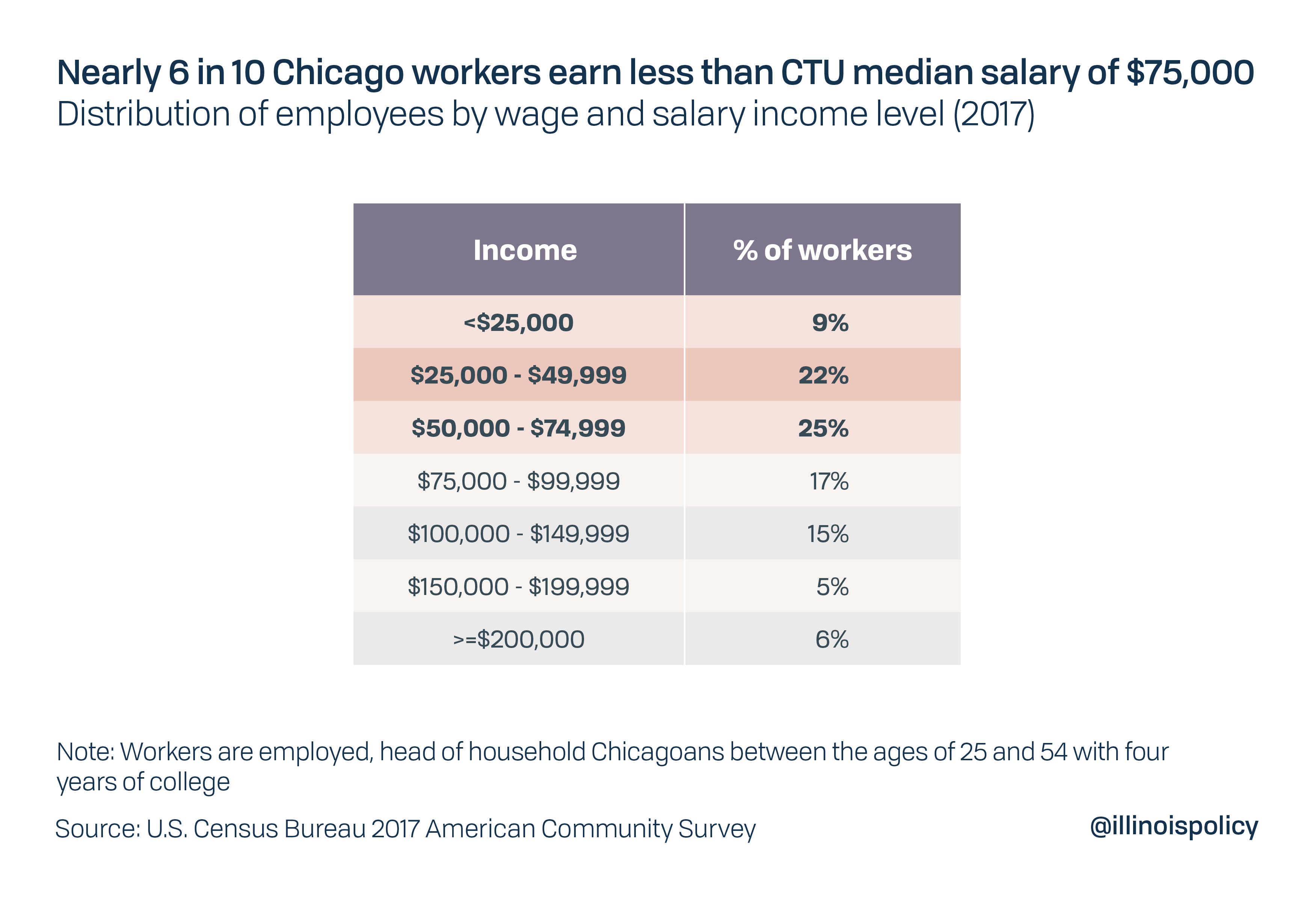 Also, since the recovery from the Great Recession began in 2009, the median Chicago teacher salary has grown 75% faster than the median salary for all Chicago workers.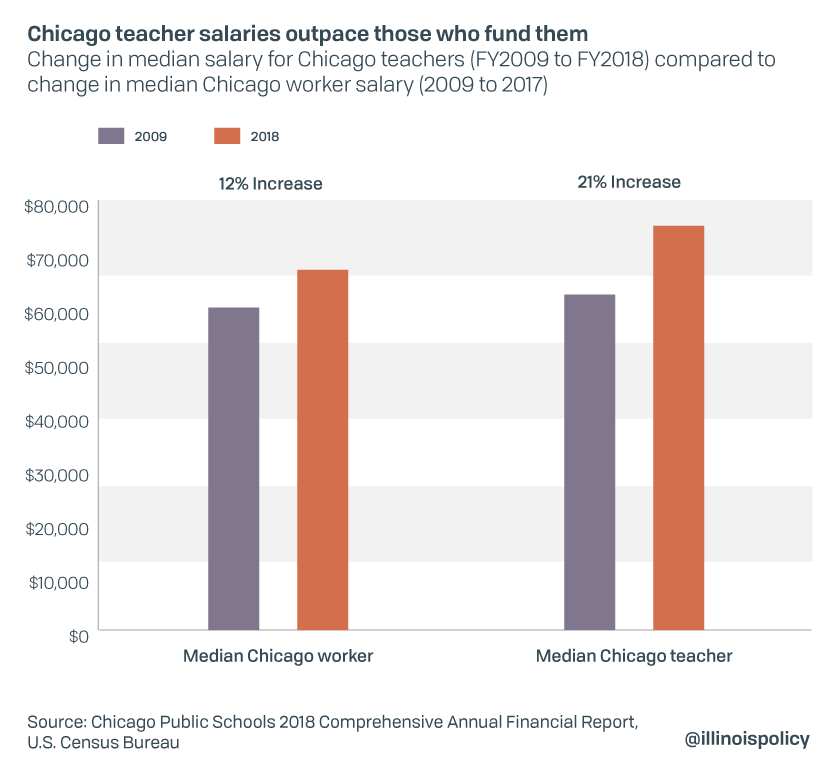 The difference is even more dramatic when looking at individual workers. Because of automatic annual pay increases based on seniority, known as "step increases," a newly hired teacher in 2009 would have seen their annual salary grow from $56,561 to $102,116 today. That's an 81% increase in just 10 years, a rate of growth practically unheard of in the private sector.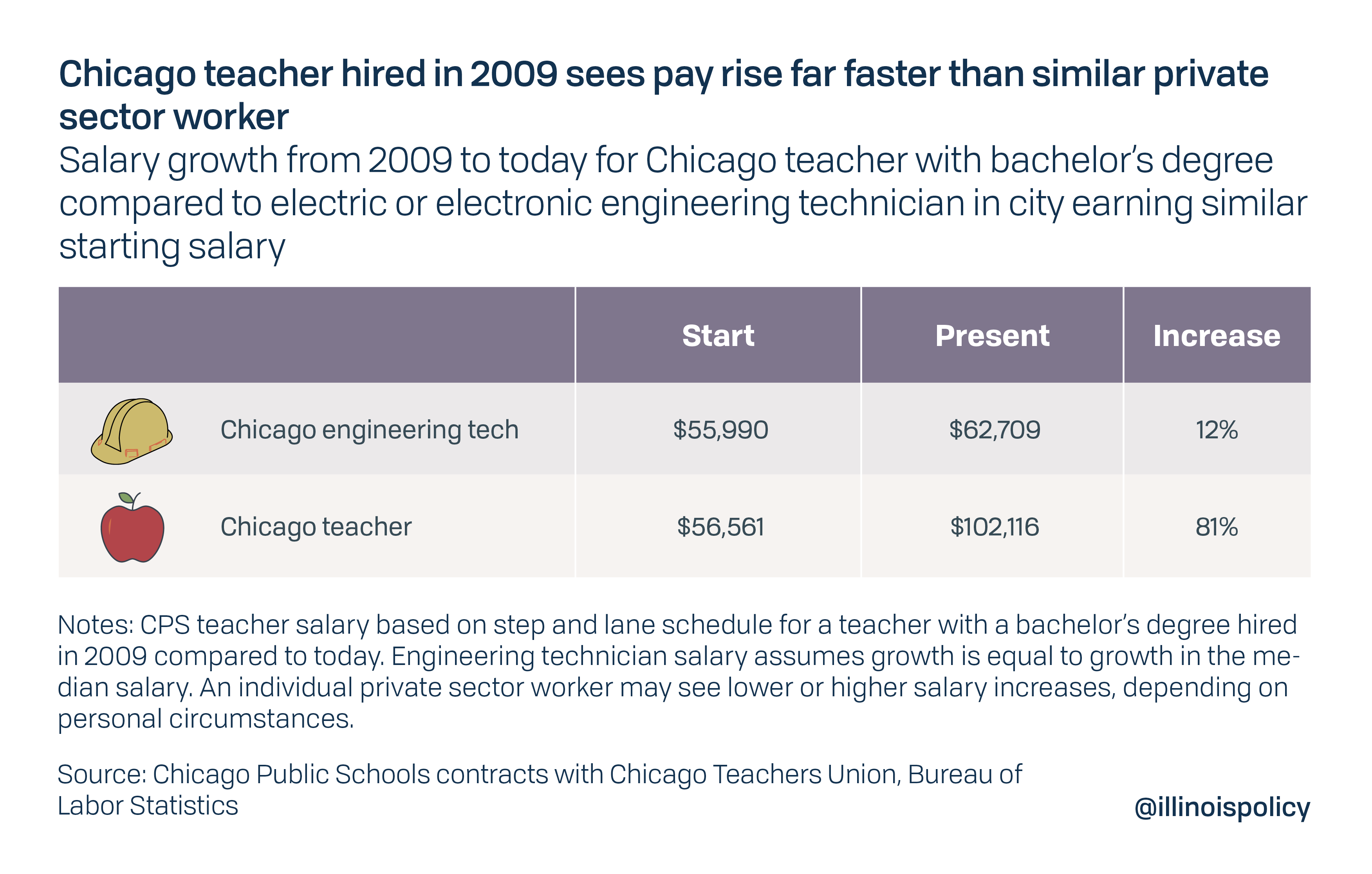 While the salary for any individual private sector worker is going to vary based on personal circumstances, such as promotions or switching companies, looking at a hypothetical range of typical increases is instructive. An electric or electronics engineering technician who started in 2009 with a bachelor's degree would have had a starting salary of $55,990, similar to the Chicago teacher's starting pay. However, the technician's wages would have grown much more slowly during the past 10 years.
If the employee's wages grew at the rate of the median salary, they would make just $62,709 today, a 12% increase. If the employee received raises equal to the increase for the median technician, or 22%, they would be making just $68,530 today.
CTU's demands show callous disregard for taxpayers. During the past 10 years, property tax collections at CPS have grown twice as fast as the median household income while CPS debt has grown 6 times faster than residents' income. This means taxpayers are being asked to pay ever more to fund salary and benefits most could never hope to receive in their own jobs.
What's worse, the people hurt most by CTU's unreasonable demands and decision to strike will be the 360,000 Chicago students who will now miss instructional days. Research shows that teachers' strikes can permanently harm educational achievement for affected students. Perhaps this is why Chicago is an outlier among major cities in explicitly allowing teacher strikes to begin with.
Mayor Lori Lightfoot's last contract offer to the union is more than generous. CTU must be willing to accept a contract that is fair and affordable for taxpayers.