Teacher strike easiest in Chicago among 10 largest U.S. school districts
Teacher strikes are illegal in 8 of the top 10 largest school districts in the nation. Maybe that's why a third Chicago Teachers Union strike in seven years looms.
Members of the Chicago Teachers Union are voting through Sept. 26 on whether to authorize a strike, and if 75% of voting members agree the teachers could walk out as soon as Oct. 7.
Strike threats are not uncommon in Chicago. CTU has a long history of walking out on the over 370,000 children in Chicago Public Schools, with the union orchestrating two of the nation's largest public employee strikes in the past decade.
It's unfair to students and causes great stress for parents, leaving them in the lurch. Unfortunately, Illinois law allows unions to place their own agendas above what is best for the state's public school students.
That isn't the case in the other top 10 largest school districts in the U.S. In fact, teacher strikes are illegal in eight of the 10.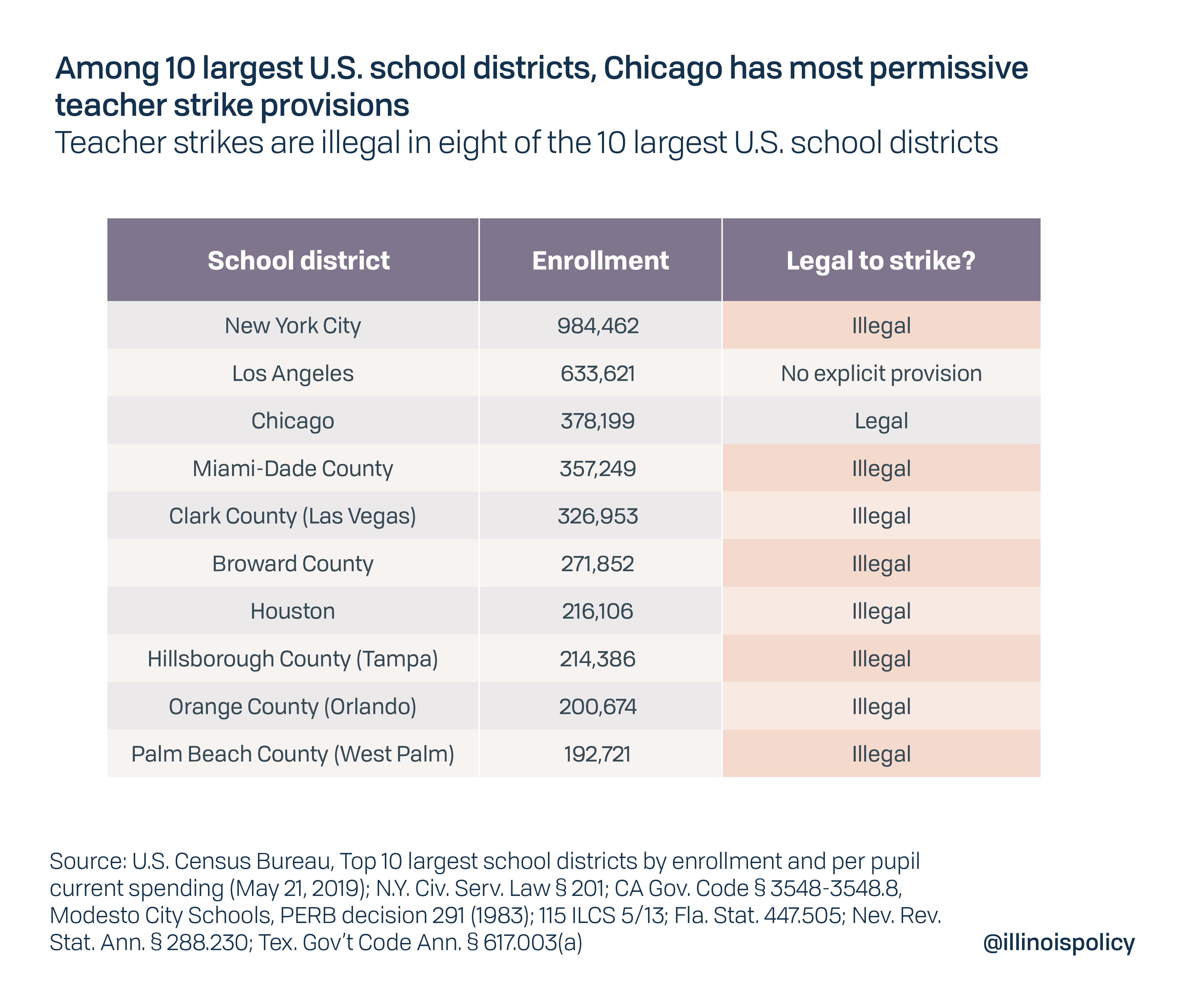 While strikes have occurred in Los Angeles – the second-largest school district – there is no statutory allowance for strikes in California. Strikes there have been allowed on a case-by-case basis.
That makes the Chicago Teachers Union the outlier, with state law sanctioning teacher strikes.
CTU willingly uses this sanction as a weapon against the school district to get what it wants in negotiations, even if it ultimately harms students and their families.
In 2012, CTU went on strike, causing students to miss instruction time and students' families to scramble to make alternate arrangements during the strike, which lasted seven school days. Thousands of students had no place to go during the day.
The 2012 strike also had longer-term effects. In the months after the strike, CPS had to close 50 schools and lay off thousands of employees.
Then on April 1, 2016, CTU once again turned its back on students and parents by calling a one-day strike.
What's more, the union even punished teachers who chose to support their students that day. Joe Ocol, a teacher and chess coach in Englewood, one of Chicago's most economically disadvantaged neighborhoods, went to school April 1 to coach his chess team – and his team subsequently took home a national championship. But CTU did not look favorably on Ocol's decision to prioritize his students over the union's agenda, and it expelled him from the union.
The Illinois Educational Labor Relations Board subsequently found the April 2016 strike was likely illegal. But the damage had already been done.
CTU almost walked out again in September 2016. The union obtained the member vote authorization to go on strike, but a contract with CPS was negotiated at the last minute. CTU also considered walking out once again May 1, 2017, but that strike was tabled.
CTU's latest demands – and threat to strike – will hurt students, parents and taxpayers. Mayor Lori Lightfoot has offered a generous contract with a 16% salary hike over five years, in line with the recommendations of an independent fact-finder involved in the negotiations. But CTU is demanding 15% over three years.
In total, CTU's demands will cost taxpayers more than $1.1 billion over three years, compared to Lightfoot's offer, which would cost $216 million over the same time. If property taxes were used to settle all CTU's demands, the typical Chicago homeowner would see a $221 hike just in the first year. The average teacher's salary would close in on $100,000, with seniority factored in.
Going on strike has become CTU's go-to weapon against the Chicago Public Schools administration, and it's completely sanctioned by state law. Yet the real victims are the students, parents and taxpayers who suffer from CTU's demands, even before they are granted.