Chicago Teachers Union defies its own rules with $1.5M more in member dues to Johnson
To date, the Chicago Teachers Union and its affiliates have funneled nearly $5 million to the mayoral campaign of Brandon Johnson, ignoring member criticism and violating union rules.
The Chicago Teachers Union and its affiliates have bankrolled nearly 65% of Brandon Johnson's campaign as they try to put their employee in the Chicago mayor's office. 
The most recent CTU contribution: $1.5 million described in CTU's election board filing as "dues," despite the fact the union's own handbook promises members "dues are not used for political purposes."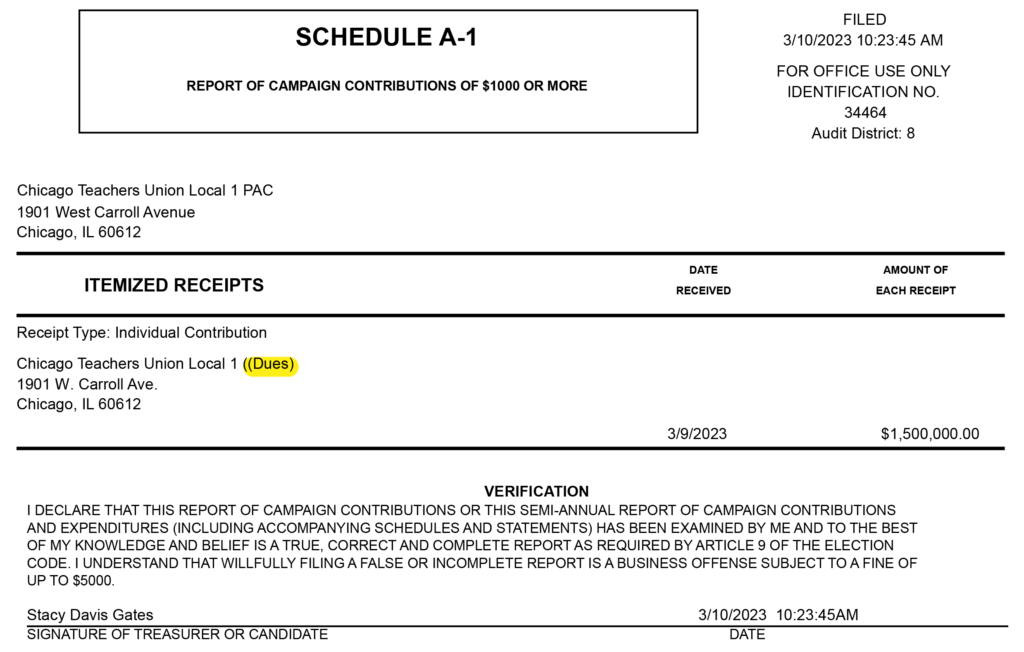 To date, the Chicago Teachers Union and its political action committee have funneled nearly $2.3 million to Johnson, according to the Illinois State Board of Elections. That is almost eight times more than the $291,000 it put into Toni Preckwinkle's failed mayoral bid in 2019.
The CTU's parent affiliates are also strongly behind Johnson, with more than $1.68 million from the American Federation of Teachers and more than $940,000 from the Illinois Federation of Teachers. Grand total: nearly $5 million.
The majority of Johnson's $7.6 million in funding has come from unions. Less than 5% of it has come from individuals or non-union sources.
CTU representatives voted March 8 to use $8 per month of each member's dues through June in support of Johnson's mayoral bid, pledging up to $2 million to land the union's lobbyist in the city's top office.
While the union's House of Delegates voted 70% in favor of using member dues to support Johnson, the use of dues for political purposes has drawn criticism from some union members who felt the vote lacked transparency and could potentially violate rules within the member handbook.
For at least the past five years, Johnson has been on the union payroll and taken in over $390,000 as a "legislative coordinator," according to documents CTU filed with the U.S. Department of Labor. At the same time, he was also earning a salary as a Cook County Board commissioner.
Johnson's response to a question during the Feb. 7 WTTW mayoral forum doesn't bode well for his ability to remain neutral toward the union if he were to negotiate with them as mayor when their contract is up in 2024. When asked where he differs from the CTU, Johnson answered, "What kind of question is that?" He never answered the question.
Johnson's election night speech also highlighted CTU's role in his mayoral bid. After thanking God and his family, his third priority in giving thanks went to the city's government unions, including CTU.
His inability to distinguish himself from the union backing him makes it likely Johnson would continue pushing CTU's agenda if he were mayor. That leaves the union negotiating with itself, and no one guarding taxpayers' interests.