Chicago Teachers Union spends less on representing teachers under Stacy Davis Gates
Just 17% of CTU's spending in 2023 was on representing its members – down from previous years on record.
The Chicago Teachers Union has never prioritized spending on representing members, according to reports it files with the U.S. Department of Labor.
But that spending has dropped even farther under the leadership of Stacy Davis Gates.
Just 17% of the Chicago Teachers Union's spending in 2023 was on "representational activities" – what should be the union's core purpose. The rest was spent on administration, politics and other union leadership priorities.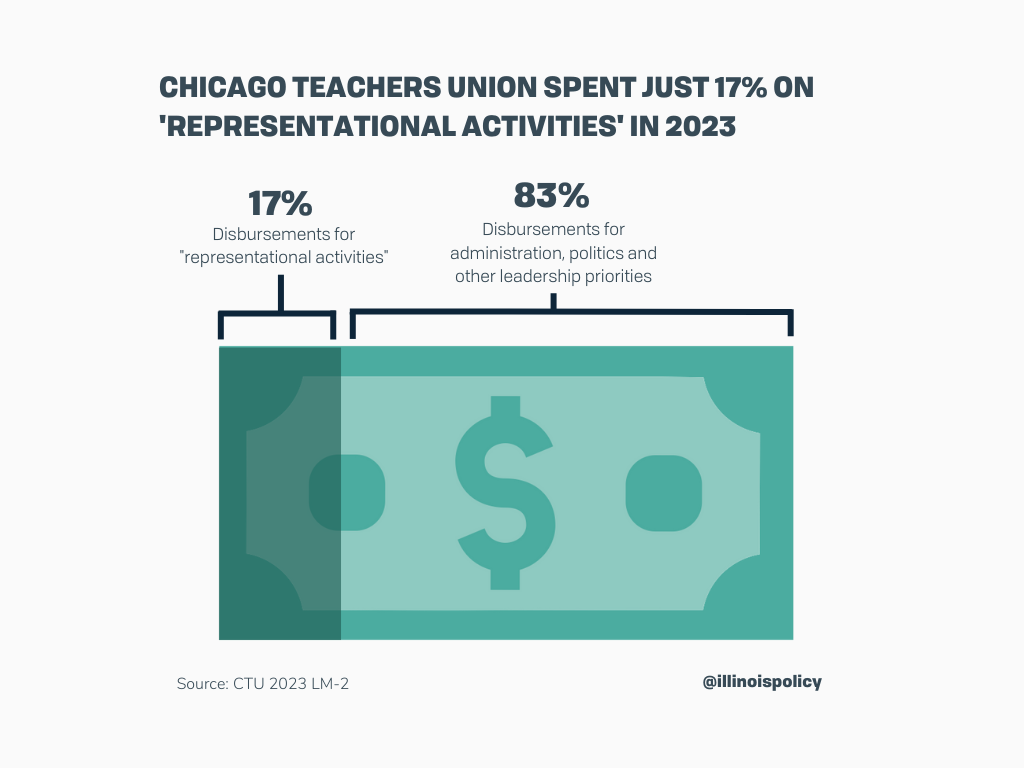 Specifically, CTU reported spending a total of $35,996,684 in 2023. Of that, just $6,223,845 was on "representational activities," which the Department of Labor defines as those activities "associated with preparation for, and participation in, the negotiation of collective bargaining agreements and the administration and enforcement of the agreements."
To place this in perspective, the Wise Giving Alliance, a project of the Better Business Bureau, maintains at least 65% of a nonprofit's total expenses should be on program activities.
While the Wise Giving Alliance tracks spending by charities, it stands to reason CTU's spending of just 17% on representation – the purpose of a union – should be a cause for concern among members.
CTU's failure to prioritize teachers isn't new, but it is getting worse
CTU has a track record of prioritizing everything but representation when it comes to spending. But that has gotten even worse under the leadership of Davis Gates.
While about 19-20% of the union's spending was on "representational activities" in 2019-2022, that dropped to just 17% in 2023.
This drop in CTU's overall percentage of representational spending coincided with its increase in raw dollars going toward politics. Spending on "political activities and lobbying" nearly tripled under the leadership of Davis Gates.
Members spend over $1,200 a year in dues, with CTU spending less than $124 of that representing them
CTU members pay at least $1,242 a year in dues for representation.
Only $727 of that amount stays with CTU, according to CTU's own accounting. The rest is passed up the chain to the Illinois Federation of Teachers, the American Federation of Teachers or other affiliated union entities.
That means less than $124 – or 10 cents of every dues dollar – is spent by CTU on representing Chicago teachers.
Neither AFT nor IFT prioritize representing members, either. Just 27% of AFT's spending was on representing teachers, according to its 2023 federal report. In 2022, just 26% of IFT's spending was on representation, according to its federal report. It hasn't yet filed its federal LM-2 report for 2023.
CTU members have other options
Nearly 500 education employees stopped affiliating with CTU in 2023. It's no surprise, given how upset members have been with the union's spending and lack of accountability in recent years.
Chicago educators who want more control over their dues have options:
Teachers can get liability insurance and legal protection elsewhere. Educators can join other associations, such as the Association of American Educators. AAE, which has 29,000 members across the country, provides liability insurance and legal protection to public school employees – at a fraction of the cost of union membership.
Teachers can opt out of union membership and keep all employer-provided benefits. By opting out of union membership, a teacher stops paying dues to the union yet retains all benefits that are provided in the collective bargaining agreement with the school district.
Unfortunately, CTU only provides an annual window of time in which members can opt out and have their dues stopped. That window is in August of each year, but teachers interested in opting out can visit LeaveCTU.com for more information and to sign up for a reminder to opt out when August 2024 approaches.