Circuit court rules Illinois pension bill unconstitutional
Senate Bill 1 has been stuck down.
Judge John Belz of the Sangamon County Circuit Court ruled today that Illinois' pension reform bill – Senate Bill 1 – is unconstitutional.
Belz's ruling is the first step in what likely will be a long legal process to determine whether that law can be implemented and what types of pension reform will withstand a court challenge in the future. The case will now head to the Illinois Supreme Court, where the final decision will be made on this law.
The important thing to remember is that even with today's ruling, pension reform is not dead in Illinois. The Illinois Supreme Court could rule against Belz's decision, which would open the door to even bigger, bolder pension reform. Even if the Supreme Court agrees with Belz's decisions, there is still room for pension reform in Illinois.
If SB 1 is upheld, the state should immediately move all new public employees onto defined-contribution retirement plans. State government should also allow current public employees to opt out of the state's politician-run pension plan and enroll in a self-managed retirement plan going forward. And the state should explore the constitutionality of moving all current workers into self-managed plans for future work, while protecting already-earned benefits.
Either way, as long as SB 1 is tangled up in the courts, Illinois' massive pension debt will continue to balloon. The unfunded pension liability is so large today that it would take three years of a complete government shutdown, during which the entire general fund went toward pensions, just to break even. This shutdown would mean no funding for schools, no money for public safety, and nothing for health care and human services.
Illinois' unfunded pension liability grew to more than $111 billion this year, according to official estimates. That's a $48 billion increase just since 2009.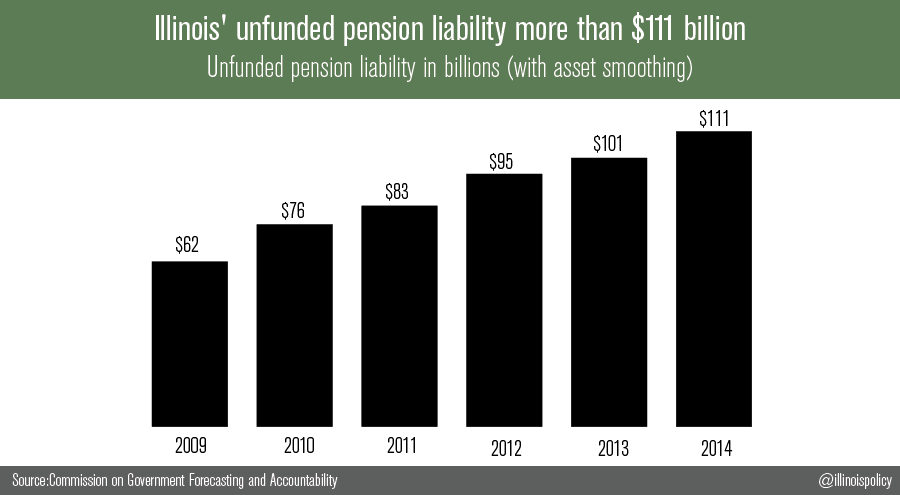 That $111 billion pension shortfall means the state now has only 39 cents of every dollar it should have in the bank today to pay for future benefits. In the private sector, these funds would be deemed bankrupt.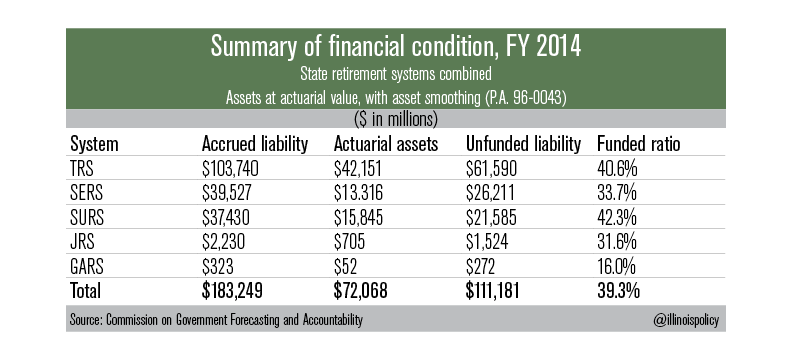 If SB 1 is struck down in the Supreme Court, then Illinois' $111 billion pension debt will continue to grow. The state will likely be hit with additional credit downgrades. And the severely underfunded pension systems will face the risk of insolvency.
The court decision today begins to shine light on what the state may or may not be able to do to address its pension crisis. Now it's up the Supreme Court.
Regardless of how the Supreme Court rules on SB 1, Illinois' Governor-elect Bruce Rauner must be ready to act immediately once the decision is made. Rauner and his team should begin planning now for both scenarios, as either decision would greatly impact his first budget proposal for the state of Illinois.