COGFA report points to manufacturing as cause of Illinois' high unemployment
Illinois' weak manufacturing recovery from the Great Recession has led to the Land of Lincoln's having the worst unemployment rate among nearby and neighboring Rust Belt states.
Manufacturing work opportunities are an important component of Illinois' labor market, with 1 in 10 payroll jobs in Illinois located in the manufacturing sector. However, manufacturing hiring has stagnated and declined in Illinois since July 2012, contributing to Illinois' comparatively high unemployment rate. In fact, a monthly report from Illinois' Commission on Government Forecasting and Accountability, or COGFA, points out that Illinois' weak manufacturing recovery has been a primary cause of Illinois' high unemployment rate.
Illinois' manufacturing work stagnation points to weakened demand for Illinois-manufactured products, and it also reveals the policies that make it difficult to hire manufacturing workers in Illinois. High workers' compensation costs, industrial property-tax hikes, and a high overall tax burden make Illinois an unattractive state to expand manufacturing work opportunities. State leaders should fix these policy problems so Illinois can share in the economic and jobs growth that is empowering manufacturing workers in surrounding states.
The COGFA report by economist Edward Boss points out that before the Great Recession, Illinois and the Midwest shared an unemployment rate similar to the general U.S. rate. However, during the recovery, a manufacturing comeback in many Rust Belt states caused Midwest unemployment rates to improve relative to the overall U.S. rate.
All the unemployment rates were little different in 2007 but began to differentiate as the recovery got underway. A recurrence in manufacturing in the rust belt drove the Midwest unemployment rate below the national rate …
Illinois did not share in the manufacturing recovery. As the report notes:
Illinois, however, is an exception … after reaching a peak in July 2012, the level of Illinois manufacturing jobs no longer shows gains …
Illinois' manufacturing jobs recovery was never strong, and has stagnated and declined since July 2012, putting the state 12,400 factory jobs below the intermediate July 2012 peak. That leaves Illinois more than 100,000 manufacturing jobs below pre-recession levels, and has exacerbated Illinois' unemployment problems.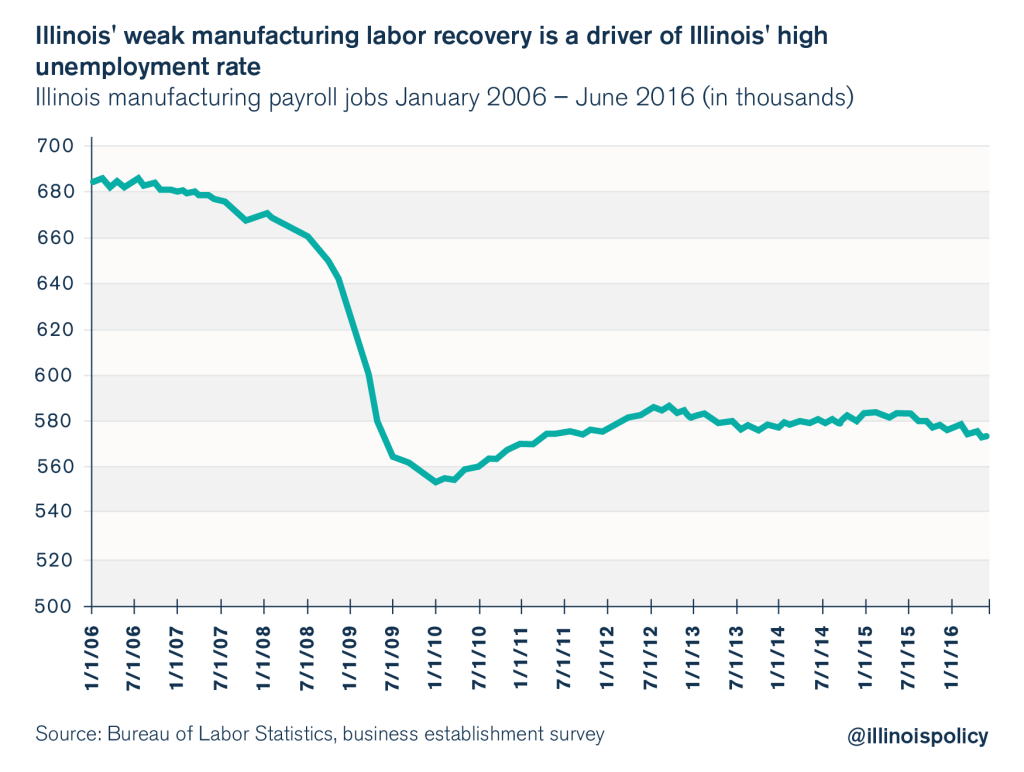 Meanwhile, nearby states in the Rust Belt led by Michigan, Indiana, Kentucky, Wisconsin and Ohio continued to gain manufacturing jobs throughout the recovery. The state unemployment rates began to differentiate as the recovery got underway. Now, Illinois' unemployment rate stands out from both the U.S. unemployment rate and the rates in nearby and neighboring Rust Belt states.
The manufacturing recovery in nearby states has far outpaced Illinois'. From January 2010, when Illinois hit its recession bottom, until the present, Illinois has seen a 3.6 percent gain in manufacturing jobs, measured from Illinois' 21st-century low in factory work. Surrounding states have easily bested Illinois, even when measuring their recoveries on Illinois' timeline, rather than from their own recession bottoms.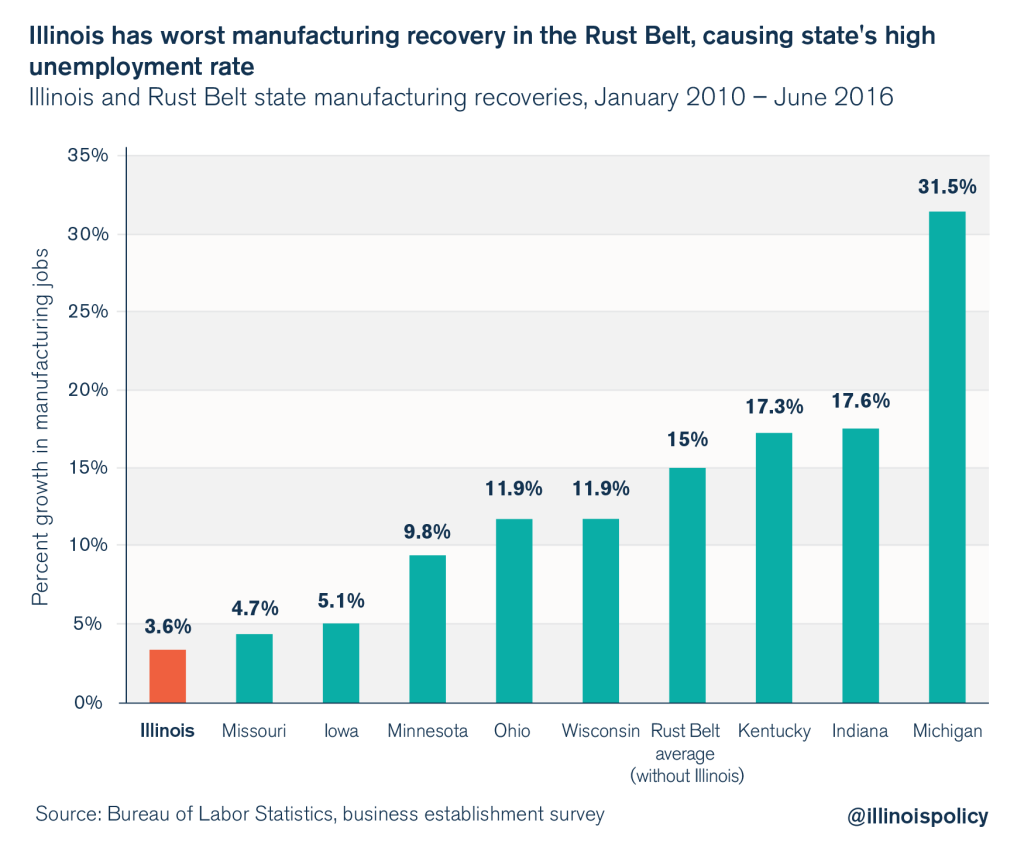 If the Land of Lincoln had simply matched the Rust Belt average recovery of a 15 percent gain in manufacturing jobs, there would be an additional 63,000 more manufacturing jobs in Illinois today. If those jobs were filled by some of the 410,000 currently unemployed Illinoisans, the state's unemployment rate would drop to 5.2 percent from 6.2 percent. Although this approach is a crude analysis of how a stronger manufacturing recovery would improve Illinois' unemployment rate, it shows that an unfriendly hiring environment in Illinois' manufacturing sector is a major contributor to the state having the highest unemployment rate in the Midwest, and a tie for the third-highest in the entire U.S.
The next time Illinois faces a recession, it needs to have a much better recovery than it did from the Great Recession. Policymakers should help make Illinois a great state for hiring manufacturing workers; they can do this by fixing the state's costly workers' compensation system, capping skyrocketing industrial property taxes, and controlling and reducing Illinois' overall high tax burden.
Illinois has the potential for a bright future, but the state has missed one opportunity after another to encourage economic growth and enable employers to provide hard-working Illinoisans with good jobs. Lawmakers must rein in the state's onerous and often senseless regulations, high taxes and spending to create a friendly environment for manufacturing jobs and the state's future economic growth.