Cook County has largest population loss of any county in the U.S.
Newly released census data show 89 of Illinois' 102 counties, and most of the state's metro areas, have shrinking populations due to out-migration.
Cook County lost more population than any other county in the United States from July 2015 to July 2016, according to a new data release from the U.S. Census Bureau.
Cook County shrank by 21,324 people. The county had more births than deaths and gained 18,434 people from international immigration. However, Cook County had a net loss of 66,244 people to other parts of the United States, which more than offset the components of population growth.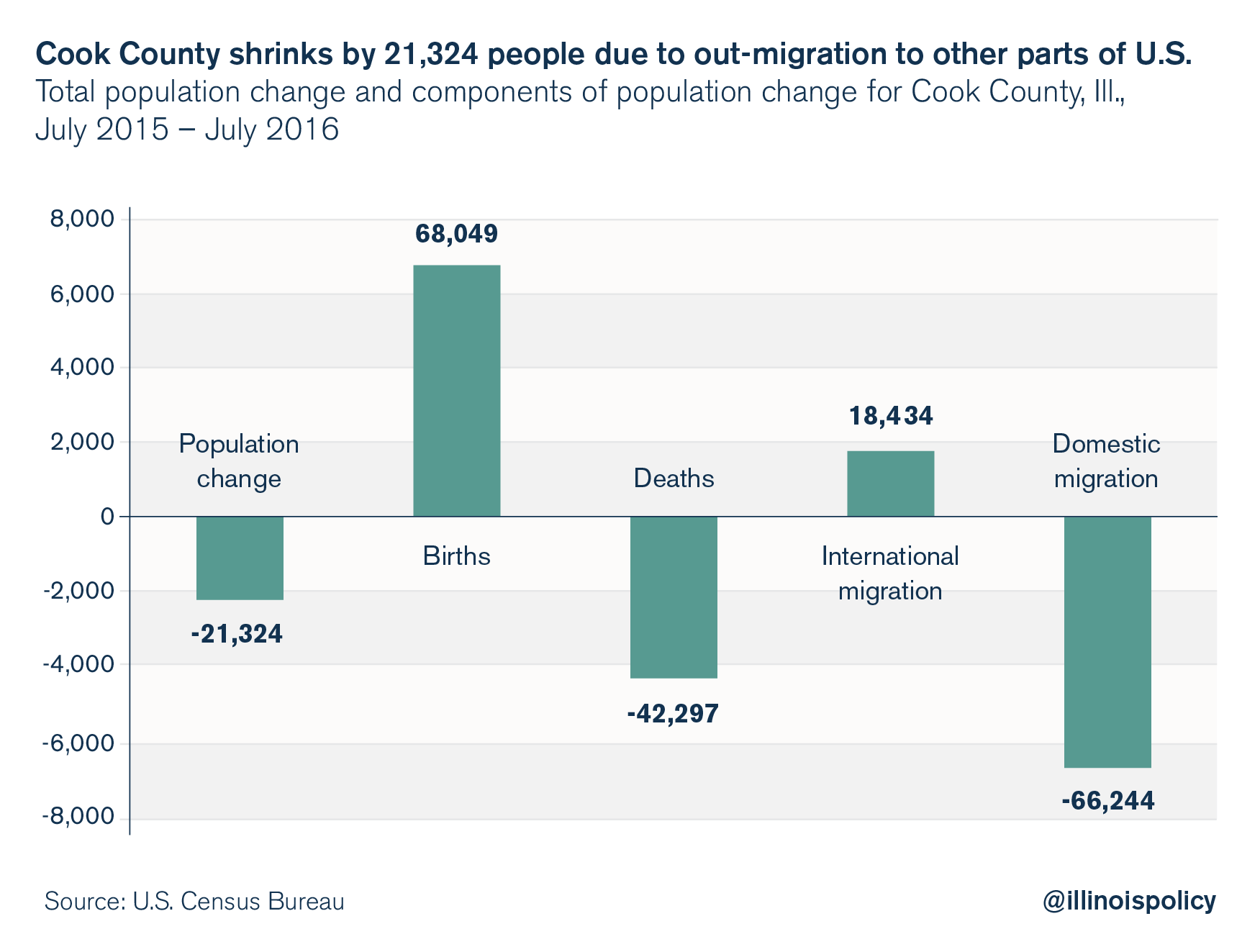 However, the people leaving Cook County aren't showing up in other parts of Illinois when the net movements of people are considered.
In fact, most of Illinois is depopulating – 93 of Illinois' 102 counties are experiencing net out-migration, and 89 of Illinois' 102 counties have shrinking populations. Illinois' dysfunctional government, weak job creation and ever-increasing tax burden help explain why. A Paul Simon Public Policy Institute poll released in October 2016 found that taxes were the No. 1 reason people want to leave Illinois.
Cook, DuPage, Lake, Kane, McHenry, Will counties see net out-migration to other parts of the U.S.
The major driver of Cook County's shrinking population is that the county's domestic migration losses have doubled over the last five years, while international gains have remained flat and gains from more births than deaths have declined.
The flow of people out of Cook County did not result in net in-migration for the collar counties. Cook County's net out-migration of 66,244 people was followed by net out-migration of 9,171 people from DuPage; 5,179 from Lake; 1,824 from Kane; 1,589 from McHenry; and 1,253 from Will. Kendall County is the nearest to Cook to have net inflows, with Kendall gaining 553 more people than it lost to other parts of the country.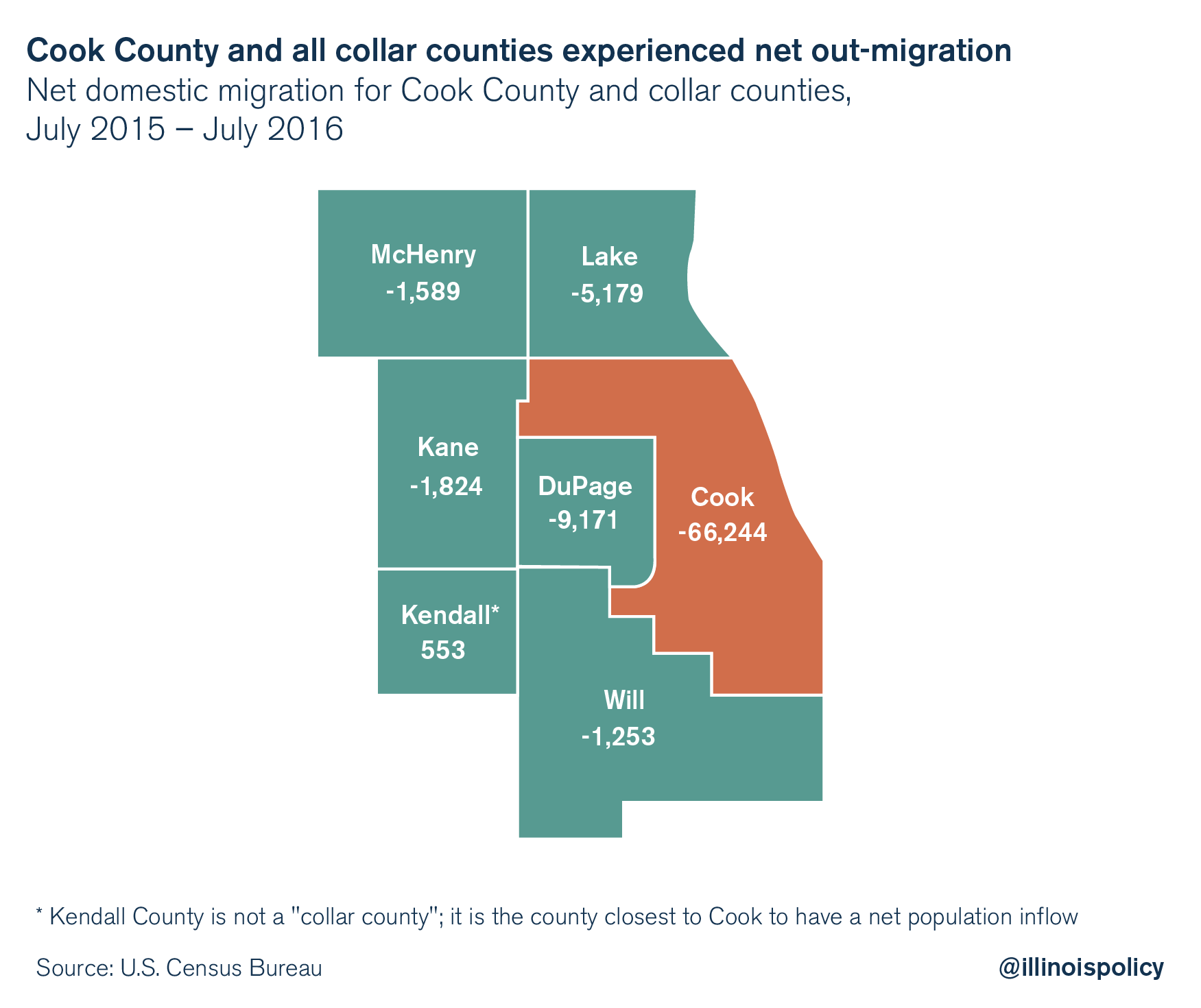 The out-migration from Cook, DuPage, Lake and McHenry counties was large enough to make all those counties shrink in total population. Kane County and Will County managed to have population gains despite their out-migration problems.
It should worry policymakers in Chicago and Cook County that out-migration and population loss were already so strong in the July 2015 – July 2016 timeframe. That's because Chicago and Cook County's major property and sales tax hikes had not yet taken effect at the time of this out-migration. When those tax hikes are in place, the Chicago area will likely lose more population due to taxation. And the economic effects of increased taxation will be felt a few years later, with fewer jobs and economic growth than would have occurred without the tax hikes. Population loss in the Chicago area is likely to get worse.
Not just the collar counties: All of Illinois is seeing population losses
The problem is not just with Cook and the collar counties: The majority of Illinois counties are shrinking. Eighty-nine of Illinois' 102 counties are shrinking in total population. Northeast Illinois is shrinking most in terms of total population, but many downstate counties are shrinking and seeing more out-migration as a percentage of population. For example, Rock Island and Peoria counties both have more out-migration as a percentage of population than Cook County.
Most of Illinois is depopulating: 89 of 102 counties shrank year over year
Illinois counties' population shrinkage and growth, July 2015 – July 2016
Most of Illinois' metropolitan statistical areas are also shrinking due to large migration losses to other parts of the country, with only Elgin and Champaign showing slow population growth. The Chicago metro division saw a net migration loss of nearly 78,000 people, driving a population decline of more than 19,000 people for the Chicago metro division.
Elgin had net migration losses to other parts of the country. However, Elgin's population growth is attributable to an unusually high birth rate and a solid gain of international immigrants. Champaign similarly relies on international immigration to avoid a shrinking population size. Champaign showed a large gain from international immigration, likely a flow of international students to the University of Illinois.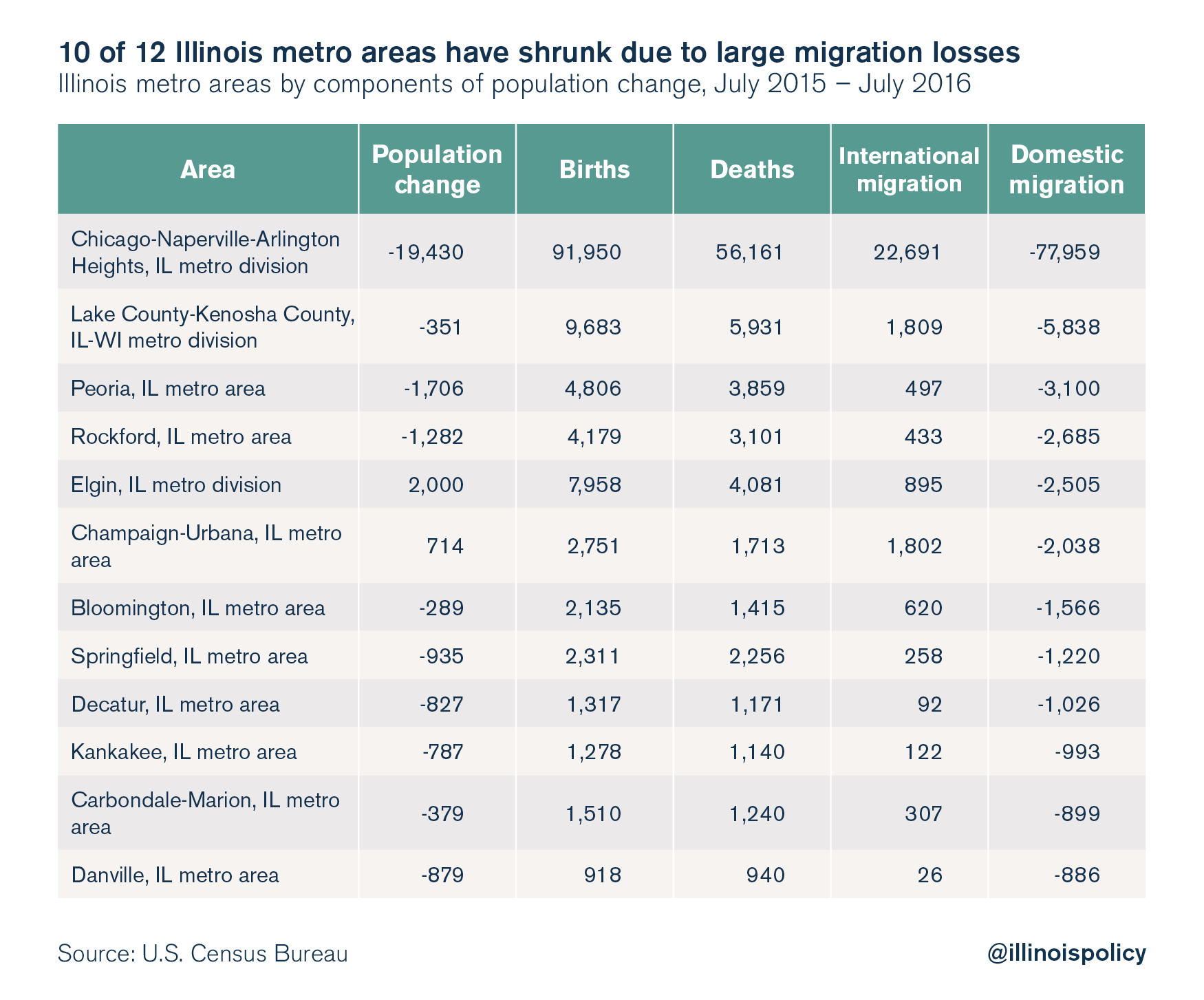 The U.S. Census Bureau's report does not come as a surprise, but it should serve as a warning to state and local governments. Illinois is depopulating, and no area is immune from its effects. Downstate communities are especially stressed due to the loss of manufacturing jobs and other blue-collar industries. And the Chicago area is likely to face additional stress as nearly $2 billion dollars in tax hikes are phased in over the next few years.
Lawmakers can take on two key measures to give taxpayers hope. The first is to freeze property taxes statewide so Illinoisans can feel secure in their homes. The second is to pass a balanced budget without any tax increases to give residents confidence that lawmakers can rein in out-of-control spending and not repeatedly hit up taxpayers for more of their hard-earned dollars.
Before considering any more tax increases, policymakers statewide should consider the sobering reality of how quickly people are leaving the state.