Cook County population declines by 2,000 over 5 years, out-migration doubles
Cook County's population has dropped by 2,030 since 2011, driven by the out-migration of over 230,000 residents, on net.
In the past five years, Cook County has had a net loss of over 230,000 residents to other parts of the country, according to data from the U.S. Census Bureau. This large out-migration is the driving force behind Cook County's declining population, which decreased by 2,030 from July 2011 to July 2016.
Cook County has enjoyed natural population growth from having nearly 145,000 more births than deaths over the last five years. And it has also benefited from a substantial gain from international immigration – a net gain of 94,000 people. But Cook County dropped in total population because its domestic out-migration has overwhelmed gains from other components. Cook's annual domestic outmigration rate more than doubled from 2011 to 2016.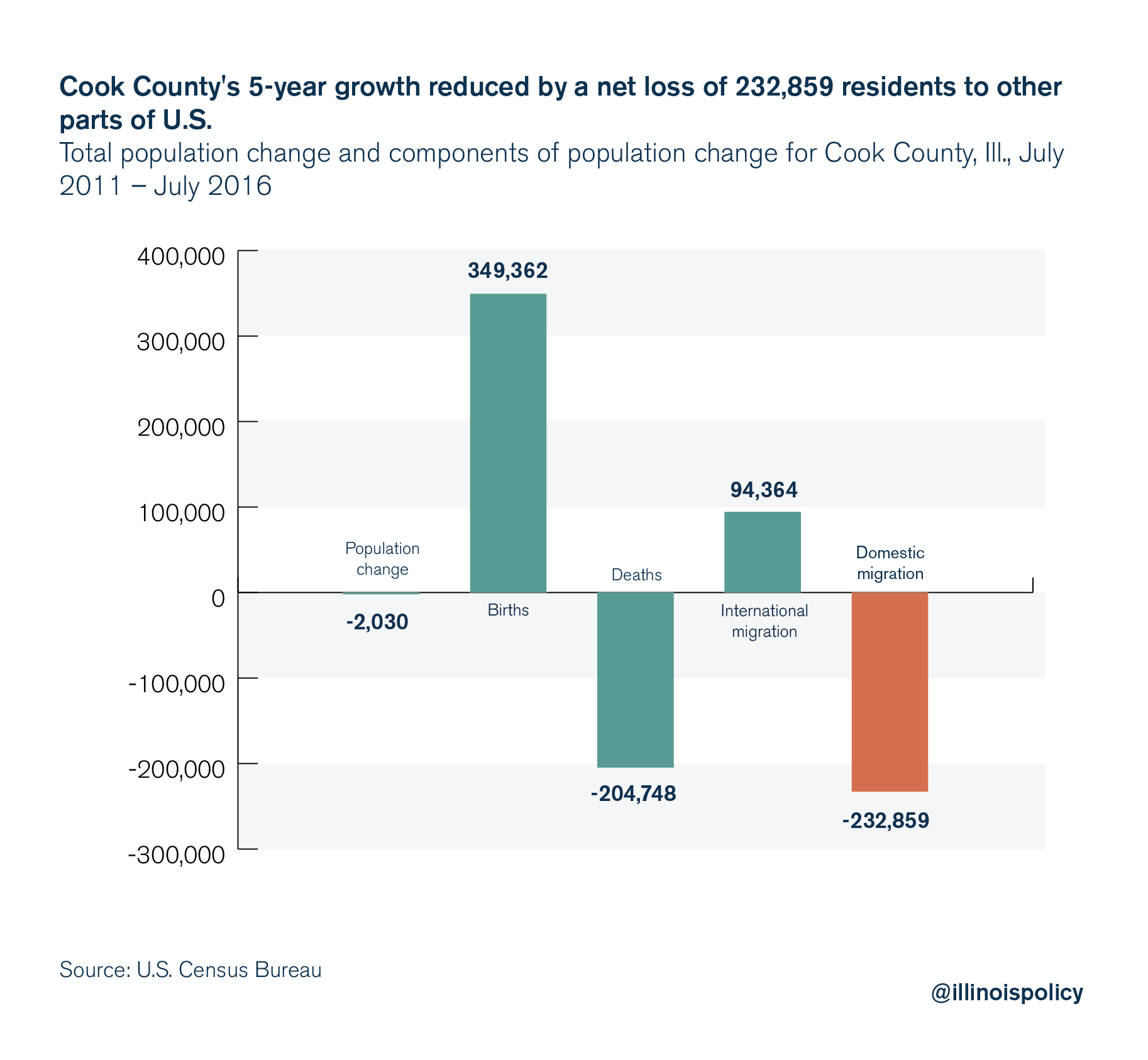 This population loss is startling because it marks population growth reversal over the last five years. Whereas Cook County gained residents on net from July 2011 to July 2013, Cook County began losing residents during the period from July 2013 to July 2014 when it lost 179 people. Cook County then began to lose residents more rapidly, shrinking by 10,488 residents from July 2014 to July 2015 and by 21,324 from July 2015 to July 2016.
If Cook County continues to lose residents at an accelerating pace, its remaining residents will face an even heavier tax burden. This is because population loss means a loss in the area's tax base. And while some areas of spending, such as city services, might decline, the area's rising public debt burden and existing unfunded liabilities will not decrease as residents leave the area.
The large flow of out-migration from Cook County has not led to a net migration into the collar counties. Census Bureau data show that while four out of the five collar counties saw total population growth over the past five years, each collar county experienced net domestic out-migration over the same time-period, showing that the Chicago area as a whole is losing residents.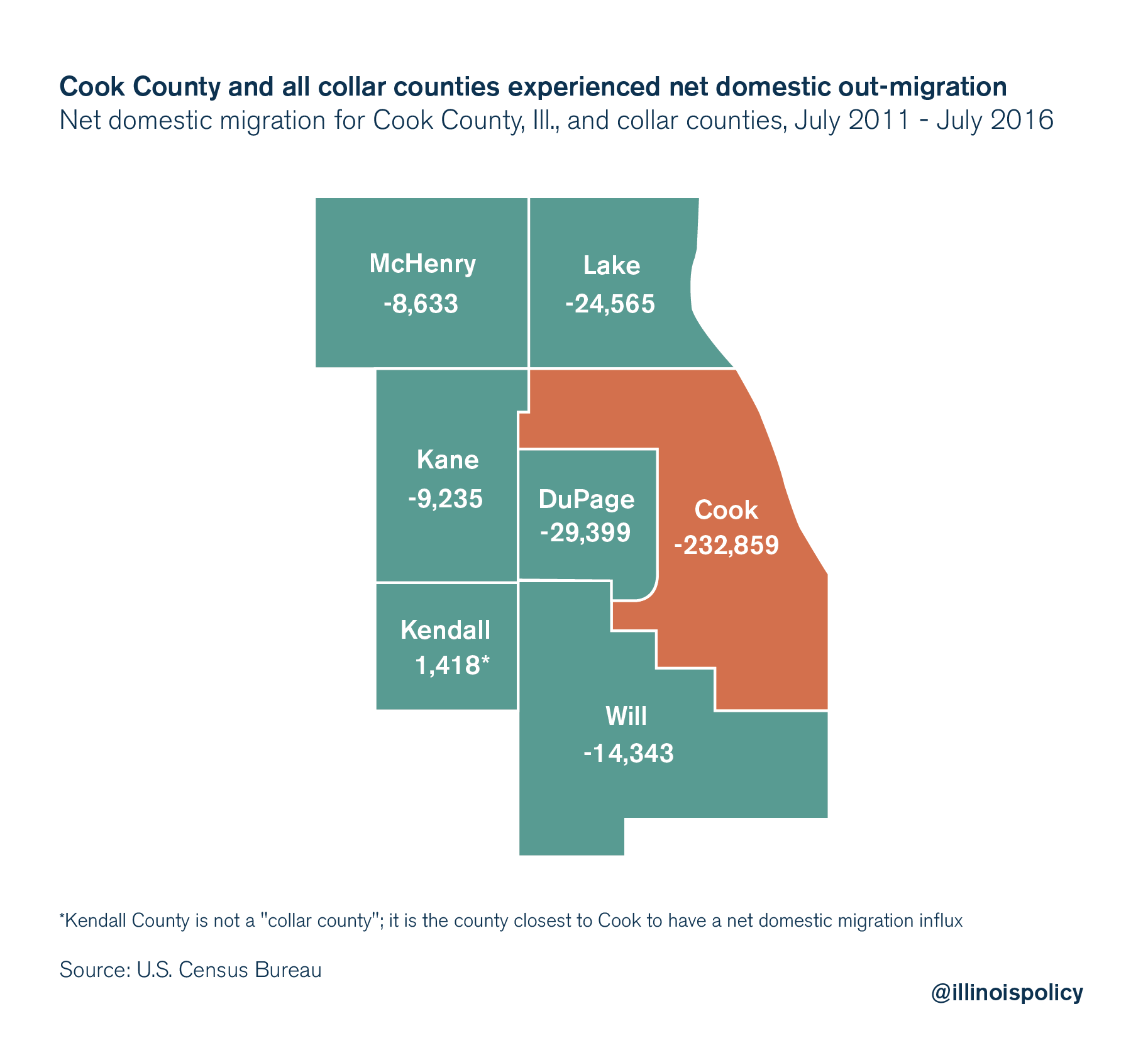 While most collar counties have not seen the same doubling in out-migration as Cook County, they have continued to lose residents with out-migration remaining steady in Lake County, McHenry County, Kane County and Will County. However, DuPage County has seen an even worse acceleration of domestic out-migration than Cook County. DuPage's domestic out-migration increased by almost 130 percent compared to almost 110 percent for Cook County.
As Cook County area governments continue to nickel and dime residents with higher property and sales taxes and new taxes on soda, plastic water bottles, grocery bags and other products, residents will be subject to an even higher tax burden. Expensive pension plans and rising debt levels will consume a larger share of government spending, reducing the amount of money governments can spend on resident services. Together, these factors can be expected to cause domestic out-migration to grow even worse as high taxes are the number one reason for residents to leave Illinois. If Chicago and the rest of Cook County want to grow and avoid losing residents, they should listen to taxpayers and stop increasing the tax burden.