CTU supports use of mock guillotine, 'wherever' it was headed
CTU members who don't support the union's violent rhetoric have another option: they can opt out of the union. But they must do so today if they want to stop paying dues this school year.
The U.S. has been rocked by violence in recent weeks, including in the city of Chicago, but that didn't stop the Chicago Teachers Union from calling for more.
Using the hashtag #solidarity, the Chicago Teachers Union retweeted a video posted by Nic Rowan claiming to be a staged guillotine outside the home of Amazon billionaire Jeff Bezos, who reportedly has become the first man worth $200 billion.
But CTU added its own spin, stating the union was "completely frightened by, completely impressed by and completely in support of wherever this is headed."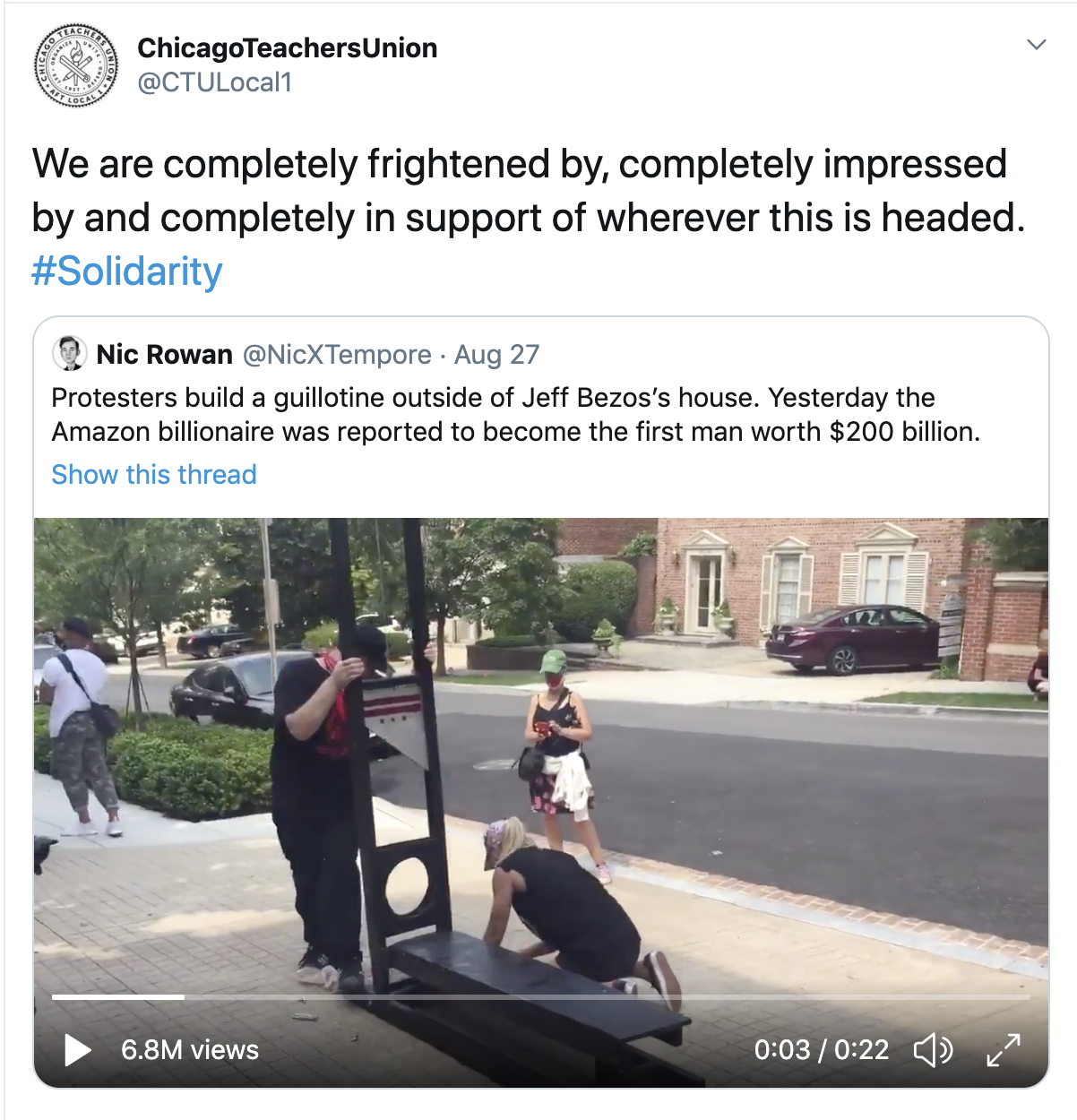 Ironically, the Chicago Teachers Pension Fund held 45,754 shares of Amazon worth $86.6 million, according to its 2019 report.
And the American Federation of Teachers, the parent union of CTU, spent over $200,000 at Amazon in 2019 alone, according to records it filed with the Department of Labor.
CTU's tweet quickly drew criticism, including from several CTU members themselves.





Fortunately, teachers who oppose CTU's inflammatory rhetoric can send a message that is sure to be heard in a way that will resonate the most with CTU: in its pocketbook. But the deadline to resign and deny the union any additional dues is today, Aug. 31.
Chicago Public Schools teachers who are members of CTU pay over $1,100 in dues annually. Paraprofessionals pay over $680 a year.
They can stop that flow of money into CTU coffers by opting out of union membership.
CPS employees who opt out are guaranteed the benefits provided in the collective bargaining agreement with the district – regardless of union affiliation.
The guaranteed benefits typically outlined in a contract include the following:
Salary and raises
Health insurance
Pension benefits
Vacation days and holidays
Overtime pay
Seniority
Leaves of absence, including sick leave
While liability insurance and job protection coverage may be provided through union membership, school district employees have other options in that regard as well.
Alternative associations – such as the Association of American Educators – offer liability insurance and job protection coverage, often at a fraction of the cost of union membership.
However, CTU utilizes a restrictive timeline. While teachers can opt out of union membership at any time, it will only stop deducting dues for the school year if members opt out during the month of August. Otherwise they could be on the hook for dues until the following year.
For more information or to opt out online, www.leavectu.com.