QUOTE OF THE DAY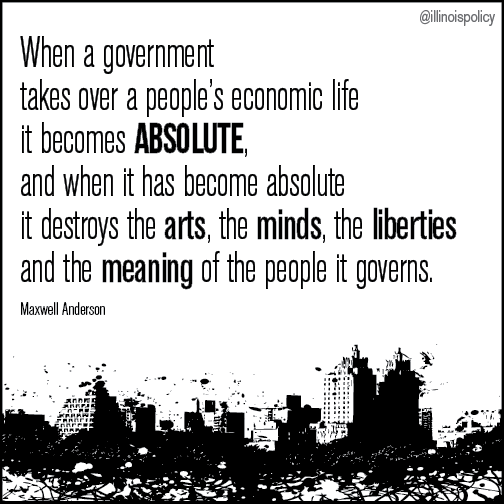 Fox Chicago: Is job creation in Illinois actually improving?
Governor Pat Quinn claims Illinois' economy is improving faster than at any time since the 1980's. His republican challenger, though, complains the state ranks dead last in job creation since the great recession began back in 2008.
---
Chicago Tribune: Illinois took too much money from federal Medicaid account, audit says
Illinois overdrew money from a federal Medicaid account by an average of $60 million per quarter over a three-year period because of "faulty" and "imprecise" practices, according to a federal audit released Monday.
The U.S. Department of Health and Human Services' Office of Inspector General said that the state's improper accounting in fiscal years 2010 through 2012 left it unable to repay the federal government the difference until two to six months later. As a result, the federal government may have lost as much as $792,000 in interest during that period.
Auditors also found the state used deposited the money directly into its general revenue fund, the same fund used for education, pensions and transportation. Because those funds were intermingled and often used to pay other bills, Illinois often was left without a sufficient available balance to immediately repay the federal government the amount it had overdrawn, the audit said.
---
USA Today: Detroit bankruptcy reveals 401(k)'s virtues
Detroit's Chapter 9 bankruptcy case is scheduled for trial beginning this Thursday, August 21, when U.S. Bankruptcy Court Judge Steven Rhodes will decide if the city's restructuring plan is fair, legal and feasible.
Regardless of the outcome, precedents already have been set in the case that should have public employees elsewhere questioning the wisdom – and soundness – of their traditional "defined-benefit" pension plans.
Judge Rhodes already ruled, last December, that Detroit's pension promises are not sacred in a bankruptcy proceeding: "The state constitutional provisions prohibiting the impairment of contracts and pensions impose no constraint on the bankruptcy process."
---
Chicago Tribune: Fine-tune or scrap red light cameras?
More than nine out of 10 Chicago voters think changes should be made to the city's red light camera program, but they are split on whether the beleaguered system should be eliminated or improved with better management and oversight, a Chicago Tribune poll has found.
The survey was taken after the Tribune reported that tens of thousands of drivers had been given $100 tickets during a series of sudden and unexplained spikes in citations, but before federal indictments were issued Wednesday tied to a bribery scandal that has engulfed the red light program.
Overall, 92 percent of voters said they think some kind of change should be made, with 47 percent saying the red light cameras need better oversight and management while another 45 percent said they should be eliminated. Only 5 percent of voters thought the program is functioning as it should, and 3 percent said they didn't know or had no opinion, the poll found.
---
Real Clear Policy: Making Good on Bad Promises
Hardly a day goes by without some headline about a town or city struggling to bridge the gap between the retirement promises it made to its employees and the reality of its budget. But what has received comparatively little attention is the shape of the solution that is emerging for these shortfalls.
Consider first the pension problem itself. According to a 2013 Pew Foundation study of 61 key American cities — the most populous in each state plus all other cities with over half a million people — the gap between promises to municipal workers and what has actually been saved is more than $217 billion. Pew has estimated the total underfunding for all of America's towns, counties, school districts, and other non-federal government entities at $1.38 trillion, a figure that is expected to rise sharply when new bookkeeping guidelines from the Government Accounting Standards Board are fully implemented.
Less well-known is the fact that many cities once dismissed as fiscal basket cases have actually found a way out of their pension problems, showing us what the future might look like. In 2011, Atlanta mayor Kasim Reed and his city council negotiated a plan that saves $25 million annually. A year later, Lexington, Ky., municipal officials and union representatives came to an agreement that was passed by the city in January of 2013 and later ratified by the state legislature. In Jacksonville, Fla., a task force recently announced a settlement, and the city's public-safety workers appear on track to ratify it.
---
Washington Post: Better-paying jobs stage a comeback
The recovery in America's job market is finally spreading to industries with good pay after years of being concentrated in fields with low wages.
Hiring has picked up steam in areas such as construction, manufacturing and professional services in recent months — sectors with a median hourly wage of at least $20. Nearly 40 percent of the jobs created over the past six months have been in high-wage industries, compared with just a quarter during the last half of 2013, according to an analysis by the National Employment Law Project for The Washington Post. Meanwhile, growth in many low-paying jobs has leveled off or even declined.
"I often hear that the recovery is only in low-wage jobs. That is categorically inaccurate," Labor Secretary Thomas E. Perez said in an interview. "This recovery is creating a lot of good jobs."
---
Tax Foundation: The Real Value of $100 in Each State
This week's tax map shows the real value of $100 in each state. Because average prices for similar goods are much higher in California or New York than in Mississippi or South Dakota, the same amount of dollars will buy you comparatively less in the high-price states, or comparatively more in low-price states. Using data from the Bureau of Economic Analysis that we've written about previously, we adjust the value of $100 to reflect how prices are different in each state.
For example, Tennessee is a low-price state, where $100 will buy what would cost $110.25 in another state that is closer to the national average. You can think of this as meaning that Tennesseans are about ten percent richer than their nominal incomes suggest.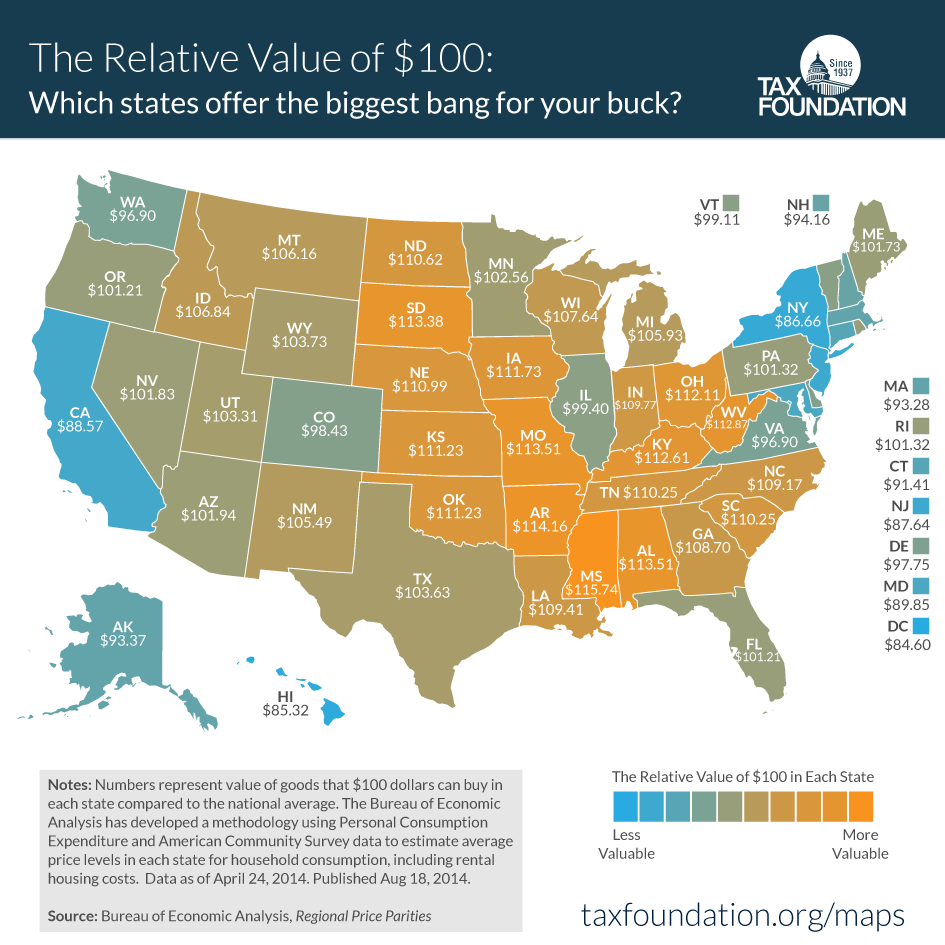 ---
Chicago Tribune: City may sell downtown parking lots, garage
The city is considering selling downtown parking lots it owns.
According to Mayor Rahm Emanuel's office, the city will look into "selling up to three parking lots and a one-story parking garage in River North currently used by 80 city employees."
Emanuel's announcement comes more than three months after city Inspector General Joseph Ferguson highlighted the fact that dozens of city workers were parking for free in the upscale neighborhood.
---
NBC Chicago: Cost of Kids: Price of Raising a Child Hits $245,340
It will cost a middle-income American family an average of $245,340 to
raise a child born in 2013 until he or she becomes and adult, according to a new report out Monday. Those costs, which includes housing, childcare and education, rose 1.8 percent over the previous year. Families in the urban Northeast will spend more than those in the urban South and rural parts of the country, with their cost estimated at about $282,480. And when adjusting for projected inflation, the report found, a child born last year could cost the average middle-income family more than $300,000.
CARTOON OF THE DAY