District 15 strike leaves Palatine-area students and parents in the lurch
When contract negotiations get tough, school employee unions should not be able to strike. It only serves to punish students and their parents, and it gives unions an unfair tool at the negotiating table.
Update: A Cook County judge ordered Oct. 17 that some of the Palatine Township Elementary District 15 support workers on strike return to work immediately, according to the Daily Herald. The judge ruled the absence of 130 of the more than 450 workers on strike constituted a public safety risk, and thus those 130 workers did not have the power to strike under Illinois Educational Labor Relations Act.
More than 12,000 elementary students in Palatine-area District 15 were left without school nurses, sign-language interpreters and other important school workers on Oct. 16.
That's because the Educational Support Personnel Association, which represents 454 workers in the district, walked out on strike.
The union's strike highlights the state's unfair collective bargaining rules, which stack the deck against Illinoisans dependent on government services.
The union is currently in negotiations for a new contract, with worker wages and benefits a sticking point. But walking out on students should never be the answer. Strikes punish kids and parents who rely on school district services, and who pay for those services via their tax bills.
That sort of power play by unions over residents doesn't happen in Illinois' neighboring states. Every surrounding state respects the daily lives of residents – and the hard-earned money of taxpayers – by prohibiting strikes by most or all government workers.
Government-worker unions in Illinois hold all the power
The ability to strike is a powerful tool. When a government-worker union in Illinois doesn't get its way in negotiations, it can threaten to shut down state and local governments or schools – and the services residents need – in order to have its demands met.
Residents have no similar tools.
A school district union can walk out on parents and students – but the parents and students can do nothing about it.
A state-worker union can walk out on children and families counting on government services – but those children and families can do nothing about it.
That means government-worker unions hold all the power when it comes to negotiations. They can make demands and walk out if those demands are not met.
As demonstrated by what's going on in District 15, that leaves residents' day-to-day lives – and the ability to utilize government services – under the control of government-worker unions.
Every neighboring state prohibits strikes by all or most government workers
Illinois gives most government workers an affirmative "right to strike." But that's not the case in Illinois' neighboring states.
In fact, Wisconsin, Iowa, Indiana, Michigan, Missouri and Kentucky prohibit strikes by all or most government workers.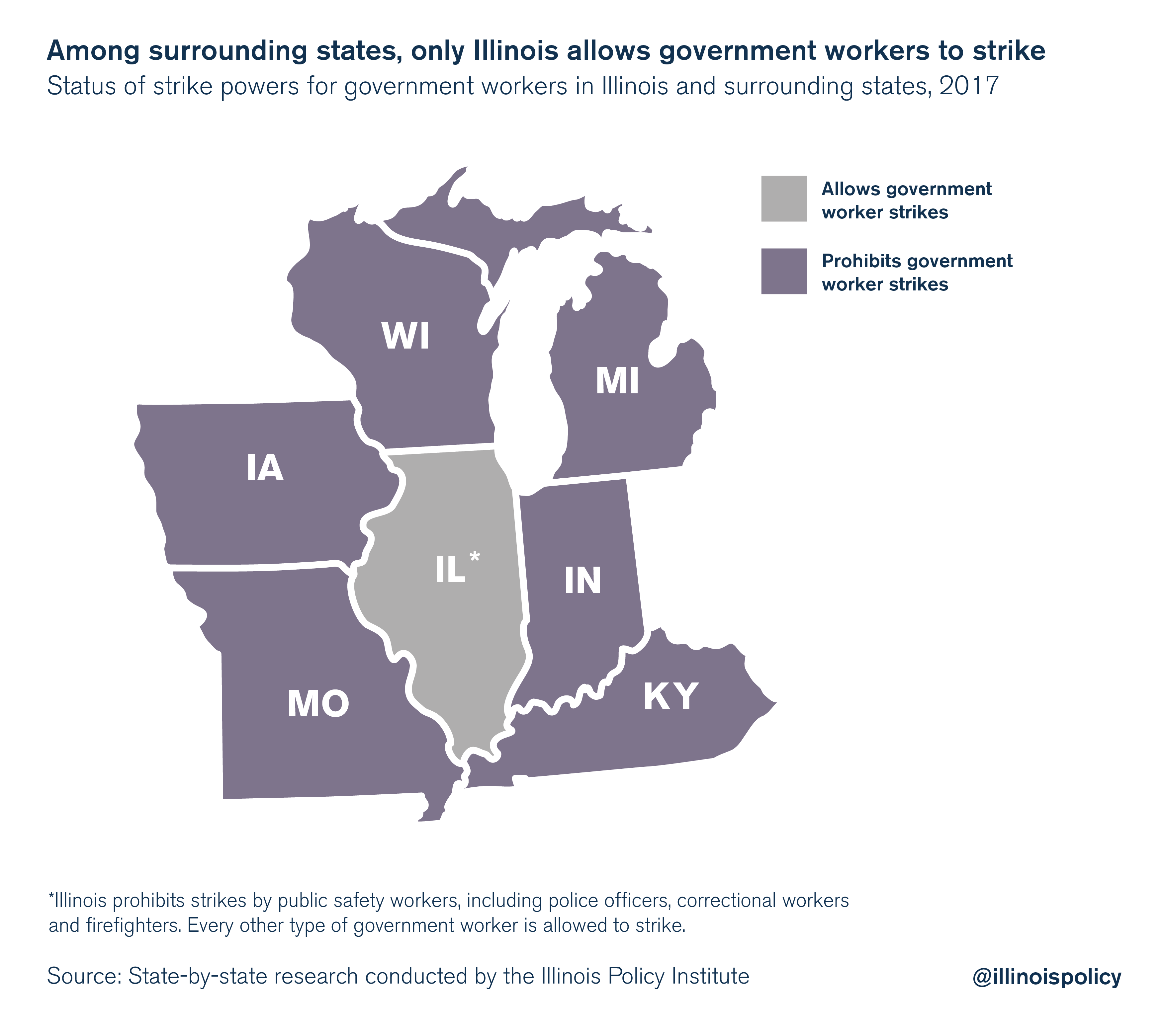 These prohibitions restore the balance of power between those who work for government – like the striking workers in District 15 – and those who do not – the students and their parents.
Until Illinois prohibits strikes by government workers, government-worker unions will continue to have the upper hand in negotiations.
Palatine-area residents are victims once again of Illinois' unfair labor laws
Government-worker unions in District 15 have a history of getting what they want – at the expense of local residents.
In 2016, school district officials signed an unprecedented 10-year contract with the Classroom Teachers' Council, which represents teachers in the district. Not only did the former head of the teachers' union negotiate the deal on behalf of the district, but the agreement also included steady raises despite the fact private sector incomes in the area had not even kept up with inflation. The public didn't get to see the terms of the agreement until it was a done deal, because Illinois law requires no transparency in negotiations between government units and government-worker unions.
Now Palatine-area families are victims of another type of union power – the right to walk out on students during negotiations in order to have union demands met.
Until Illinois enacts much-needed reforms – like prohibitions on government-worker strikes – students and their families will remain at the unions' whims.