Divergence: White-collar jobs up, manufacturing jobs disappearing in Illinois
Illinois suffered the loss of 2,500 manufacturing jobs in May, and is down 7,900 factory jobs in 2015.
Illinois lost 2,500 manufacturing jobs in May, according to the June 18 economic release from the Illinois Department of Employment Security. That makes May the fifth consecutive month for manufacturing jobs losses in Illinois. In addition, Illinois' April jobs numbers were adjusted downward to tack on the loss of an additional 800 factory jobs. That means for the first five months of 2015, Illinois is down 7,900 manufacturing jobs.
In contrast with Illinois' beleaguered manufacturing sector, the state had strong jobs growth in professional and business services (+6,900), which drove a total gain of 9,200 payroll jobs on the month.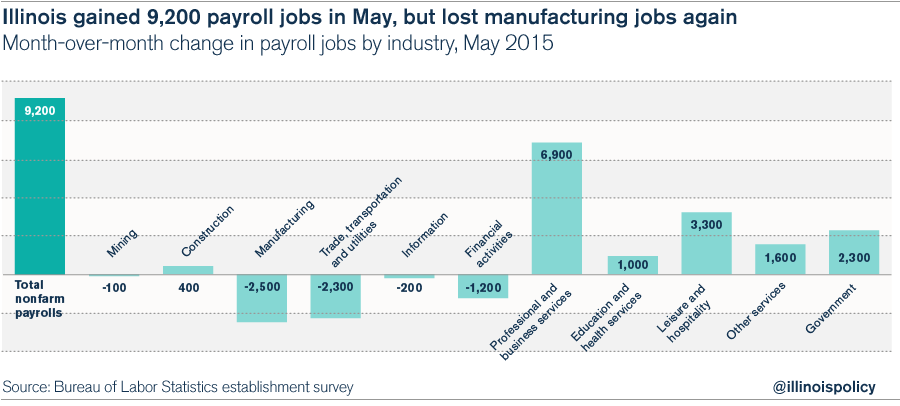 The divergence between business-sector jobs gains and manufacturing-sector jobs losses points to the ongoing theme of two Illinois economies – one where white-collar workers do well in the service economy, and another where blue-collar workers struggle in Illinois' industrial economy. Since 2000, Illinois has gained 110,000 jobs in business and professional services, but lost 300,000 jobs in manufacturing.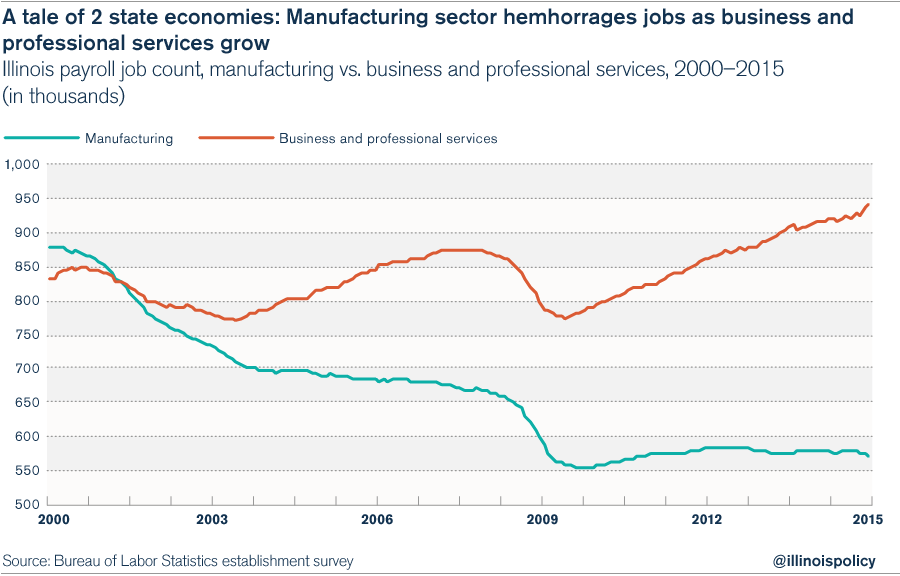 In fact, within the business and professional services category, well-paying jobs in the science and tech sector have experienced solid growth over the past five years of recovery. Science and tech services have added 57,500 jobs since 2010, for a 17 percent gain over five years. However, even since the recession bottom in 2010, Illinois' much larger manufacturing sector has added only 19,000 jobs, for a paltry gain of 3.5 percent over five years.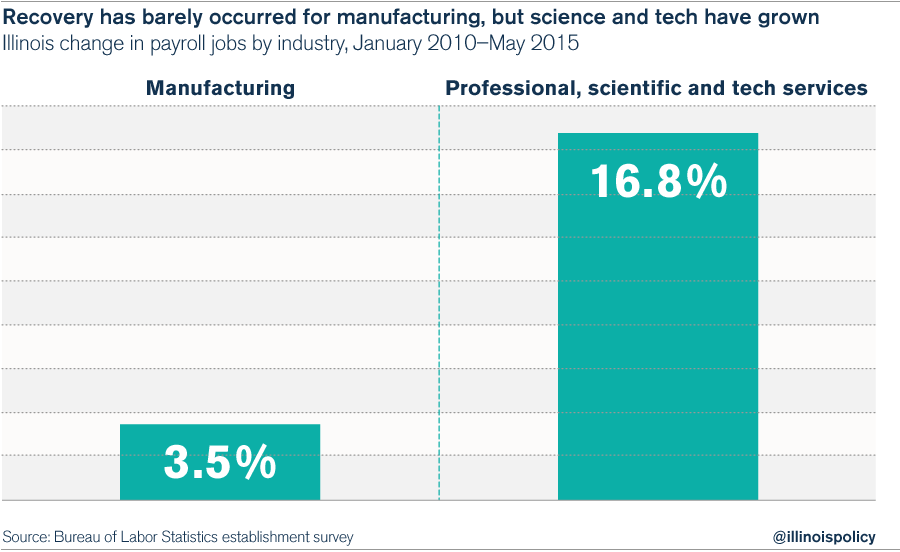 The gains in white-collar, service-sector jobs need not come at the expense of Illinois' traditional manufacturing sector. In fact, combining the Chicago area's growing tech and service sectors with a reinvigorated manufacturing base would make all parts of the state economy stronger. Illinois could be a state uniquely positioned to succeed both in the high-income service sector and the middle-income manufacturing sector.
Policy errors unfortunately stand in the way. Not only are factory jobs being lost month after month, but factory workers in Illinois are the worst paid in the entire region. Surrounding states have enacted a number of policy advantages to help grow jobs, profits and wages, and Illinois should follow suit. Real change would resemble the following:
The Illinois economy is increasingly becoming defined as a place where white-collar college graduates and professionals can do well, but where blue-collar industrial workers struggle to make ends meet. Given that only 31 percent of Illinois adults are college graduates, addressing the policy needs of Illinois' blue-collar industries should be a top priority.