Driverless trains: Why does Chicago lag behind London?
Driverless trains and buses could dramatically reduce the cost of Chicago's expensive public transportation system, resulting in much-needed savings for taxpayers.
Driverless trains are about to make a big impact in London. The Telegraph has reported that Transport for London, or TFL, has unveiled the design of these new trains; in 2016, companies will bid on contracts to supply them to TFL.
The trains are fully automated, but initially will be manned. By the mid-2020s, the trains will be totally driverless.
Chicago isn't making the same kind of advances.
In fact, Chicagoans are more likely to think of train crashes than cost-saving innovation when they consider their public transportation system.
Chicago Transit Authority salaries
The city of Chicago and its taxpayers – whether they use Chicago Transit Authority, or CTA, services or not – pay through the nose for overtime costs. I did a quick check to see how much these drivers get paid.
Back in 2010, the Chicago Tribune published the article 'CTA pay for bus drivers is No. 3 in nation.'
According to this article, Chicago bus drivers are the highest paid in the U.S. when taking cost of living into account.
In 2013, the San Francisco Chronicle compared Bay Area Regional Transportation, or BART, employee compensation to the compensation of transportation workers in other cities. This is how the cities rank: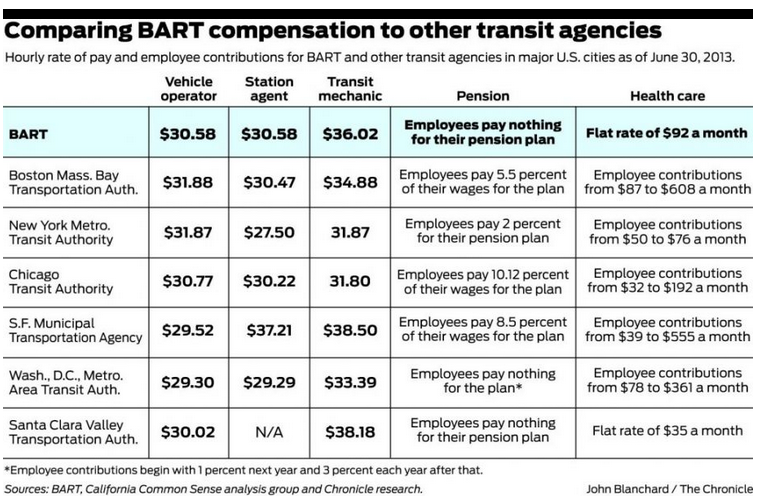 $100,000 Club
In November 2014, the Chicago Sun-Times reported that the Chicago-area Metra's "$100,000 Club" includes conductors and engineers.
Nearly 1 in 4 Metra regional rail conductors and assistant conductors made at least $100,000 last year, and an even higher proportion of engineers – almost 40 percent – took home that amount, the Chicago Sun-Times analysis shows.
The six-figure salaries are based on a century-old formula – abandoned by some of Metra's peers – that pays union conductors and engineers for hours worked and miles traveled over a certain allotment.
Now, the CTA has nearly $1 billion in pension debt. The sooner Chicago and other U.S. cities get on board with what needs to be done to reduce costs and restore fiscal health to their outdated systems, the better off – and safer – taxpayers will be.
Driverless trains, buses, trucks and taxis are all coming. Unions will protest, but there is no way to prevent these driver jobs from going the way of the dinosaur.