Ending Illinois' budget crisis: No more business as usual
Flooding Springfield's coffers with new money is a tried-and-failed approach.
Illinois' budget crisis has reached a breaking point. Gov. Bruce Rauner vetoed House Speaker Mike Madigan's unbalanced and unconstitutional budget on June 26, and without a last minute resolution, the state will stop funding many state programs and services. While operations won't cease immediately, those who rely on services such as Medicaid and child care assistance will eventually feel the pain.
Rauner vetoed the budget because Madigan's plan spends nearly $4 billion more than the state's 2016 revenue estimate of $32.4 billion.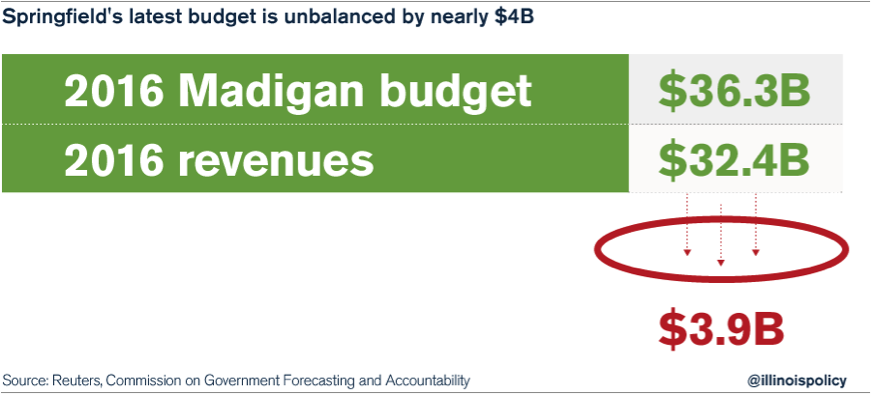 Business as usual: Budgeting gimmicks and deficit spending
An Illinois budget with a deficit is nothing new. Deficits have been business as usual for Illinois for more than a decade. Springfield has passed an unbalanced budget every year since 2002 despite a constitutional requirement to pass a balanced budget, according to the Illinois Comptroller's Office.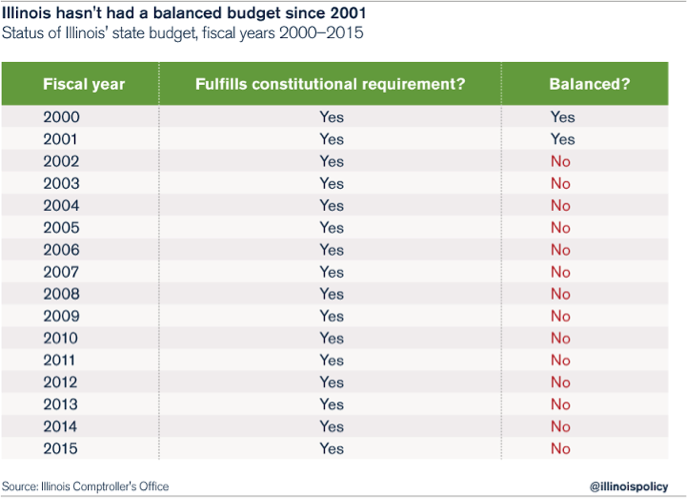 Illinois politicians have constantly used borrowing and budgeting gimmicks to present the false appearance of balance. For example:
In May 2011, less than six months after the General Assembly enacted a 67 percent state income-tax increase, lawmakers passed what they called a balanced budget. In reality, this budget used an accounting gimmick to push more than $1 billion in unpaid bills to the next fiscal year.
In fiscal year 2010, then-Gov. Pat Quinn borrowed $3.5 billion to fund the state's pension systems. In fiscal year 2011, Quinn borrowed another $3.7 billion for the same reason.
Rauner's budget veto an inflection point for change
The difference with this year's budget is Rauner has refused go along with the process in the same way his predecessors did.
That's forced Madigan to take the unconstitutional step of passing an unbalanced budget – in plain sight.
Other than preserving funding for education, the governor vetoed that budget.
That has brought Illinois to the brink of a government shutdown. The state needs a budget to operate after July 1.
Why has it come to this?
The conflict between the governor and the legislature over the solution to the budget crisis is a fight between the status quo and adopting pro-growth reforms. There are two possible outcomes: One is that Illinois will work to make its economy dynamic and fast-growing to attract small businesses, entrepreneurs and job creators, allowing Illinoisans to prosper. The other is that the state will continue its economically destructive path: eliminating jobs, driving people and businesses out of the state, and ultimately jeopardizing funds for those dependent on core government services.
3 prevailing budget truths for Illinois
Three facts prove that sensible spending coupled with pro-business and pro-taxpayer reforms is the solution to the current crisis.
1. Illinois has a spending problem. Not a revenue problem.
If Illinois spending had grown at the same rate as inflation and Illinois' population, the state's expenditures would have been $8 billion less than they were in 2014.

Extending this analysis to today reveals Illinois would be looking at approximately $30 billion in expenditures for fiscal year 2016 – which would be more than covered by this fiscal year's expected $32 billion in revenues.
2. Bad policies led to out-migration – which made the budget crisis worse.
Illinois' massive out-migration under Madigan's tenure has cost the state dearly. In the last two decades alone, Illinois has lost 1.4 million more people to other states than it has gained from those states, according to the U.S. Census Bureau. This net exodus of Illinoisans has resulted in a crushing loss of $45.6 billion of annual adjusted gross income and $7.6 billion in annual state and local tax revenue, which would be divided about evenly between state and local coffers.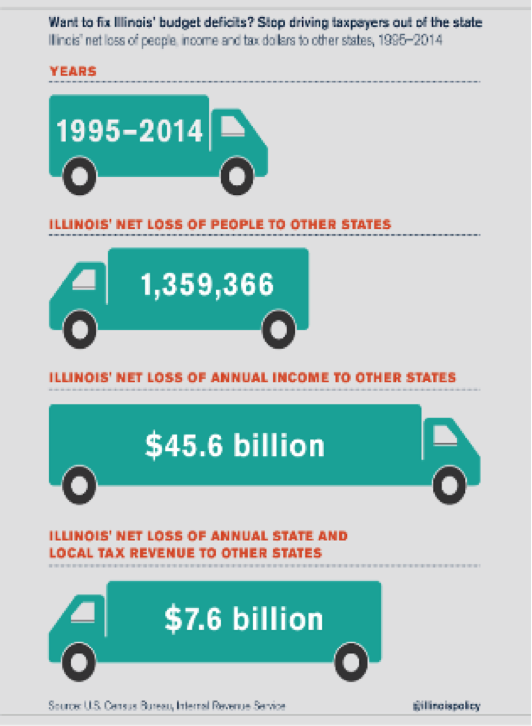 By investing in pro-growth policies years ago instead of keeping the crony, corrupt and anti-taxpayer status quo, there would be billions of dollars in additional revenue with which to balance the budget today.
3. A look at the last four years shows that more taxes isn't the solution to the state's crisis. In fact, higher taxes made things worse.
In 2011, Illinois increased its personal income tax by 67 percent and its corporate income tax by 46 percent, raising $31.5 billion in additional revenue from 2011-2014.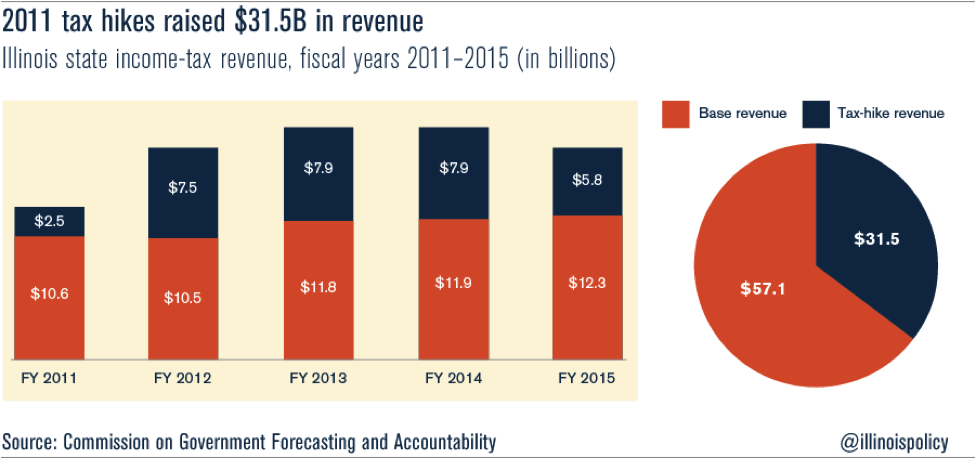 But Illinois didn't spend those additional billions on education, health care or human services. Instead, according to Senate President John Cullerton, the state used about 90 percent of the tax-hike revenue to pay into the state's pensions systems and pension obligation bond payments.
So nearly 90 cents of every tax-hike dollar went to pay for pensions. Despite that, the state's unfunded pension liability still rose by a third, or $28 billion, while the tax hike was in place. On top of the out-migration crisis that ensued, Illinois and Chicago's credit ratings received several downgrades from multiple rating agencies.
There is a lesson to be learned from all this. If Illinoisans fill Springfield's coffers with new money, politicians won't enact any reforms. They'll simply spend it and be back again soon, asking for another tax increase.
Instead, Illinois needs a budget and pro-job policies that create prolonged and sustainable economic growth – not a government that borrows, taxes and spends itself into a new crisis every few years.