Flow of Illinoisans into Indiana is becoming a flood
Nearly 20,000 Illinoisans on net moved to the Hoosier State in 2015.
Illinois loses more people to Indiana than it loses to any other surrounding state. And migration data from recent years indicate that the Illinois-to-Indiana out-migration flow is rapidly becoming a flood.
Illinois lost nearly 20,000 residents, on net, to Indiana in 2015 alone, according to data from the U.S. Census Bureau. That's the equivalent of the entire population of Crawford County, which is on the Illinois-Indiana border, relocating over the course of just one year. It means an average of 54 Illinoisans became Indianans each day in 2015.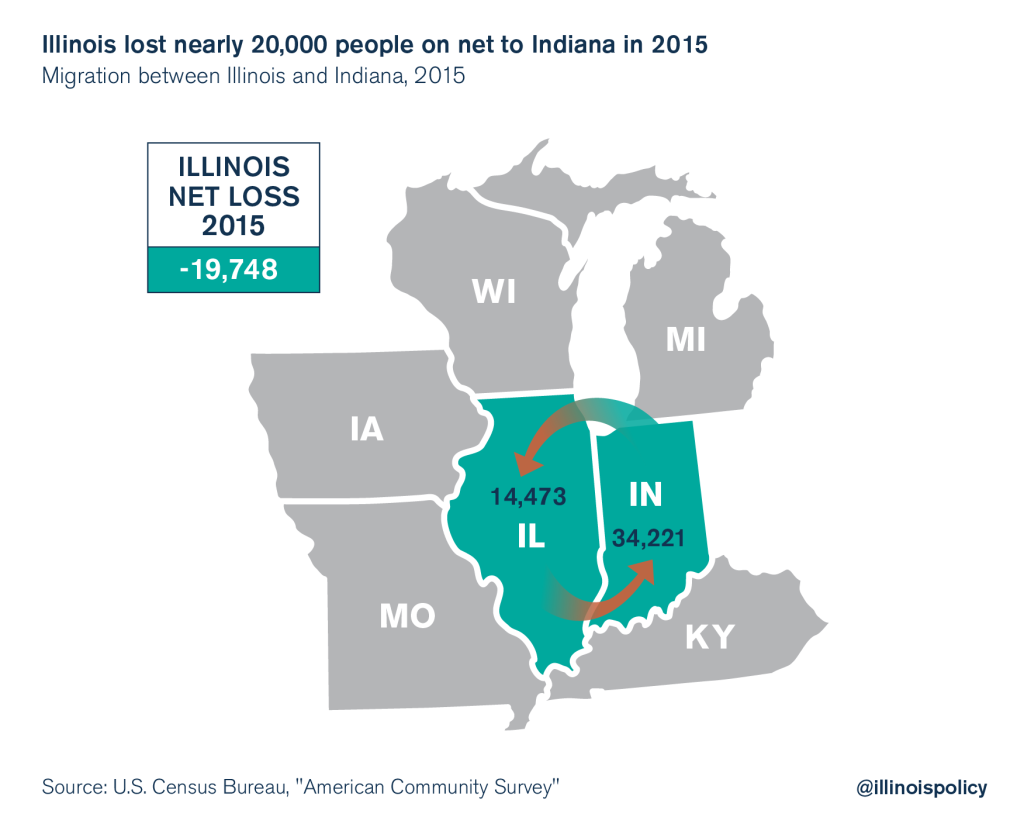 Illinois' extraordinary hemorrhaging of population to Indiana in 2015 is just the most recent reported year of loss in the Prairie State's decadelong stream of Indiana-bound migration. In total, the Land of Lincoln lost, on net, over 119,000 residents to Indiana from 2006 through 2015. That's comparable to moving the entire population of Kankakee and Edwards counties into Hoosier territory over the course of a decade. It's an average daily net loss of nearly 33 Illinoisans to Indiana.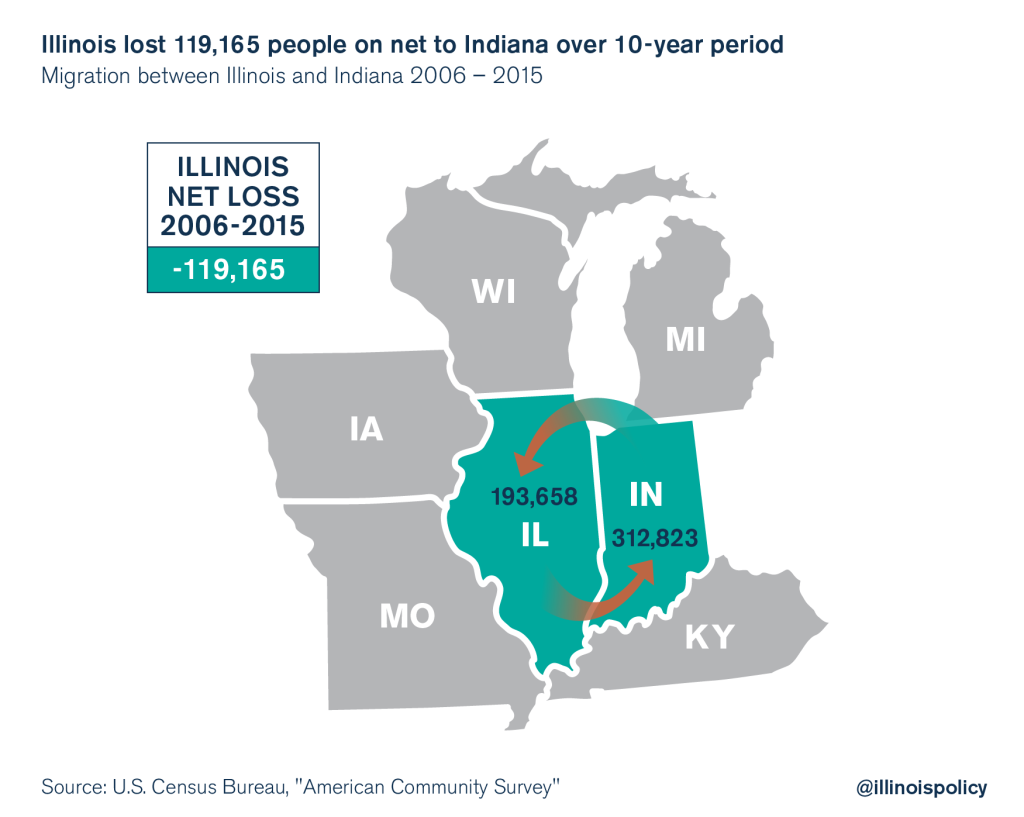 Indiana is a popular relocation destination for outward-bound Illinoisans because it's more affordable for both individuals and job creators.
Indiana bests Illinois on taxes
Illinoisans fare far worse than their Indiana counterparts on taxes. Most notably, Illinois' property tax rates, which are among the highest in the nation, are more than 2.5 times higher than Indiana's, which are more in line with those in other states. Illinois' average combined sales tax is roughly 23 percent higher than Indiana's due to Illinois' local sales taxes. Indiana, by contrast, has no local sales taxes. What's more, while Illinois' income tax is currently comparable to Indiana's (after factoring in Indiana's local component), the Illinois Senate is presently proposing a 33 percent income tax increase.
Indiana has a better environment for industrial employers and workers
Indiana is friendlier to industrial employers than Illinois, which attracts jobs and people to the Hoosier State. For instance, workers' compensation is a major expense for manufacturers. And whereas Indiana has the second-least-expensive workers' compensation system in the nation, Illinois' system is among the top 10 most expensive nationally, and takes the lead as the most expensive regionally. Illinois' out-of-step workers' compensation system makes the state uncompetitive with neighbors like Indiana, particularly in regard to attracting and retaining blue-collar manufacturing jobs. While Illinois' workers' compensation system shouldn't necessarily mirror Indiana's, there's no reason Illinois should be a regional outlier in this matter.
Furthermore, Indiana enacted Right to Work in 2012 and has since seen faster jobs and income growth than Illinois, which lacks a statewide Right-to-Work law. Illinois is now surrounded by Right-to-Work states, rendering the Land of Lincoln regionally uncompetitive on this front.
Businesses are taking note of Indiana's friendly industrial climate. According to a 2016 Chief Executive magazine survey, CEOs ranked Indiana the fifth-best state in the nation for business, whereas they ranked Illinois the third-worst. Of the top 10 best states for business, nine had Right-to-Work laws.
Indiana's lower tax burden and friendlier business environment have also borne positive results for Hoosiers. In fact, Indiana's personal income has grown twice as fast as Illinois' since the beginning of the Great Recession, indicating better access to jobs and wage increases.
On top of Indiana's pro-growth policies mentioned above, the Hoosier State is planning improvements to commuter train lines to Chicago, which will shorten commute times between Indiana and Chicago and make it more appealing for service-sector workers from the Chicago area to call Indiana home. An increased outflow of Chicago workers to Indiana would weaken Illinois' suburban tax base.
Illinois policymakers must make serious reforms to stop the flood of Illinoisans to more industrial- and taxpayer-friendly Indiana. The following initiatives would help pave the way for a more competitive Illinois:
Property tax freeze to protect home values and make Illinois an attractive place to invest in a home, even when compared with states like Indiana
Workers' compensation reform to reverse Illinois' status as a regional outlier for workers' compensation costs
Fixing cost drivers such as pensions, workers' compensation and government union collective bargaining
Right-to-Work legislation to enable Illinois to compete with neighboring states.
The Prairie State's anti-growth policies cost Illinoisans jobs and force them to vote with their feet. Illinois policymakers need to fix the policy failures that quell job creation and crush taxpayers to stop the flood of Illinoisans to Indiana and other states.