Freeze-out: Government union strike could cripple Chicago this winter
A potential strike by Teamsters Local 700 – which represents snowplow operators in Chicago – could have a disastrous impact on travel and safety in the city. Unlike neighboring states, Illinois law enshrines this "right to strike," thereby giving government worker unions enormous power in bargaining.
Following record-breaking low temperatures across the Midwest, Chicago is expecting more wintry weather this weekend, with snow in the forecast.
That's nothing new for the Windy City. But this winter, a strike by a government union could cripple Chicago.
Teamsters Local 700 – the union representing the city's snowplow operators – has scheduled a possible strike vote for Jan. 7. As reported by the Chicago Sun-Times, union leaders aren't pleased with the progress of talks to replace a contract that expired in 2017.
A strike could be devastating – affecting not just road travel, but also the repair of water main breaks and the clearing of airport runways.
Unlike neighboring states, Illinois alone has enshrined a "right to strike" for most government workers in state law. Not only does this bargaining power threaten city services, but it also drives up property tax bills as local governments capitulate to expensive contracts in order to keep "peace."
A Teamsters strike could land a devastating blow
Teamsters Local 700 represents 2,032 city employees – from garbage truck drivers to snowplow operators to other "motor truck drivers." The number of workers covered means the strike could take a heavy toll on the city's residents and visitors.
Besides the obvious – road travel would be affected and could become hazardous for Chicagoans – other important services would also be shut down.
Air travel could come to a halt. Workers represented by Teamsters Local 700 are responsible for clearing the runways at O'Hare, the nation's second-busiest airport, as well as at Midway. What's more, the union represents cashiers at the parking garages and lots at both airports. Thus, everything from parking a car to landing a plane could become nearly impossible in heavy snow.
Other services – such as repairing broken water mains – could also be affected. Drivers responsible for getting workers to the appropriate sites would be out on strike.
Illinois law does specify that certain public safety workers cannot go on strike, but that is an exception typically reserved for police officers and firefighters. The city would likely have to file a court challenge seeking the reinstatement of striking workers, or try to find temporary replacement workers, who might be scarce during a time of high demand. And by then, the ability of residents to travel safely might already have been significantly impaired.
Illinois labor law holds taxpayers over a barrel
Illinois alone has enshrined a "right to strike" for most government workers in state law, unlike each neighboring state.
A government worker strike is different than a strike in the private sector. When government worker unions threaten to strike, they are threatening to shut down government functions and deprive residents of necessary services. It isn't the party sitting on the other side of the negotiating table, such as the governor or a city council, that directly bears the harm – it is the residents themselves.
In other words, it's a bullying tactic government unions threaten to use to shut down important services until their demands are met.
Conversely, every one of Illinois' neighbors prohibits most or all government workers from going on strike.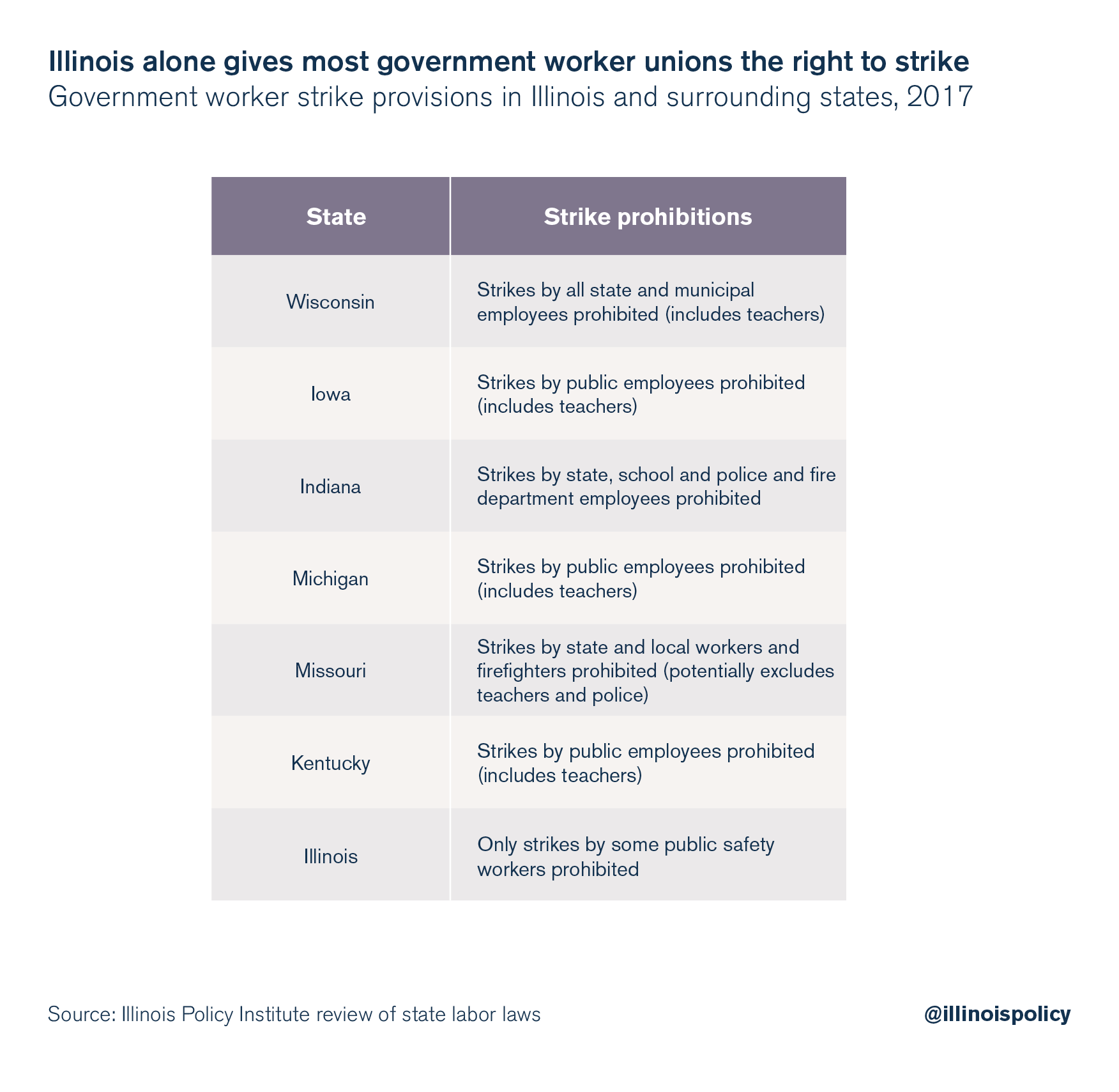 Prohibiting government worker strikes helps even the playing field. And it helps ensure a state's residents can get the services they need, without interference by government worker unions.
Until Illinois follows the lead of its neighbors, government unions across the state will continue wielding oppressive power over the people of Illinois.
And in upcoming weeks, that could spell disaster for Chicagoans.