Gas prices spike ahead of Memorial Day weekend, as future tax hikes loom
A nationwide gas price surge reached its peak just ahead of Memorial Day weekend, with Illinois gas prices sitting above the national average.
Traveling this Memorial Day weekend? Prepare to pay up at the pump: One of the biggest seasonal gas price surges seen in years just reached its peak, with Illinois sitting above the national average.
Illinois' average gas price is nearly $3.00 per gallon, as of May 25, surpassing the $2.80 national average. Drivers in Cook County pay the state's highest average gas prices at $3.33 per gallon, followed by the collar counties, each of which lead the rest of the state with average prices above $3.00 per gallon.
Nationwide, the average gas price climbed 67 cents a gallon between New Year's Day and its May 4 peak, according to CNBC, the second-biggest rise on record for that period of the year.
Nearly 75% of Americans are planning to take a road trip this summer, according to a GasBuddy survey cited by CNBC, while 38% said that gas prices will affect their travel plans. For Illinoisans with summer travel plans, another spike could take place at the pump before their next vacation.
Gov. J.B. Pritzker is proposing a capital plan that would double the state's motor fuel tax to 38 cents from 19 cents per gallon, amounting to a $1.2 billion tax hike. That would push Illinois' overall gas tax burden – which includes all state and local taxes and fees on gasoline – to second-highest in the nation.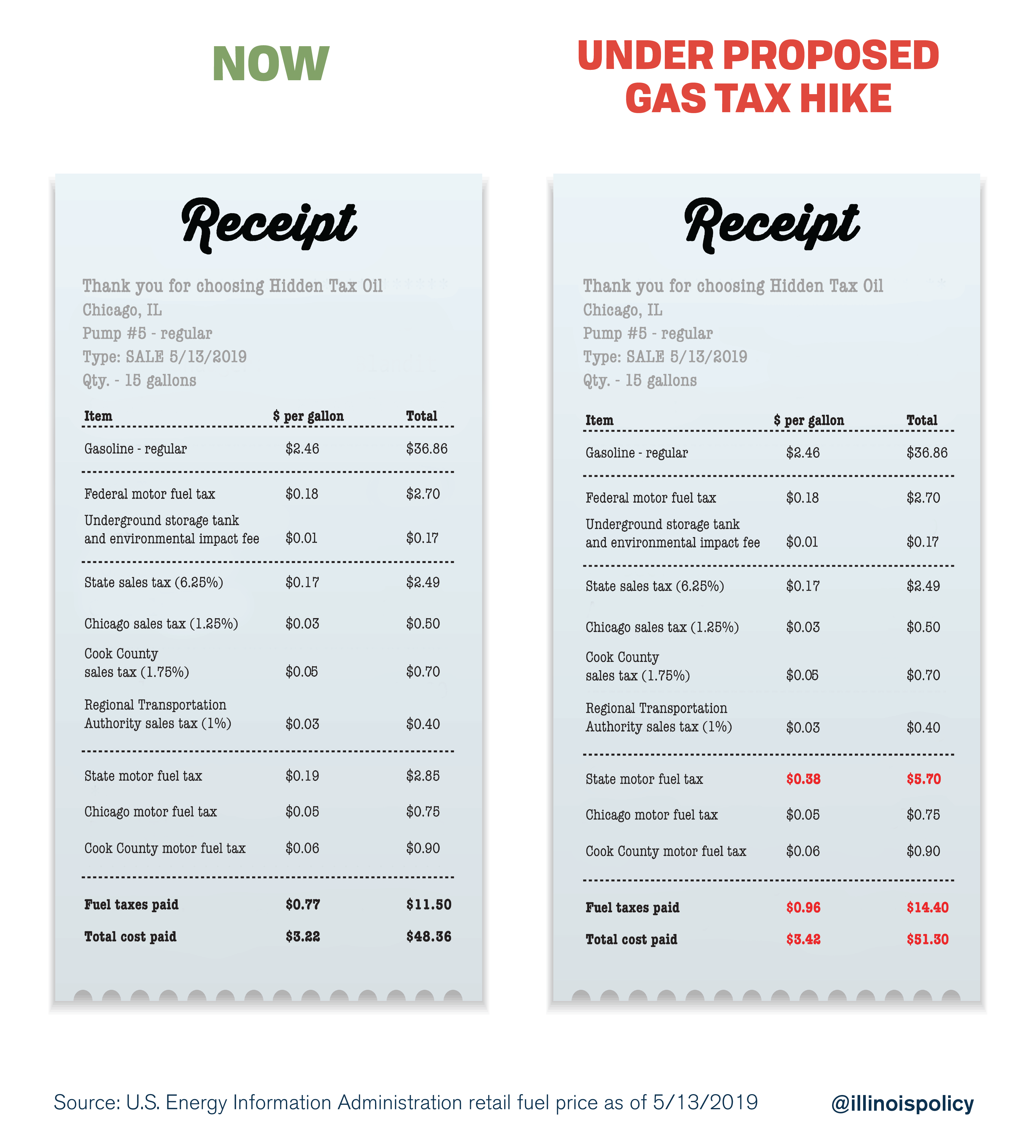 Illinoisans already pay the 10th-highest average overall gas tax burden, according to the Tax Foundation.
Less than year in office, Pritzker has proposed 19 new tax and fee hikes totaling $6.9 billion. Aside from doubling the gas tax, this includes a proposed statewide plastic bag tax, new ride-sharing  and increased cigarette taxes, among others.
While Pritzker campaigned on the progressive tax as a vehicle for middle-class tax relief, this string of tax hike proposals would more than wipe out any temporary tax cut under that plan. More than half of the $6.9 billion in proposed tax hikes – $3.5 billion – would fall squarely on ordinary Illinoisans, not "the rich" whom Pritzker says would be the ones paying their "fair share" under his plan.
In fact, Pritzker has already begun backing away from his promise of guaranteed tax relief.
Illinoisans traveling this Memorial Day weekend do not need another tax hike, which would only push gas prices further up. Instead, lawmakers in Springfield need to address the cost drivers fueling their appetite for endless tax hikes.