General Mills shutting down West Chicago plant, Illinois' 4th manufacturing loss in 10 days
Manufacturers and blue-collar jobs continue to bolt from Illinois' poor policy climate.
General Mills announced July 16 it will shut down a manufacturing plant in West Chicago, laying off 500 local food-manufacturing workers at the plant. One day earlier, Bunge North America announced 210 manufacturing jobs will disappear after the closure of its plant in Bradley, Illinois.
The General Mills news comes just two days after machine-maker DE-STA-CO announced it would move 100 jobs from Wheeling, Illinois to Nashville, Tennessee; and 10 days after an as-yet-unnamed company announced it will move 500 manufacturing jobs from the Chicago area to East Chicago, Indiana.
The jobs losses from these four manufacturers alone total more than 1,300.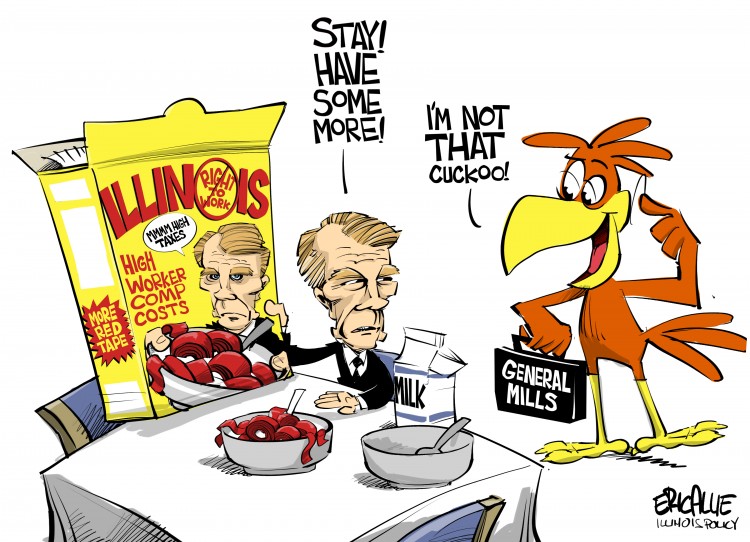 General Mills cited changing consumer patterns as a reason for the shutdown. The company also indicated that the decision is subject to negotiation with union officials.
Manufacturing remains a tough sell in Illinois, given the extraordinary expense imposed on manufacturers by the state's broken workers' compensation system. Manufacturers can save millions per year by moving to another state, just on workers' compensation costs alone.
In addition, the state's lack of worker freedom is unattractive to manufacturers. Two-thirds of the members of CNBC's Global CFO Council say Right-to-Work laws are "important" or "very important" in deciding where to locate or expand businesses.
Finally, with the second-highest property taxes in the U.S. and all signs pointing toward them going up further, there is very little space for manufacturers to achieve growth and success in Illinois. With so many policy pain points that need addressing across the state, businesses that need a flexible and affordable regulatory environment in the face of changing global trends find it difficult to make it happen in Illinois.