Home-sharing brings out the best in us
New Airbnb regulations pose a serious problem for Chicagoans.
A holiday in the hospital can deaden one's soul.
It doesn't matter if you're a patient or a visitor. It doesn't matter how kind and caring the nurses are. The fluorescent lights, the dry air, the hushed conversations and the specter of suffering are oppressive.
That's how it felt to be with my grandfather in a Springfield hospital for a weekend earlier this year. As he drifted to sleep, I realized I should probably find a place to do the same. The thought of staying in a similarly sterile hotel made me nauseous.
So I pulled out my phone.
The Airbnb app helped me find a cheap room in a house nearby. I was greeted by a woman who told me of her own struggles with sick family members. She reassured me that things would be OK and then made me some tea.
The next morning I woke up ready to be a good grandson.
Home-sharing services such as Airbnb can be a great way for consumers to find boarding on short notice and for homeowners to make extra money. But like so much else in Illinois, government is getting in the way.
Chicago Mayor Rahm Emanuel thought he knew what was best for city visitors and homeowners when he signed a 58-page ordinance severely limiting home-sharing in June.
The hotel industry shelled out thousands of dollars to city officials to secure their support for the measure.
The ordinance slaps a new tax on homeowners who home-share, forces a new limit on the number of units per building where hosts can rent through home-sharing services, and sets a new mandate dictating that hosts keep records on guests.
Those are just the parts that are understandable. Many aspects of the ordinance are so vague or dense that no average homeowner could grasp the meaning without a lawyer. Even then, a lawyer could only guess.
The new regulations pose a serious problem for Chicagoans such as Alonso Zaragoza. The 37-year-old Windy City librarian purchased his first piece of property in April, a three-flat on Chicago's southwest side. Zaragoza wants to rent out the first floor apartment on Airbnb.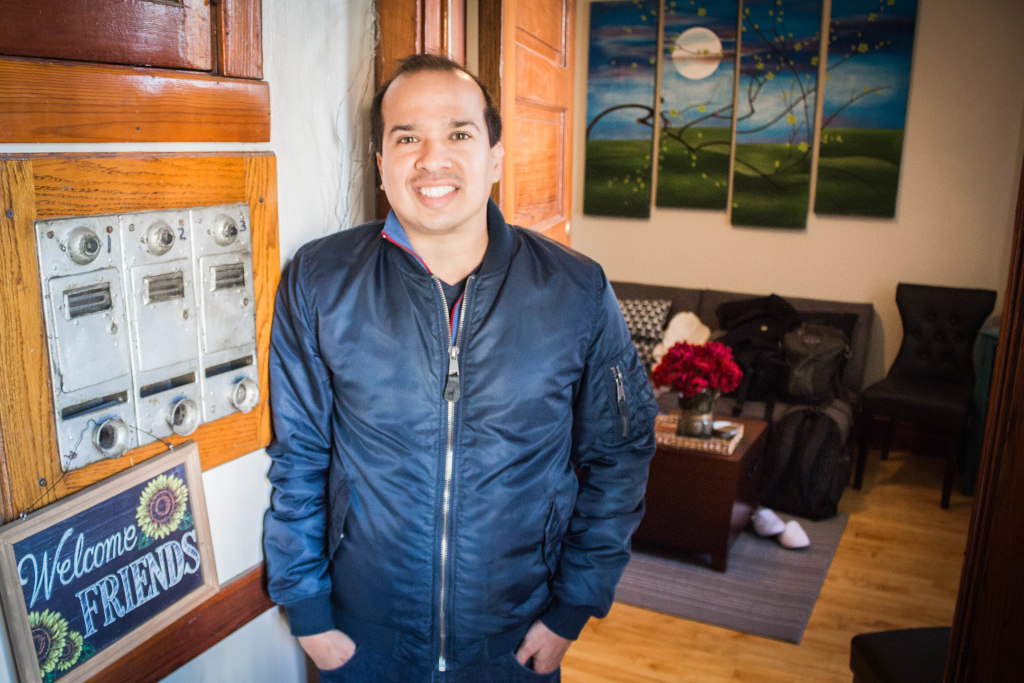 Why? To help pay for a spike in his property-tax bill.
Emanuel's record-breaking property tax hike is costing Zaragoza an additional $250 a month. But since Zaragoza doesn't live in the building he owns, he won't be able to rent out the room under the new ordinance.
"If [the city] doesn't give us the legal option to do things the right way, people are going to try to find other ways to survive," Zaragoza said.
He stressed the value of bringing tourists to the whole city, not just its commercial core, as well as the flexibility and affordability of home-sharing services.
"There are a lot of hotels but they are not affordable," he said. "And they're all downtown. When you're traveling it's nice to be able to see the city as it is. Downtown is not the city. It's just downtown."
Zaragoza is one of a few homeowners fighting the city for the right to rent. The Liberty Justice Center, or LJC, and the Goldwater Institute are helping Zaragoza and others sue the city to strike down the ordinance. The LJC is the litigation partner of the Illinois Policy Institute. Goldwater is an Arizona-based nonprofit that focuses on protecting constitutional rights.
The home-sharing crackdown in Chicago might not seem like a problem for the rest of the state. But history indicates Chicago is a testing ground for statewide stupidity when it comes to innovative new services.
A bill pushed by the Chicago taxi lobby nearly killed ride-sharing apps such as Uber and Lyft statewide in 2014.
Illinois lawmakers should ensure local bureaucrats quit meddling with basic property rights. They can take a page from Arizona. State politicians there passed a law in May that stops local governments from banning short-term rentals.
Just another reason Illinoisans should look south for the winter.
As I learned in Springfield with my grandfather, home is where the heart is. Even if it's not your own.