Illinois bill would start removing occupational-licensing barriers for ex-offenders
HB 5973 would remove significant occupational-licensing barriers that make it harder for former offenders to support themselves and their families.
Each year, more than 30,000 offenders complete their sentences and leave Illinois prisons. One of the best predictors of success after prison is the ability to find work. Studies by the Urban Institute and Safer Foundation show that ex-offenders who get jobs after release are less likely to commit crimes in the future and are more likely to be self-sufficient, contributing members of society.
But Illinois government actively undermines this rehabilitative process. Because of bad state laws there are at least 118 occupational and professional licenses that may or must be denied to anyone with a felony – and in some cases, a misdemeanor – record.
A bill introduced in the General Assembly would start to change that. House Bill 5973, sponsored by Illinois state Rep. Marcus Evans, D-Chicago, addresses licensing in nine fields – barbering, cosmetology, esthetics, hairbraiding, nail technology, roofing, real estate, accounting and funeral service. If passed, the bill would prohibit the Illinois Department of Financial and Professional Regulation from barring former offenders from working in these areas unless their crimes directly relate to the occupations for which they seek licenses.
The bill strikes a good balance between public safety and creating economic opportunity for former offenders. Someone with a record of embezzlement or financial fraud, for example, still wouldn't be able to get a license as an accountant. But someone with an old drug conviction – an unrelated offense for which he's already served his sentence – would have the opportunity to work in this relatively high-paying field.
To be sure, this bill would only be a first step. More than 100 other occupations still need to be addressed. Jobs as varied as architect and livestock dealer are also impacted by overly restrictive occupational-licensing rules.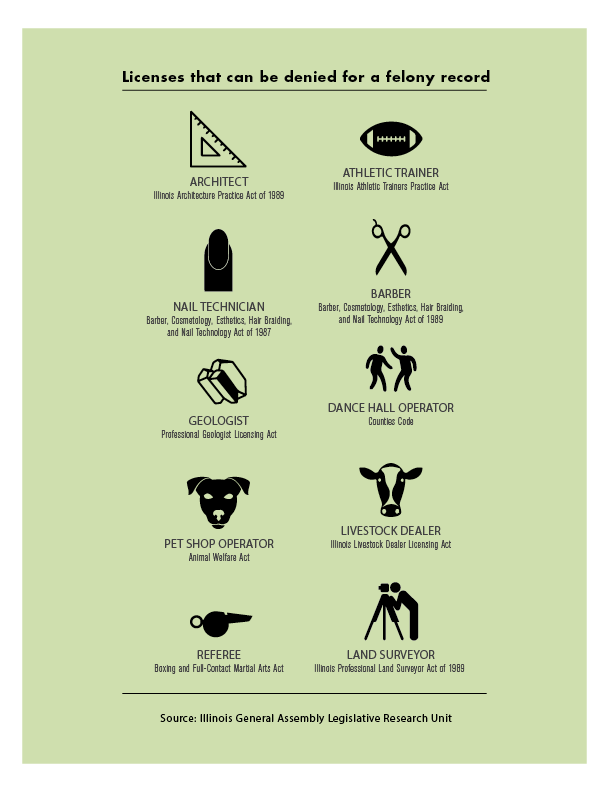 But HB 5973 would be real progress. Barbering, roofing and accounting all have faster-than-average jobs growth rates, according to the Bureau of Labor Statistics.
For Gov. Bruce Rauner's goal of reducing the state's prison population by 25 percent by 2025 to succeed, the state will need to reduce the number of people returning to prison after incarceration. Today, 48 percent of ex-offenders are incarcerated again within three years. Reforming occupational licensing won't fix everything, but by removing barriers to work, Illinois can give former offenders a better chance at economic success – and staying away from crime. HB 5973 is a small but important step toward this goal.