Illinois could see $300 million in savings through criminal-justice transformation
The governor has proposed criminal-justice reforms to save Illinois taxpayers $300 million over the next four years while improving outcomes for offenders and their communities.
Gov. Bruce Rauner's 2017 budget outlines plans to right-size the state's criminal-justice system and help taxpayers avoid $300 million in costs over the next four years by redirecting resources away from incarceration and toward rehabilitative tools. Increasing judicial discretion, improving access to mental health treatment at prisons, and expanding educational and work-training options are a few highlights of the governor's proposed reforms.
The governor's report outlines some of the problems that have plagued Illinois' criminal-justice system in recent years:
"Over the past five years, the Illinois prison population has reached a record high of nearly 50,000 inmates making the Illinois Department of Corrections (IDOC) one of the most overcrowded prison systems in the country. IDOC's population of offenders at June 30, 2015 was 47,165. The department's rated capacity or number of offenders that can safely be housed in its institutions is 32,084. IDOC is operating at 147 percent of rated capacity, with most offenders sentenced for non-violent crimes."
As Illinois' prison populations increase, so do costs. The Illinois Department of Corrections, or IDOC, directly pays about $21,600 per inmate, largely from the general-funds budget. But when costs falling outside the system – including employee health care, benefits and pensions, and capital expenses – are factored in, the total rises to $38,268 per inmate, according to the Vera Institute of Justice, a nonpartisan criminal-justice research foundation.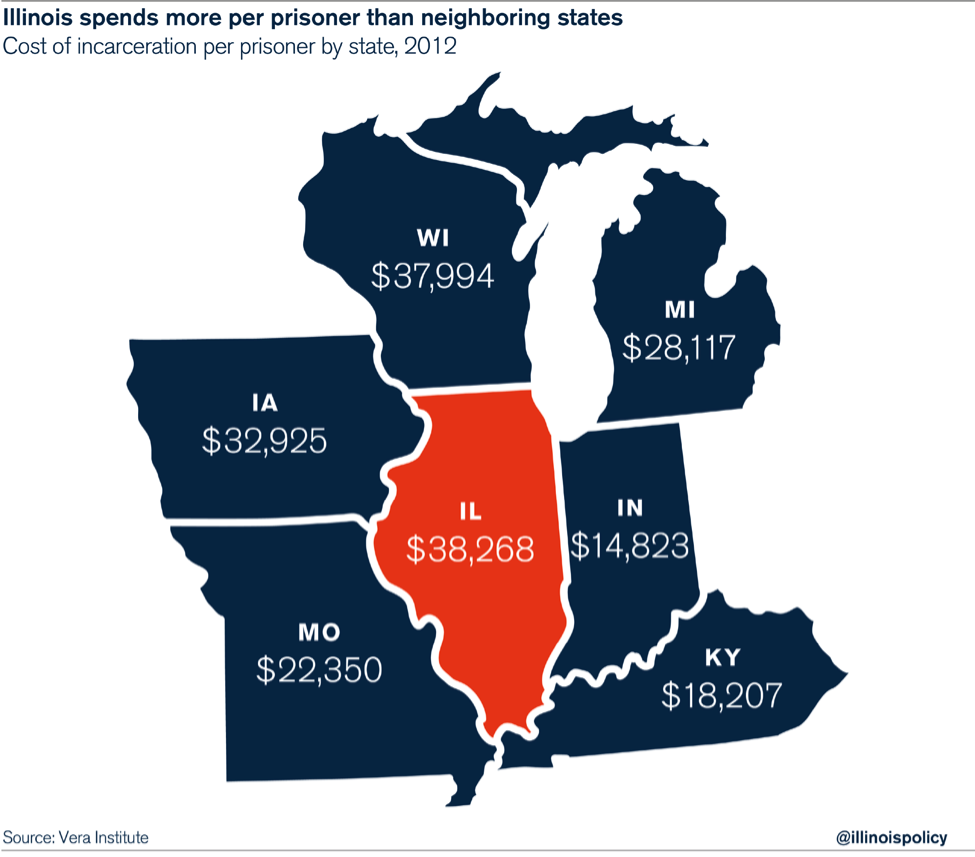 To address these costs, Rauner's budget prioritizes reinvesting criminal-justice resources to avoid long-term, recurring costs that come from offenders' cycling through the criminal-justice system. Citing the recommendations of his commission to reduce Illinois' prison population by 25 percent by 2025, the budget highlights commonsense proposals:
Discourage prison for low-risk offenders: For low-risk offenders, incarceration often isn't a cost-effective use of public resources. Require that judges explain at sentencing why incarceration, rather than an alternative such as probation, is appropriate when a low-level offender hasn't been on probation previously, and has no history of violent crime.
Expand eligibility for programming credits: Giving inmates the chance to earn time off their sentences by participating in rehabilitative programs encourages good conduct in prison, and increases the likelihood that they'll succeed after release. All inmates should be eligible and encouraged to join these programs.
Increase judicial discretion: Many drug offenses, residential burglary, and some repeat offenses come with mandatory prison time, while probation may make more sense. The commission suggests giving judges the discretion to determine whether probation is appropriate for these offenses, instead of forcing judges to send all such offenders to prison.
Enhance rehabilitative programming in Illinois prisons: Improve access to education, vocational training and substance-abuse programs to help offenders successfully adapt to life after prison.
The budget also proposes expanding mental health treatment capacity at Illinois prisons, investing more in facilities at Logan, Dixon and Pontiac, and creating a new facility at a prison in Joliet.
But to fully reap the benefits of lower corrections costs, Illinois needs to build on policy reforms and also focus on positioning offenders to succeed once they've served their sentences, creating an environment in which ex-offenders can successfully re-enter society. By removing barriers that keep former offenders out of legal employment, Illinois can help more people get back to work after incarceration. Studies show that recidivism – the rate at which former offenders return to crime – can drop substantially when former offenders find work.
Taxpayers expect Illinois' criminal-justice system to protect public safety and respect individual rights while maintaining fiscal sustainability. With the right investments, Illinois can refocus its criminal-justice system on rehabilitation for offenders and savings for taxpayers.