Illinois Department of Insurance: Premiums for plans on ObamaCare exchange set to skyrocket
New data released by the Illinois Department of Insurance reveal premiums for health insurance plans on Illinois' ObamaCare exchange could soar by an average of 44 to 55 percent in 2017.
Although President Barack Obama has frequently promised ObamaCare would reduce health insurance premiums by $2,500 for the average family, health insurance costs continue to rise for everyday Illinoisans.
According to new data released Aug. 24 by the Illinois Department of Insurance, premiums for the cheapest silver-level plan on the ObamaCare exchange are set to rise by an average of 45 percent next year. The cheapest bronze-level plans will rise by an average of 44 percent, and the cheapest gold-level plans will rise by 55 percent.
In some regions of the state, premium increases will soar far higher. In the Metro East area, for example, premiums for the cheapest silver-level plan will increase by a whopping 84 percent. Some individuals with more expensive plans could see even higher premiums. In fact, Blue Cross Blue Shield requested permission to more than double premiums on some individuals.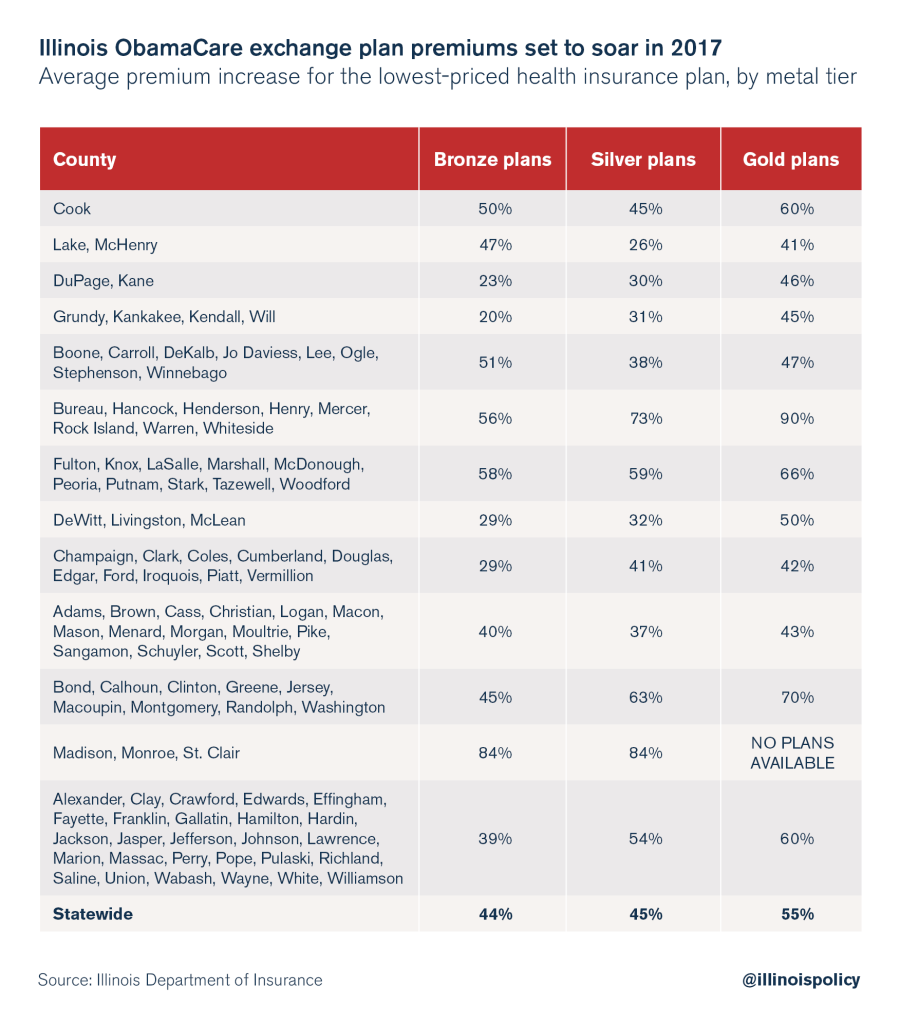 If skyrocketing premiums weren't bad enough, tens of thousands of Illinoisans will also see their plans canceled at the end of the year. UnitedHealthcare and Aetna, two of the three largest insurers in the country, previously announced they were pulling out of Illinois' ObamaCare exchange altogether. And even the insurers who are staying are canceling many of their existing offerings. Notices for these cancellations will go out in fall 2016.
That's on top of the failure of Land of Lincoln Health, an ObamaCare co-op that state regulators were forced to close earlier this year. Although Land of Lincoln received more than $160 million in taxpayer-funded start-up money, it was never able to become profitable or even break even. After losing hundreds of millions of dollars, causing it to stop paying some providers, Land of Lincoln slid into insolvency, and regulators were forced to start liquidating the company.
Land of Lincoln's collapse, the exits by UnitedHealthcare and Aetna, other plan cancellations, and skyrocketing premiums leave Illinoisans not only scrambling for new plans, but also searching in vain for plans that actually meet their needs. In fact, in some areas of the state, there will be no competition at all, with only one insurer even offering plans.
As costs continue to escalate for insurers and individuals, Illinois' ObamaCare exchange is inching closer and closer to collapsing altogether. In the next few years, some areas of the state could end up with no insurers participating in the exchange at all. It's already happening in other regions of the country. If it can happen in Pinal County, Arizona – an area right outside Phoenix with a booming population of more than 400,000 residents and one of the fastest-growing counties in the country – it can happen anywhere.
U.S. Sen. Dick Durbin, D-Ill., a key vote in ObamaCare's initial passage, met with leadership at Blue Cross Blue Shield earlier in 2016. The state's largest insurer warned Durbin it was losing money on the ObamaCare exchange and was considering pulling out of Illinois altogether. Durbin responded that insurers should be more competitive and reduce costs, despite the fact that ObamaCare is to blame for much of the eroding competition and skyrocketing costs in recent years.
In the meantime, Illinois families will see their health insurance costs consume an ever-growing share of their income.