Illinois' doubled gas tax grows a little more July 1
When Illinois state lawmakers and Gov. J.B. Pritzker doubled the state gasoline tax in 2019, they built in automatic annual increases to avoid voting for future hikes. The tax increases another half cent on July 1.
Doubling the state gas tax was not enough in 2019, so every July 1 state leaders ensured motorists would pay a little more.
This July 1, the state motor fuel tax will move to 39.2 cents per gallon, a half-penny increase, after it doubled to 38 cents from 19 cents in 2019 and saw an automatic increase to 38.7 cents in 2020. At 39.2 cents, Illinois's gas tax has increased 206% in three years.
A driver in Chicago will pay $55.55 for a 15-gallon fill-up July 1 at $3.70 per gallon. That includes $15.33 in taxes – nearly 40% of the retail cost of the gas.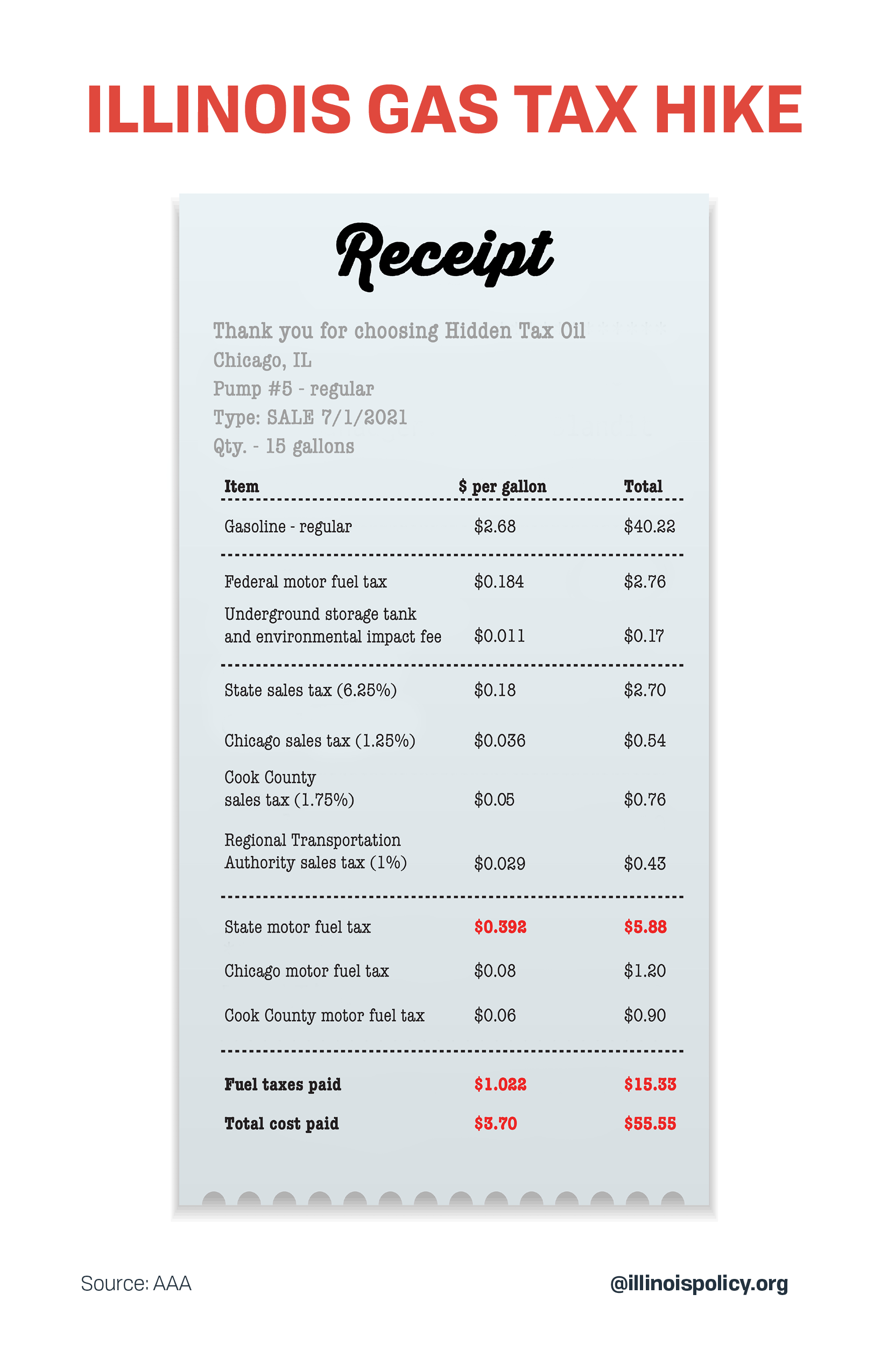 In 2020, Illinois was No. 3 in the nation for highest gas taxes. Only California and Pennsylvania were higher.
Each gallon of gas includes the 39.2-cent state gas tax as well as a little more than 18 cents for the federal motor fuel tax. Cook County adds 6 cents per gallon and Chicago adds 8 cents. Everyone is charged just more than a penny for the underground fuel storage tank clean-up fee.
State, county and municipal sales taxes are then added atop the fees, making Illinois one of the few states that taxes its taxes on gas. Tally it all up, and a Chicago driver pays just more than $1 a gallon in taxes.
The July 1 gas tax boost will mean the average driver in Illinois will be paying $105.67 more per year than before the gas tax doubled.
Illinois' high fuel taxes are most obvious when looking at gas prices in neighboring states. Illinois averaged 56 cents per gallon more than neighboring Missouri on June 23.
Illinois' July 1 gas tax hike comes at the same time crude oil hits a three-year high of $70 per barrel, and as Gov. J.B. Pritzker is spending $6 million to convince Illinoisans and tourists from other states to take a trip in Illinois. His "Time for Me to Drive" campaign is an attempt to boost the tourism industry that was battered by his COVID-19 lockdowns.
Pritzker just better hope savvy drivers don't choose to gas up in a neighboring state before their Illinois road trip.