Illinois drivers pay 54 cents more per gallon than rest of U.S. ahead of July 4 travel
Independence Day travel will return to pre-pandemic levels this weekend, reminding Illinoisans they pay the most for gas in the Midwest thanks to high taxes.
AAA estimates a record-setting 42 million people will pack up the car and hit the road this Independence Day weekend, but those heading out of Illinois will see a pattern: cheaper gas almost everywhere else.
The average price of a gallon of gas June 29 in Illinois was $5.41 – 54 cents higher than the national average of $4.87, but 87 cents higher than neighboring Missouri. Chicago drivers were paying $5.96.
The difference that gives Illinois the most expensive gas in the Midwest is Illinois imposing the second-highest motor fuel taxes in the nation. On top of state taxes and fees, Chicagoans pay an extra $1.18 per gallon at the local level.
The gas tax doubled to 38 from 19 cents a gallon in 2019 to fund Gov. J.B. Pritzker's $45 billion capital plan. He also implemented automatic gas tax hikes every July 1, which boosted the excise tax to the current 39.2 cents.
July 1 is on us, but the next automatic hike is being delayed until after the election as Pritzker offers voters his version of economic "relief." The delay means drivers face two automatic tax hikes in 2023, the delayed hike on Jan. 1 and the next automatic hike on July 1, 2023. Inflation is expected to drive the state gas tax up another 6 cents, to 45.2 cents per gallon, by the time the July 1, 2023, increase taxes effect.
Pritzker also is forcing every gas pump in the state to carry a message about his tax hike delay, starting July 1. If station owners refuse, they face $500-a-day fines.
The Illinois Fuel and Retail Association fought back by suing, but lost and is considering an appeal. They will carry Pritzker's message of "relief," but also are adding information to their pump signs to let drivers know who is responsible for doubling the state gas tax and is threatening them with fines if they fail to carry what they see as a political ad for Pritzker.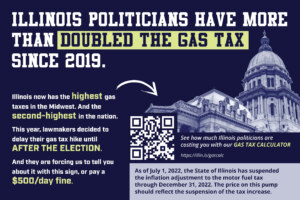 Independence Day celebrates a time when people fought tyrants and taxes. Filling up across state lines sends a message to state leaders.
So does taking a stand on Amendment 1.
The same government unions that pushed Pritzker and state lawmakers to double the gas tax are now advocating for a constitutional amendment on the Nov. 8 ballot. They portray Amendment 1 as a "workers rights amendment," but it so increases government union bosses' bargaining power that it would guarantee a $2,100 property tax hike for the typical Illinois homeowner.
Freedom of speech and freedom of choice are great ways to celebrate Independence Day.
Sign the petition
Stop Pritzker's automatic gas tax hikes
Sign our petition to put an end to Gov. Pritzker's annual gas tax hikes – and pledge to vote in the 2022 election.
Learn More >