Illinois food stamps hit 2014 high
More than one in five Illinois households are dependent on food stamps.
Five-thousand Illinois families enrolled in the Supplemental Nutrition Assistance Program, commonly known as food stamps, in September. This brings the total number of Illinois households on food stamps to the second-highest count in state history. Only in June 2013 were there more Illinois households on food stamps.
The number of households enrolled in food stamps hit a new 2014 high in September, according to data released by the Illinois Department of Human Services. The number surpassed the 1 million mark earlier in 2014, and has been rising steadily.
More than one in five Illinois households are now dependent on food stamps to put food on the table.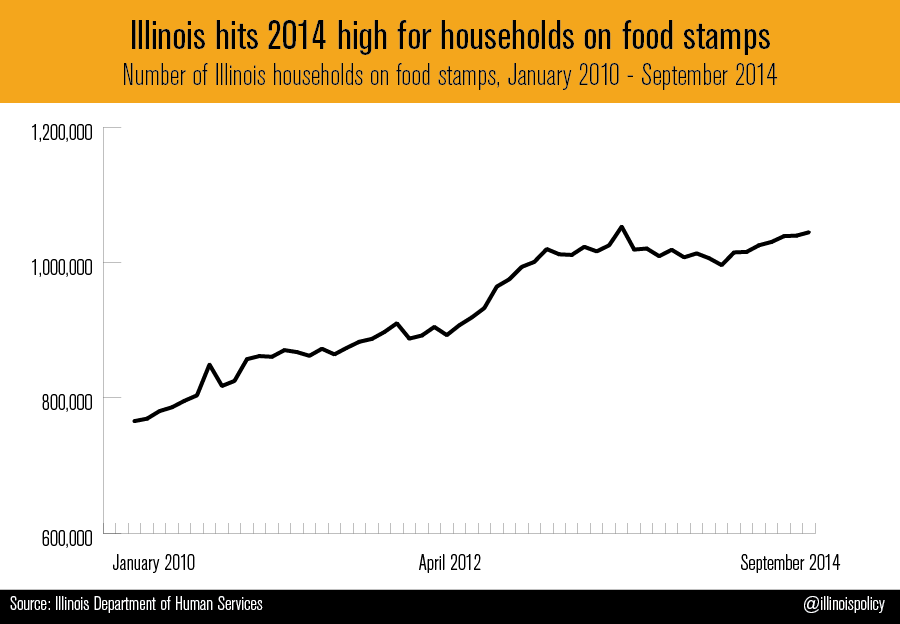 The total number of Illinoisans enrolled in food stamps, which includes dependents, also rose in September to more than 2 million Illinoisans, the second-highest count on the year. This count has been trending upward and has increased by 17,000 people on the year. The September food-stamp enrollment is the eighth-highest month in Illinois history.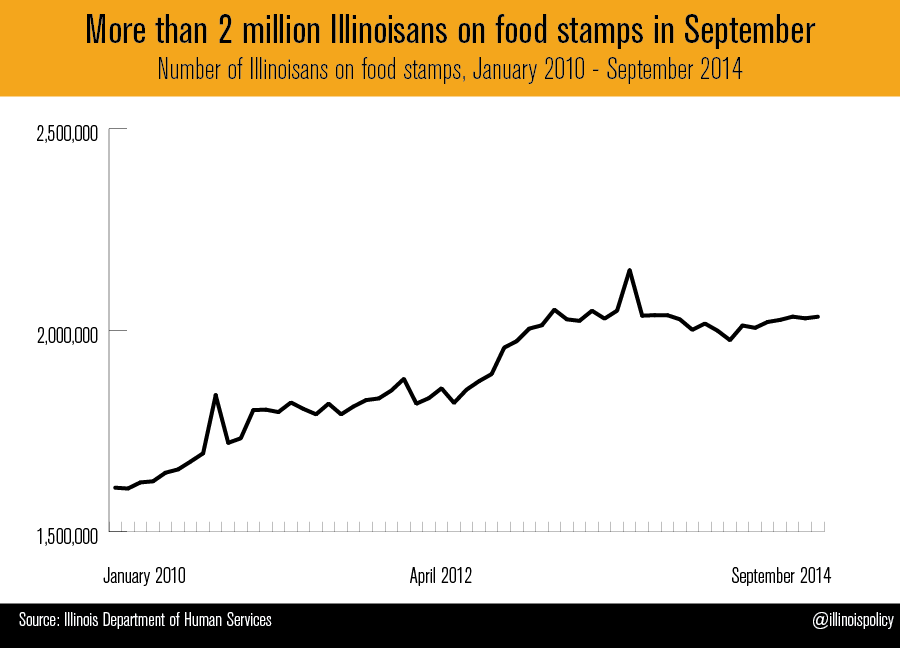 Food-stamp enrollment still massively outpaces job creation in Illinois during the recovery from the Great Recession, despite two consecutive months of strong jobs gains in Illinois. For every two jobs created in Illinois during the recovery, more than three Illinoisans have enrolled on food stamps.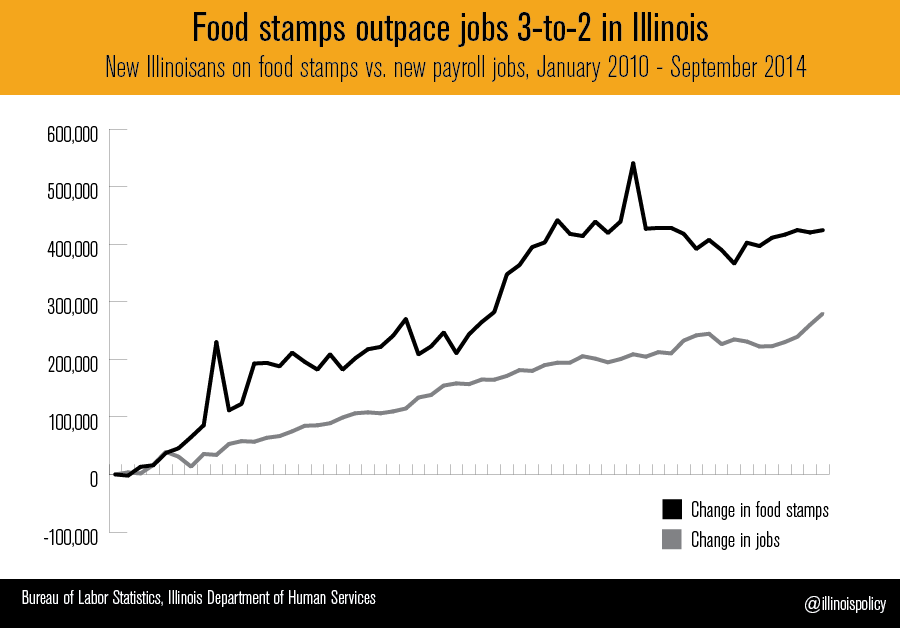 Illinois' surging food-stamp usage belies claims of the state's economic recovery. With food-stamp usage still trending up statewide, and more than one in five Illinois households dependent on food stamps, it is clear the economic recovery Illinoisans have waited for has not yet arrived.
The more than 20 percent of Illinois households dependent on food stamps speaks to the fact that Illinois' true unemployment rate is in the high teens, rather than the headline-making 6.6 percent. The Illinois recovery is still seven years from breaking even on the Great Recession – that is, Illinois is on pace to have the same number of people working in September 2021 as there were in January 2008.
To jumpstart the state's economy, Illinois needs massive economic reform, starting with an agenda that cuts cronyism and encourages entrepreneurship. In addition, real reform is needed to tackle Illinois' workers' compensation system, which is still ranked the seventh most costly in the U.S., even after factoring in the weak reforms enacted in 2011. Add in the second-highest property taxes and the eighth-highest unemployment insurance tax, and Illinois becomes very uncompetitive.
After the election cycle passes, Illinois' leadership needs to focus on making the state competitive again so Illinoisans can depend on jobs rather than food stamps.