Illinois has fastest shrinking labor force of all surrounding states
New data from the Bureau of Labor Statistics show Illinois' professional and business services sector has fared better than the state's manufacturing industry, which recorded 800 job losses in September.
Illinoisans continued dropping out of the workforce in September, according to an Oct. 21 economic release from the federal Bureau of Labor Statistics, or BLS. Whether it's giving up looking for work in the Land of Lincoln or picking up to move to another state, Illinois is experiencing more workforce dropout than any of its neighbors.
Workforce dropout is part of two divergences that are occurring in Illinois. The first is between job opportunities in the white-collar service sector and those in the blue-collar production sector. The second divergence is geographical, between opportunities in the greater Chicago area and those in downstate communities.
Illinois' unemployment rate stayed steady at 5.5 percent in September, despite continued workforce dropout driving down the number of unemployed. September jobs growth occurred in business services, while job losses occurred in financial activities and manufacturing.
Changes within Illinois: Professional jobs up, blue-collar work down
The industrial divergence in Illinois has manifested itself in 2016 in the contrast between manufacturing jobs and professional and business services jobs. Manufacturing has lost 8,500 jobs so far in 2016, while the professional and business services sector has added nearly 30,000 jobs.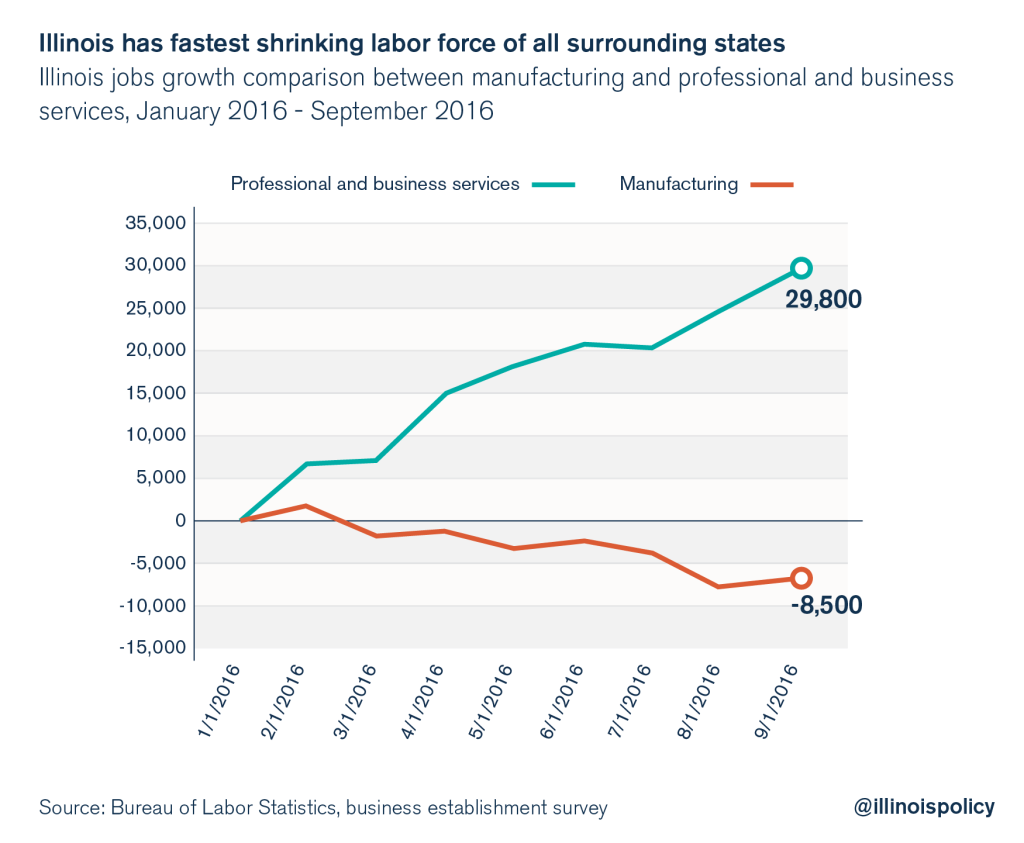 The industrial divergence between these two sectors dates to 2000, and continues to worsen each year. Around 2000, there were nearly 880,000 manufacturing jobs, compared with 825,000 in business services. Since then, manufacturing has lost more than 300,000 jobs, while business services has added 120,000 jobs.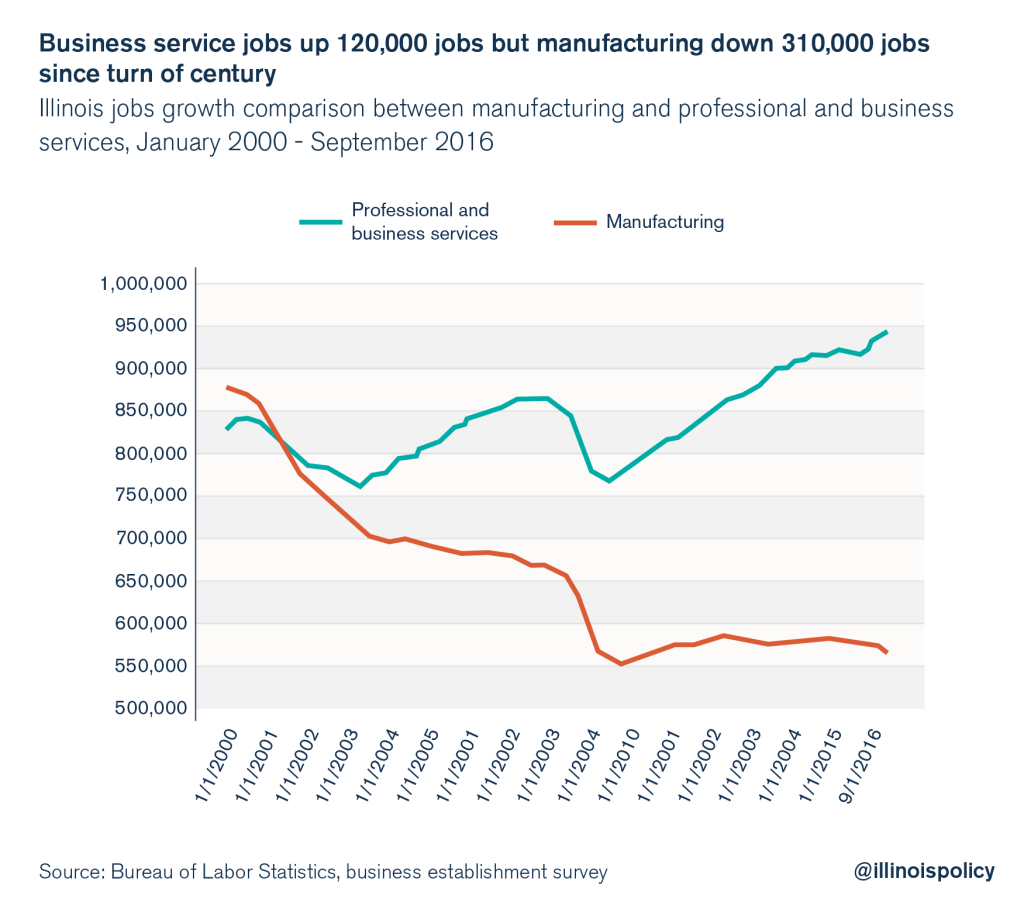 Part of this divergence is driven by underlying changes in the American economy. However, in Illinois, the drop in blue-collar jobs is undoubtedly related to the state's policy problems. The Land of Lincoln is hostile to job creation in manufacturing, with issues such as property taxes, workers' compensation and high sales taxes disproportionately hurting the manufacturing sector. These policies adversely affect the production sector more than the service sector.
Regional comparison
Illinois has stood out in summer 2016 for having the most significant workforce dropout in the region. Illinois' workforce has shrunk by 105,000 people since the month of April, more than any other neighboring or Great Lakes state.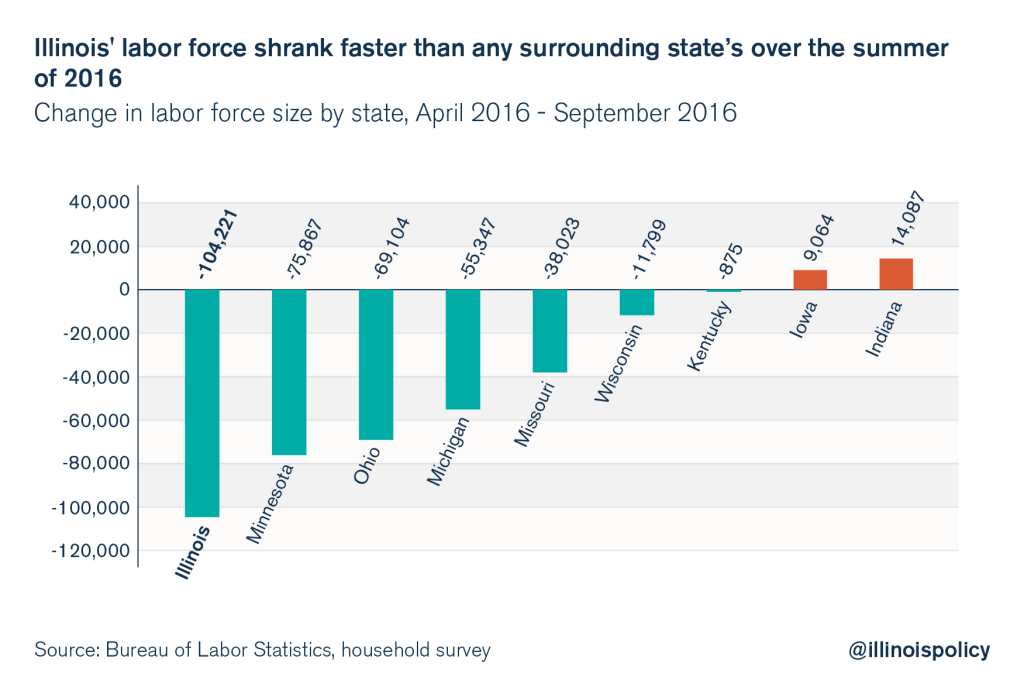 Over a longer timeline as well, Illinois' labor force has performed poorly compared with neighboring states such as Indiana. BLS data show that working-age Illinoisans are leaving the state, contributing to Illinois' labor force shrinking while neighboring Indiana's grows. Illinois' workforce has continued to shrink even since the end of the Great Recession. Since January 2010, Illinois' workforce has contracted by 40,000, while neighboring Indiana's has rebounded and grown by 220,000. The Hoosier workforce is larger than it has ever been, while the Illinois workforce is about the same size it was in the year 2000.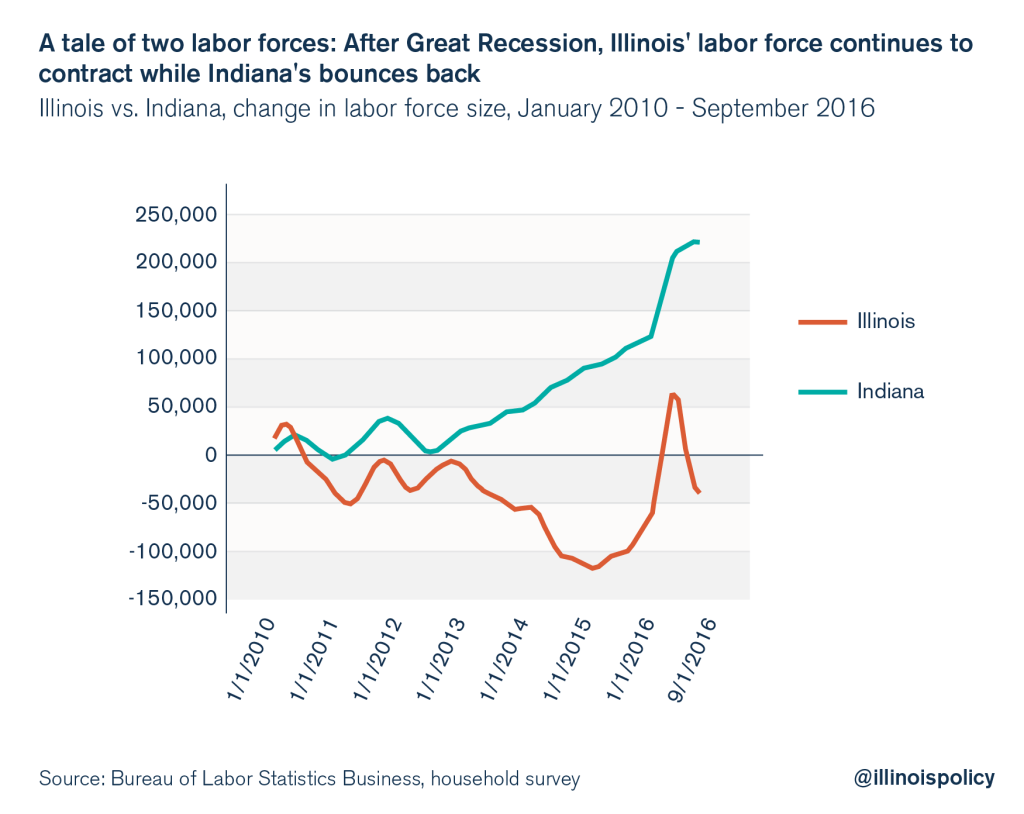 A significant portion of the state's workforce dropout stems from the lack of industrial job opportunities in Illinois. The Land of Lincoln's manufacturing job losses continued in September, with the state dropping another 800 factory jobs on the month. By contrast, Indiana (+1,600), Iowa (+500), Kentucky (+700), Michigan (+300) and Minnesota (+700) all added manufacturing jobs, while Missouri (-1,100), Ohio (-1,200) and Wisconsin (-100) lost factory work on the month.
Over a longer timeline, Illinois has failed to keep up with surrounding states. Since the Great Recession bottom, Illinois has added only 14,100 manufacturing jobs, giving Illinois the region's weakest growth rate with a 2.5 percent increase in manufacturing jobs since the recession ended.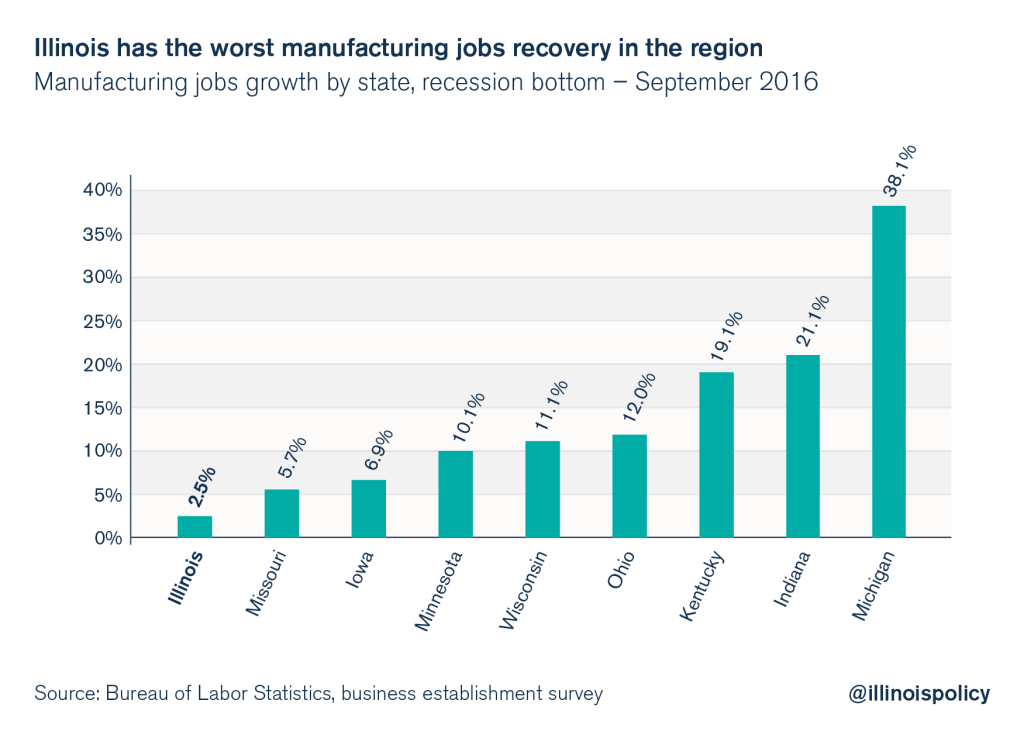 Although Illinois suffers by comparison with other states across industry sectors in general, the state's manufacturing sector stands out for its lackluster performance. Within the Illinois economy, production-sector hiring has sputtered, as the more white-collar-oriented Chicago-area economy fares better than downstate production communities.
In order to reverse the ongoing exodus of working-age adults, Illinois needs to develop a robust strategy for economic revival, centered on controlling government spending, restructuring the tax code for growth, and reforming industrial regulations. Illinois also needs to improve its talent pipelines so that more students leave high school ready to take on well-paying jobs.