Illinois has worst personal income recovery in Midwest, 2nd-worst in U.S.
A new study by The Pew Charitable Trusts shows Illinois trails all states but Nevada in personal income growth since the Great Recession, with a growth rate half that of Illinois' neighbors.
A new report from The Pew Charitable Trusts shows Illinois' personal income recovery since the Great Recession is the worst in the Midwest and the second-worst in the country. The report reveals Illinois' dire need for economic reforms to revitalize its moribund economy, which isn't producing enough well-paying jobs to keep hard-working Illinoisans in the Land of Lincoln.
According to the Pew study, personal income in Illinois has grown at an annualized rate of only 0.7 percent since the recession began in the fourth quarter of 2007. Only Nevada has fared worse: the Silver State experienced one of the worst housing declines in the country, along with massive losses in tourism, as a result of the Great Recession.
Most of Illinois' border states have seen personal income grow at twice Illinois' annual 0.7 percent growth rate. Kentucky had 1.7 percent growth, Indiana experienced 1.6 percent growth, Iowa saw 1.5 percent growth, and Wisconsin had 1.4 percent growth. Michigan's 1.3 percent growth rate and Missouri's 1.2 percent rate also bested Illinois' anemic 0.7 percent rate.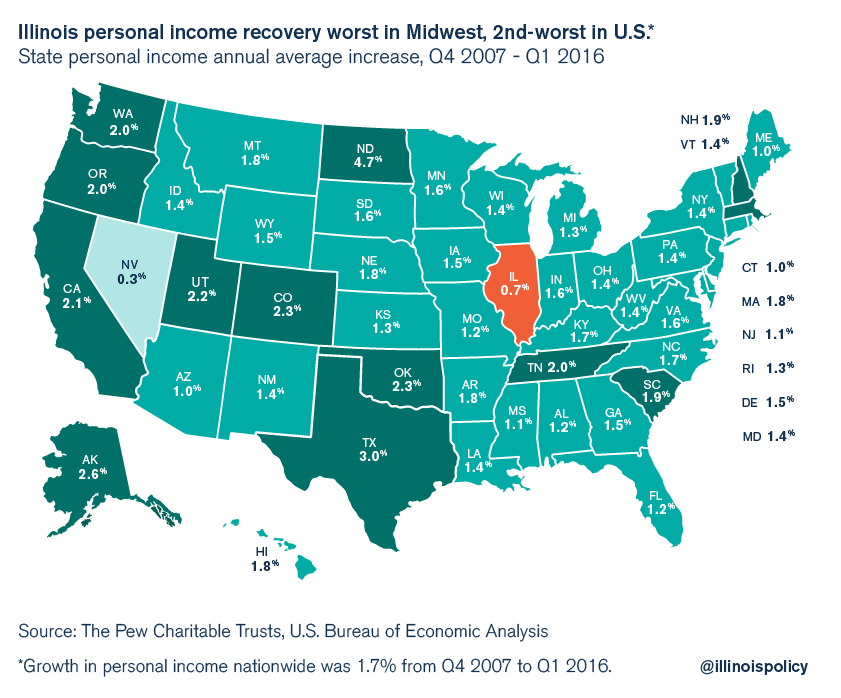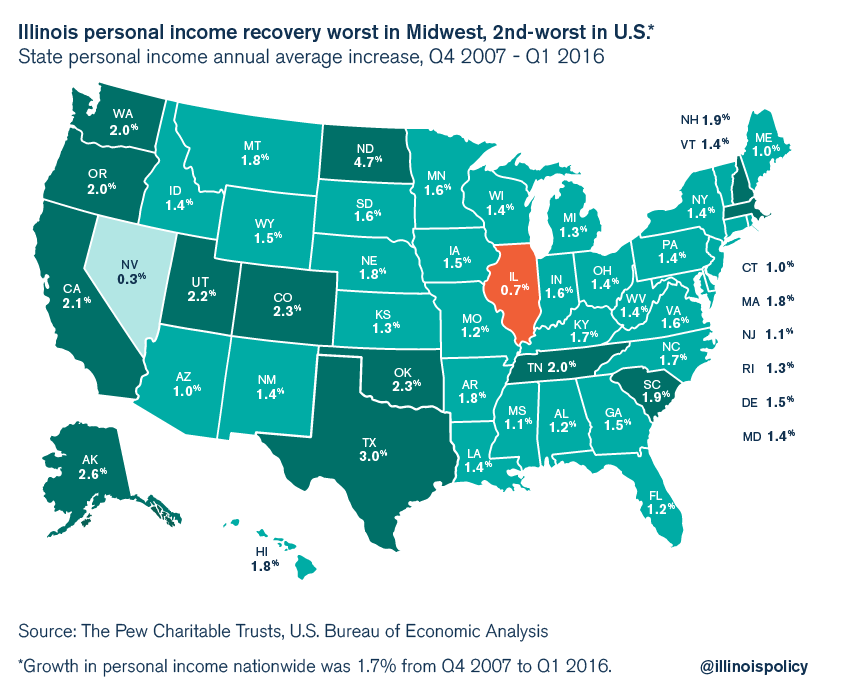 Personal income is calculated before taxes are deducted. Since the recession began, Illinois taxes have gone up across the board, with hikes in income taxes, sales taxes and property taxes. Not only is personal income growing slower in Illinois than in other states, but the taxes taken out of personal income have also gone up faster in Illinois than in other states.
There are eight years of state personal income data since the Great Recession began, running from 2008 to 2015. Indiana, which has enacted tax and regulatory reforms, has seen better personal income growth than Illinois in all of those eight years.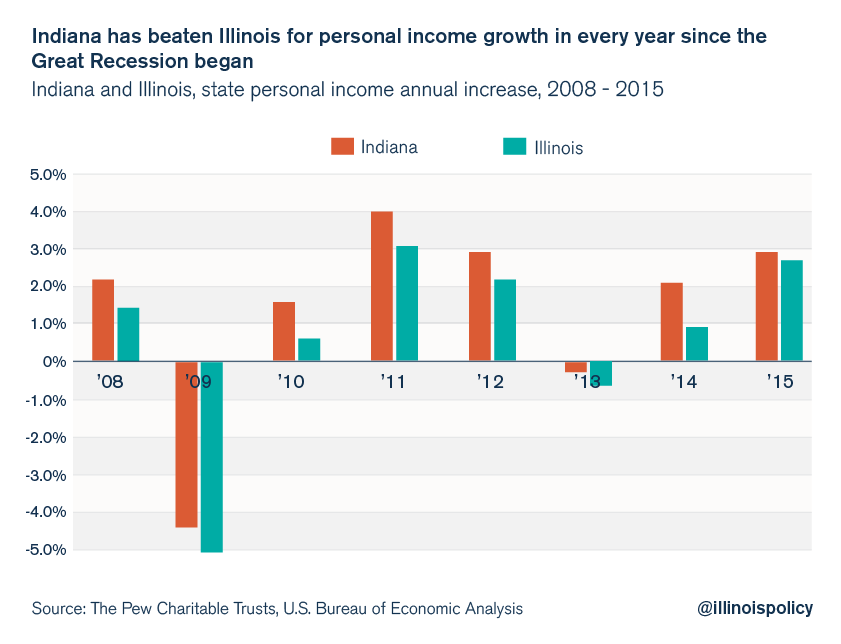 Illinois personal income growth has been so weak because the state's economic climate is so inhospitable to both workers and businesses. As of May 2016, Illinois is the second-worst state in the country for putting people back to work since the recession ended. Illinois still has 110,000 fewer people working than before the Great Recession began.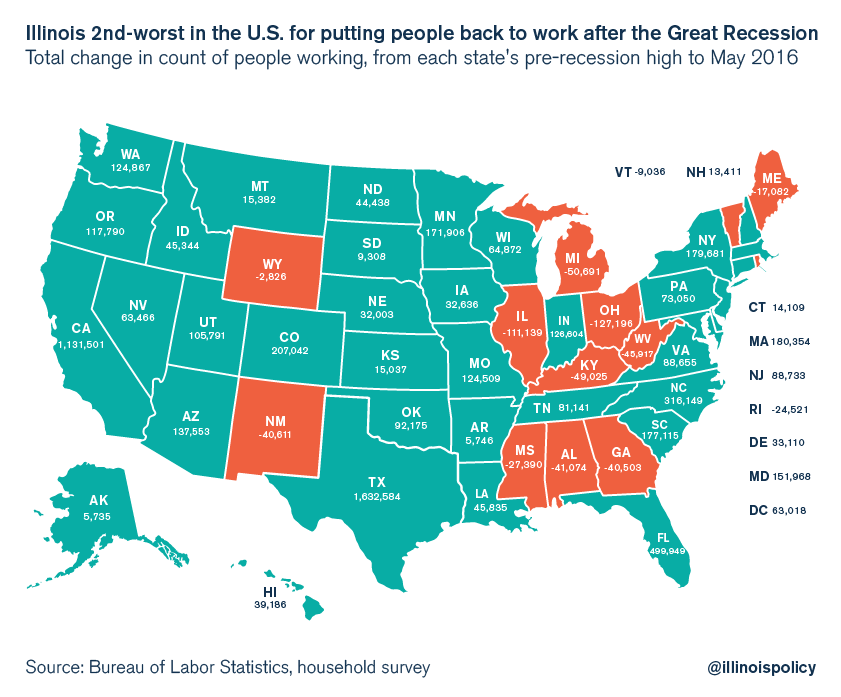 Faced with such a weak employment recovery, working-age Illinoisans are increasingly leaving the state. Millennial taxpayers are leaving Illinois most rapidly of all age groups. Weak income growth, together with high out-migration, is a recipe for financial disaster for a state with unsustainable debt at both the state and local levels.
Illinois must control spending because the government-worker pension debt that has accrued is already beyond what taxpayers can afford. The state needs economic reforms to encourage jobs growth and broaden the base of taxpayers. Only with more workers in jobs and higher pay at those jobs will state income grow. Without a competitive economic environment, Illinois workers will continue to see their income growth weaken, and more and more residents will have to leave the Land of Lincoln for better opportunities in other states.