Illinois home values down 21%, property taxes up 9% since 2007
Without serious property tax relief – including pension reform – it is likely fewer will demand planting roots in Illinois.
Illinois homeowners still have yet to recover much of the home value they lost after the housing market crash. But that hasn't stopped those homeowners' property tax bills from climbing.
Average home prices in Illinois are still 21% lower today than in 2007, according to the most recent data from the Federal Housing Finance Agency.
Even though homes are worth less than they were more than a decade ago, Illinois property tax bills have jumped by 9%, after adjusting for inflation.
The recovery of home prices in Illinois is more painful compared with the national recovery. Since 2007, the decline in home values remains 300% worse in Illinois than the national average – with homeowners nationwide seeing property values just 5% lower today on average than they were in 2007.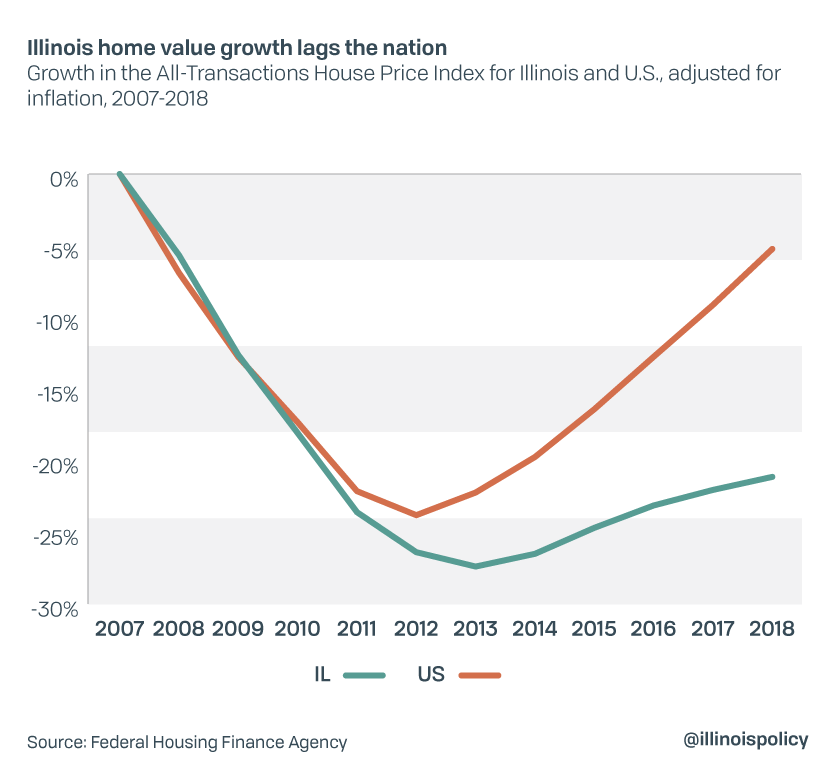 Home ownership is the biggest investment most families make. But it's not only a financial investment – it's an investment in that community and the state of Illinois.
It's an investment fewer people are making: Outbound residents have driven net population loss five years running. And government data show local governments in Illinois did not adequately reduce property tax levies after the recession, leaving a shrinking tax base to pick up a growing share of the burden.
Home prices are tied in part to the demand of prospective homeowners. Without serious property tax relief, it is likely fewer will demand planting roots in Illinois.