Illinois House passes bill to tear down nearly 100 red-light cameras
A proposal to limit red-light cameras in Illinois is making significant progress.
The Illinois House on Feb. 26 voted overwhelmingly to tear down nearly 100 red-light cameras.
Lawmakers approved House Bill 322 on a vote of 84-4, with five members voting present. If the bill is signed into law, non-home-rule communities would not be allowed to install the cameras in the future and would be required to remove any currently operational cameras by the beginning of 2021. That means 45 of the 101 communities in the state with red-light cameras would be forced to remove them. That adds up to 92 of the state's more than 600 cameras that would come down, or 15%. That includes Franklin Park's five cameras, Lake Zurich's seven cameras and Matteson's five cameras.
HB 322 was championed by state Reps. David McSweeney, R-Barrington Hills, and Jonathan Carroll, D-Northbrook. It will now advance to the Illinois Senate.
A separate bill introduced in the Illinois Senate would ban the cameras statewide. Senate Bill 2902 is sponsored by state Sen. Mattie Hunter, D-Chicago, and includes home-rule municipalities – meaning the cameras would be outlawed throughout Illinois.
Home-rule municipalities have powers over revenue and other issues that the state has not reserved for itself, so taking away a home-rule power usually takes a three-fifths vote in the Illinois General Assembly. But a source told the Chicago Sun-Times that because the red-light cameras were first allowed by state law, that only a simple majority is needed to ban them.
"Traffic laws should be driven by safety, not bribery, shakedowns or the need to boost revenue," Hunter said in a statement. "An industry that benefited from foul play shouldn't be able to continue to siphon money from the pockets of motorists."
Red-light cameras in Illinois have amassed over $1 billion in revenue since 2008, according to an Illinois Policy Institute study.
Two of the cities at the heart of the red-light camera scandal would not lose their cameras if McSweeney and Carroll's bill is the one that passes and Hunter's stalls.
Oakbrook Terrace saw its mayor resign after FBI agents raided his home and took $60,000 from a safe as part of the SafeSpeed LLC probe. Oakbrook Terrace obtained its cameras after convicted felon and former state Sen. Martin Sandoval intervened with the Illinois Department of Transportation, a move that allowed cameras to glean about $5 million a year from drivers at an intersection IDOT deemed safe.
Sandoval pleaded guilty Jan. 28 to accepting $250,000 in bribes from SafeSpeed and failing to pay taxes on the money. His Oakbrook Terrace ploy was documented in a Chicago Tribune investigation in 2017, including the large political donations he received from SafeSpeed.
Summit is the other scandal-embroiled community that would get to keep its red-light cameras. Federal agents raided its government offices in September. It, too, has a contract with SafeSpeed.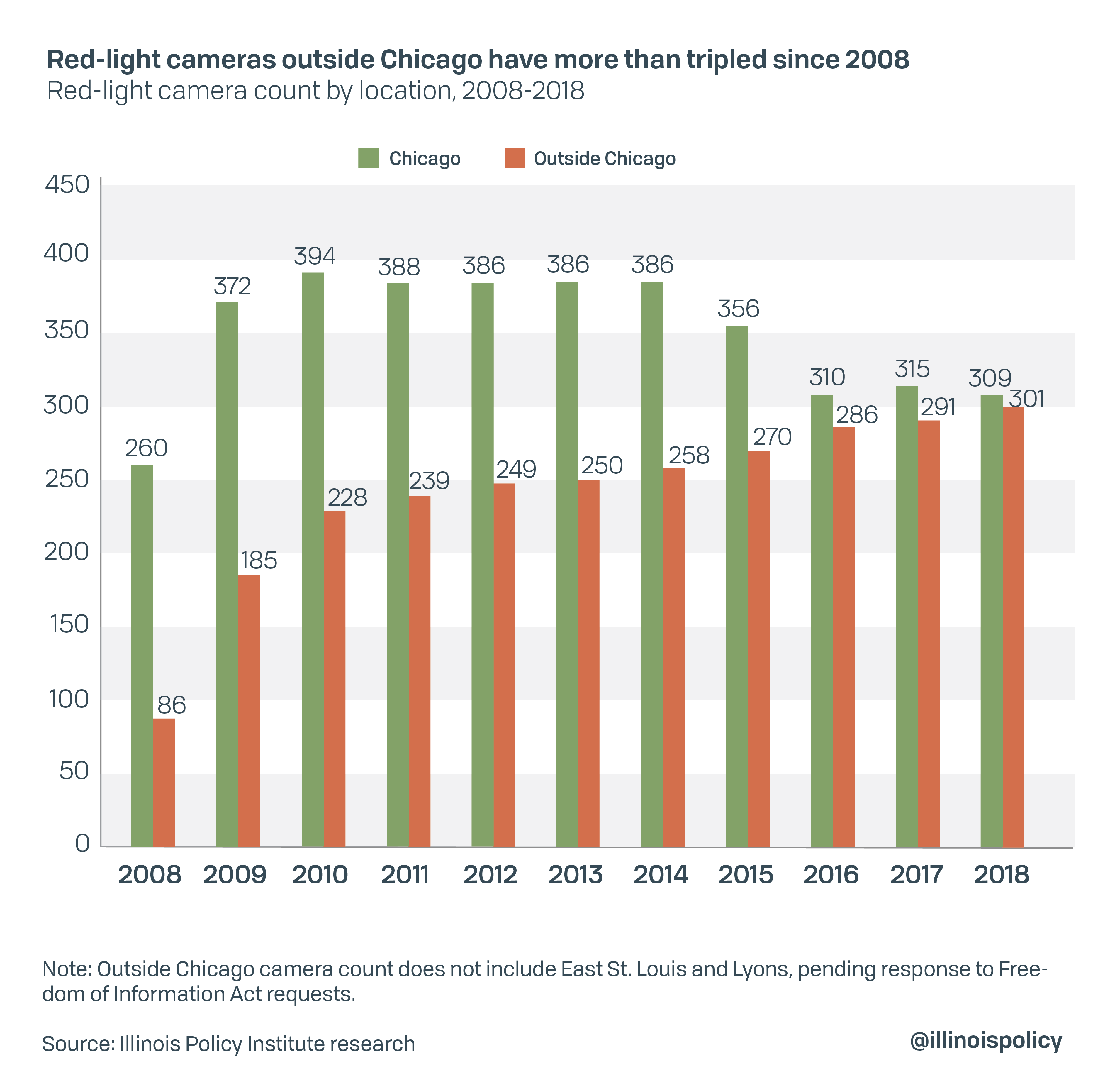 Last month, Illinois Comptroller Susana Mendoza called on communities to reconsider their red-light camera programs. She said her office would no longer assist municipalities in collecting unpaid tickets.
"The comptroller's office isn't going to be in the business [of helping] a program that's broken and morally corrupt," Mendoza said.
The Tribune report found over half of the intersections at which IDOT approved cameras were among the safest in the state, according to the department's own study. Many camera permits were also given for intersections that had no red-light crashes in the previous three years.
Regardless of where they're installed, red-light cameras lack clear-cut safety benefits. A 2018 study from Case Western Reserve University found red-light cameras likely do not increase traffic safety. Researchers looked at traffic accident data from Houston, which operated its red-light camera program from 2006 to 2010, and found that while T-bone collisions did indeed decrease during that time, non-angle collisions, such as rear-end crashes, actually increased. Rather than reducing traffic accidents, the study found red-light enforcement cameras may have increased accidents overall.
A similar study by the Tribune in 2014 found the same results: rear-end crashes were up 22%. In some cases, the number of crashes at an intersection increased after the camera was installed. Many cameras in Chicago were also placed at intersections that already had few accidents.
Illinois' red-light camera history is riddled with corruption and false information that has taken more than enough money from drivers' pockets. While McSweeney and Carroll's bill represents good progress worth making, if Hunter indeed can collect the votes then Illinois should join the 11 states that don't allow any red-light cameras to issue tickets.