'Fair tax' backer pleads guilty to tax fraud
Former state Sen. Martin Sandoval once headed the powerful Senate Transportation Committee. He now faces up to 13 years in prison on corruption charges involving a controversial red-light camera company.
More than a year after federal authorities mounted a massive corruption probe in Illinois, a guilty plea from a once-powerful state lawmaker marks what will likely be the ongoing investigation's first conviction.
On Jan. 28, Sandoval pleaded guilty to taking $250,000 in bribes from a controversial red-light camera company and other "participants," according to his plea agreement, as well as filing a false tax return. The former state officeholder also agreed to cooperate with federal investigators in an escalating probe into Illinois political corruption.
Sandoval, who formerly headed the powerful Illinois Senate Transportation Committee, faces up to 10 years in prison for the bribery charge and up to three years for the tax fraud charge, for a maximum 13 years in prison. Prosecutors said they'd request a reduced sentence in exchange for Sandoval's cooperation, according to the Chicago Sun-Times.
Sandoval's guilty plea comes one day after federal prosecutors indicted the former lawmaker, charging that he "corruptly solicited" and accepted money from the red-light camera vendor in exchange for influencing legislation in its favor and opposing legislation that threatened the industry's interests between 2016 and 2019.
Sandoval also pleaded guilty to filing a federal income tax return on which he "substantially" underreported his total income at $125,905 in 2017, despite earning nearly $260,000.
The state senator's rhetoric was often at odds with this behavior.
"It's absurd that families who are struggling to make ends meet are paying the same income tax rate as the wealthiest residents of our state," Sandoval said after voting for Gov. J.B. Pritzker's progressive income tax amendment last spring.
"It's long past time to implement a fair and equitable tax system that will provide relief to middle and working class taxpayers who have been carrying an undue financial burden in this state."
While Pritzker and others describe the $3.7 billion tax hike as a "fair tax," opponents have blasted the plan as a "blank check" for Springfield corruption.
Red-light red flags
According to the plea agreement, Sandoval in 2016 offered to use his political power to support the business interests of "Company A" in return for $20,000 in annual contributions. The two parties collaborated on several occasions to transfer the funds piecemeal and through alternate entities, in an attempt to obscure the source of the payments.
While the agreement did not name Company A, Sandoval let it slip in his court hearing that it was red-light cameras operator SafeSpeed LLC.
"I used my office as state senator to help SafeSpeed — er, company A … (and) be its protector in the Illinois Senate and influence other officials to roll out the red-light camera program in Illinois," Sandoval said, according to the Chicago Tribune.
In 2017, according to the document, Sandoval accepted $10,000 from Company A explicitly to use his position in the Illinois Senate to block legislation that would have banned red-light cameras in Illinois.
The plea agreement also recounts a 2018 meeting between Sandoval and his Company A contact in which Sandoval expressed frustration over having not been offered a paid consultant position, like some other officeholders have taken.
"I'll go balls to the walls for anything you ask me…. It's hard for me to swallow how [people] make so much off of you. Right? And I gotta do the work," Sandoval said. He went on to describe himself as the red-light camera industry's "protector" in the Illinois Senate, before successfully persuading the company to pay him $5,000 a month in "protector fees."
In total, Sandoval accumulated over $250,000 in bribes, according to the report. It is not clear whether those bribes came entirely from red-light camera companies.
Closing in on corruption
In September 2019, a series of raids involving the FBI and IRS targeted the home and offices of Sandoval, seeking information in part on SafeSpeed, a politically connected red-light camera company whose executives had for years generously furnished Sandoval's political war chest.
In 2017, a Chicago Tribune investigation found Sandoval used his position as chair of the transportation committee to pressure the Illinois Department of Transportation into reversing its denial of the installation of SafeSpeed cameras at intersections the agency had determined to be safe. A year later, Sandoval received the largest political donation in SafeSpeed's history.
An Illinois Policy Institute investigation found that red-light camera devices have taken in more than $1 billion in fines from Illinois drivers since 2008, despite producing no significant gains in traffic safety.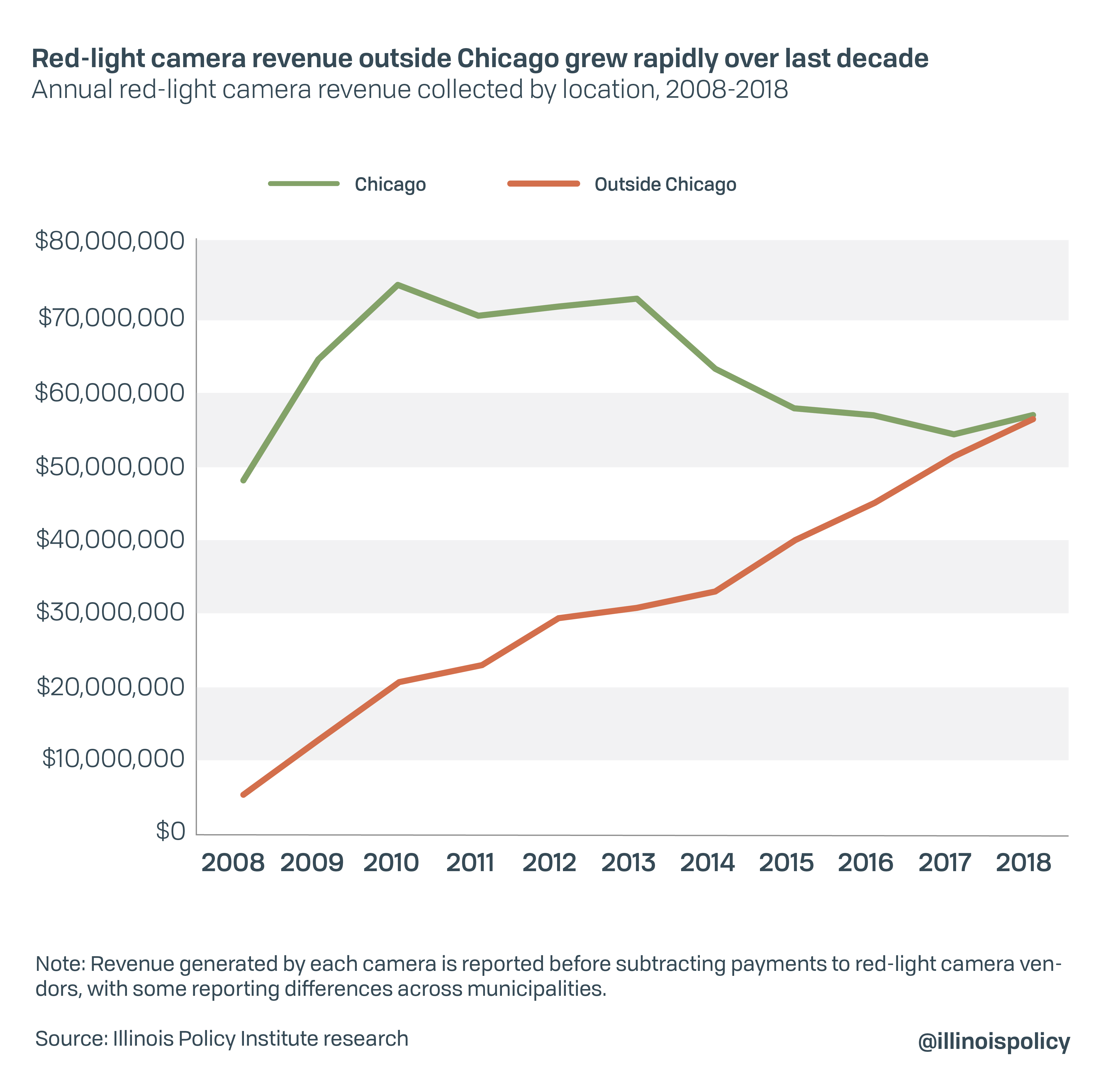 Sandoval resigned from his influential committee chairmanship in October 2019, and from the Illinois Senate altogether on Jan. 1.
Sandoval, whose conviction comes amid a sweeping federal investigation into Illinois government corruption, was the fourth high-profile Illinois officeholder indicted since the details of the probe started to surface in 2019.
Federal authorities previously served state Rep. Luis Arroyo bribery charges of his own in October, two months after hitting Sen. Tom Cullerton with a 42-count embezzlement charge. In May, Chicago Ald. Ed Burke, 14th Ward – the city's longest-serving alderman – received a 14-count indictment for allegedly attempting to strong-arm a fast food franchisee into hiring his private law practice for property tax work.
Crisis of clout
Sandoval is one of three state lawmakers who voted in favor of Pritzker's progressive income tax amendment last year who have since been indicted on corruption charges, along with Democratic state Sen. Tom Cullerton and former Democratic state Rep. Luis Arroyo. Illinois voters will face the question of whether to scrap the state's constitutional flat income tax protection on Nov. 3. As transportation committee chair, Sandoval also played a key role in shepherding the $45 billion capital plan to Pritzker's desk in June 2019. The plan doubled the state gas tax and increased a variety of other taxes and fees, lifting Illinoisans' total average state and local gas tax burden to third-highest from 10th in the nation.
An Illinois Policy Institute report published that year detailed how lawmakers could have spent $10 billion more on infrastructure without hiking taxes. Among the Institute's recommendations was adopting a system similar to that of Virginia's "SMART SCALE" system, which prioritizes infrastructure investments based on an objective and quantifiable cost-benefit analysis. Such a system ensures that lawmakers invest in infrastructure projects based on need, rather than politics or self-interest.
The charges brought against Sandoval only reinforce the need for those proposed reforms to Illinois' capital spending, as well as its ethics laws.
Reversing the trend
As of 2019, eight states prohibit red-light cameras from issuing traffic tickets while three states outlaw the devices altogether.
Pritzker, himself the subject of a federal investigation involving tax fraud, campaigned in part on rooting out government corruption in Illinois but has not committed to ending red-light camera enforcement, according to the Springfield-based blog Capitol Fax.
While the governor's rhetoric has yet to meet action, there are numerous steps state lawmakers could take to clean up state government. The following reforms, for example, would go a long way toward curbing political corruption in Illinois, which costs the state economy at least $550 million per year, according to Illinois Policy Institute research:
Adopting revolving door restrictions on state lawmakers becoming lobbyists.
Empowering the Illinois legislative inspector general to investigate lawmaker corruption. As is, this muzzled watchdog office must seek approval from a panel of state lawmakers before opening investigations, issuing subpoenas and even publishing summary reports.
Mandating state lawmakers recuse themselves from votes in which they have a conflict of interest. There is no current state law or even parliamentary rule requiring Illinois lawmakers to disclose a conflict of interest or to excuse themselves from voting on issues where they have personal or private financial interests.
Reforming the Illinois House rules, which grant more concentrated power to the House speaker than any other legislative rules in the country.
Passing a bipartisan constitutional amendment to end politically drawn legislative maps in Illinois.
Experts on good government rank Illinois the second-most corrupt state and Chicago the most corrupt city in the nation. That level of impropriety has brought with it significant economic stress and record-low levels of government trust.
To recover the state's sordid national reputation, and help create an environment ripe for economic growth, state leaders would be wise to take the steps necessary to combat corruption in state government, rather than leaving it to federal prosecutors to fill that void.
And given the nature of Sandoval's crimes in particular, perhaps a worthwhile first step Springfield could take is following the lead of the 11 states who've stopped penalizing drivers with faulty red-light camera devices.