Illinois House vote on AFSCME arbitration bill cost government unions $5.5 million
Members of the Illinois House of Representatives who voted for a government-union arbitration bill have received millions from government unions.
Illinois' government-worker unions have been preferred players in state politics for decades. And it's not hard to see why.
Just since 2002, the American Federation of State, County and Municipal Employees, the Illinois Education Association, the Illinois Federation of Teachers, the Service Employees International Union and the Chicago Teachers Union – the state's five largest government-worker unions – have spent a combined $46 million in direct contributions to political candidates.
This investment typically pays off. Government workers in Illinois belonging to AFSCME have been on the receiving end of 27 separate raises (unrelated to job performance or promotions) over the last decade of Democratic state governance.
But the union's latest contract with the state expired June 30. Illinoisans frustrated with the status quo elected Gov. Bruce Rauner, and AFSCME executives know the days of bloated contracts are over.
So instead of having to engage in tough talks with a reform-minded governor, AFSCME and Democrats in the General Assembly crafted legislation that would remove Rauner from the bargaining process altogether. This took the form of a House amendment to Senate Bill 1229.
The bill would allow AFSCME executives to declare an "impasse" in negotiations at any time, which would immediately strip Rauner of all bargaining power and place the contract in the hands of a panel of unelected arbitrators.
On May 29, the Illinois House passed the bill on a 67-25 vote, with three members voting present. One day later, the Senate sent the bill to the governor on a 38-17 vote. The governor rightfully vetoed the measure on July 29, but the Senate successfully voted to override his veto on Aug. 19.
If House Speaker Mike Madigan can gain the 71 votes needed to override the governor's veto in the House, the bill will become law. He has until Sept. 5.
In total, the 67 House members who supported the bill have received more than $5.5 million in direct political contributions from the state's five largest government-worker unions since 1994.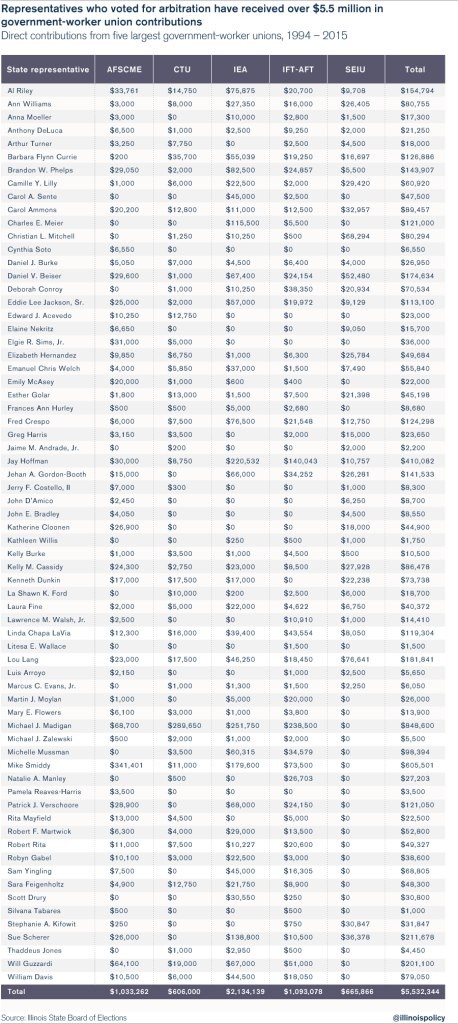 These unions have donated to House political-party funds as well, giving more than $380,000 to the Democratic Majority fund and $11,000 to the House Republican Organization since 2011.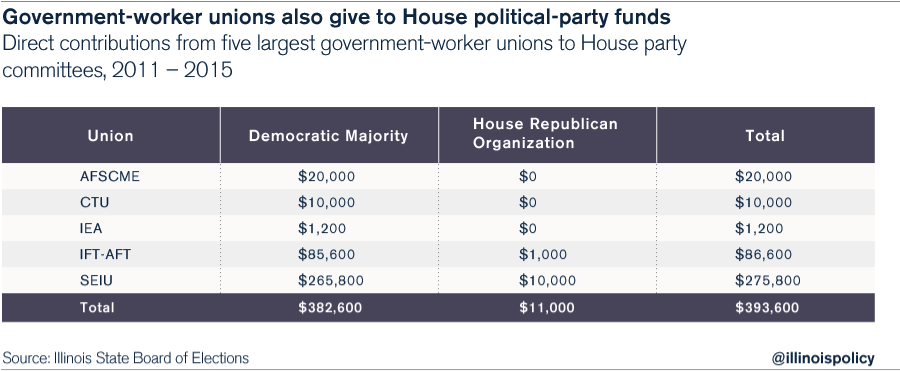 Click here to learn how you can contact your state representative to let him or her know you disagree with SB 1229.