Illinois losing 1 resident every 4.6 minutes, could fall behind Pennsylvania in population
Illinois has record loss of 114,000 residents to other states in 2016 as population shrinks by 37,500.
Imagine the entire population of Peoria, Illinois' seventh-largest city, all picking up and moving across state lines in one year, never to work, pay taxes or create jobs in Illinois again. That's equivalent to what happened to Illinois over the past year: New migration data from the U.S. Census Bureau show that from July 2015 to July 2016, Illinois lost 114,000 people, on net, to other states, a record high for the Land of Lincoln.
Now consider the permanent loss of the combined populations of Illinois' 10 largest cities outside of Chicago: Aurora, Rockford, Joliet, Naperville, Springfield, Elgin, Waukegan, Champaign and Arlington Heights, along with Peoria. The loss of these 10 cities' combined populations approximately equals Illinois' net loss of population to other states since 2000. Illinois has lost some 1.22 million people, on net, over the past 16 years.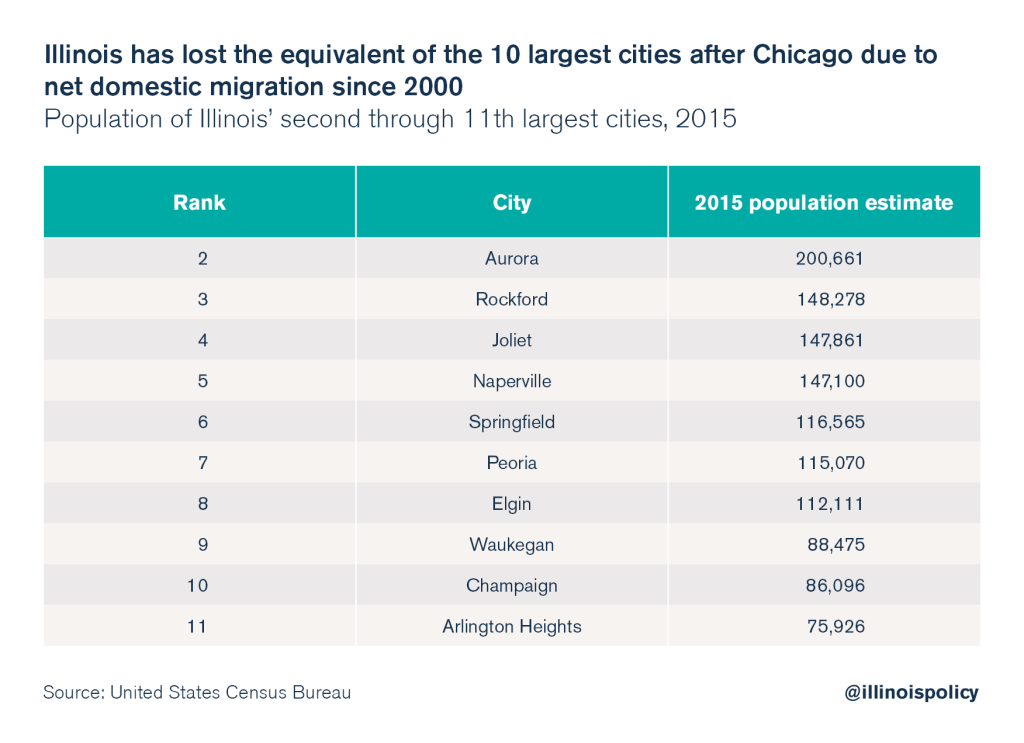 For the third year in a row, Illinois is the only state in the region with a shrinking population.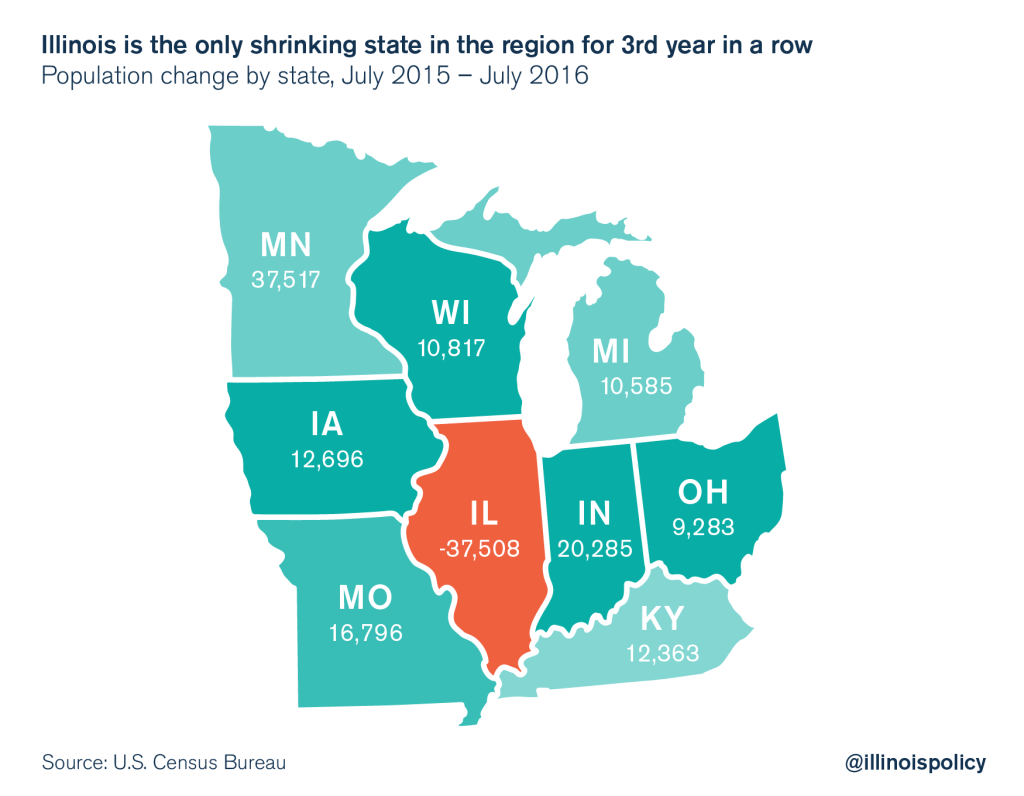 Illinois sustained record net losses for each of the last three years of census migration data: a net loss of 114,000 people from July 2015 – July 2016; a net loss of 105,000 people from July 2014-2015; and a net loss of 95,000 people in the year before that.
From 1990-2011, the annual net loss of residents from Illinois to other states was 64,000 per year. But the 2011 income tax hikes, repeated property tax hikes and the state's political dysfunction precipitated the record population losses of the last three years.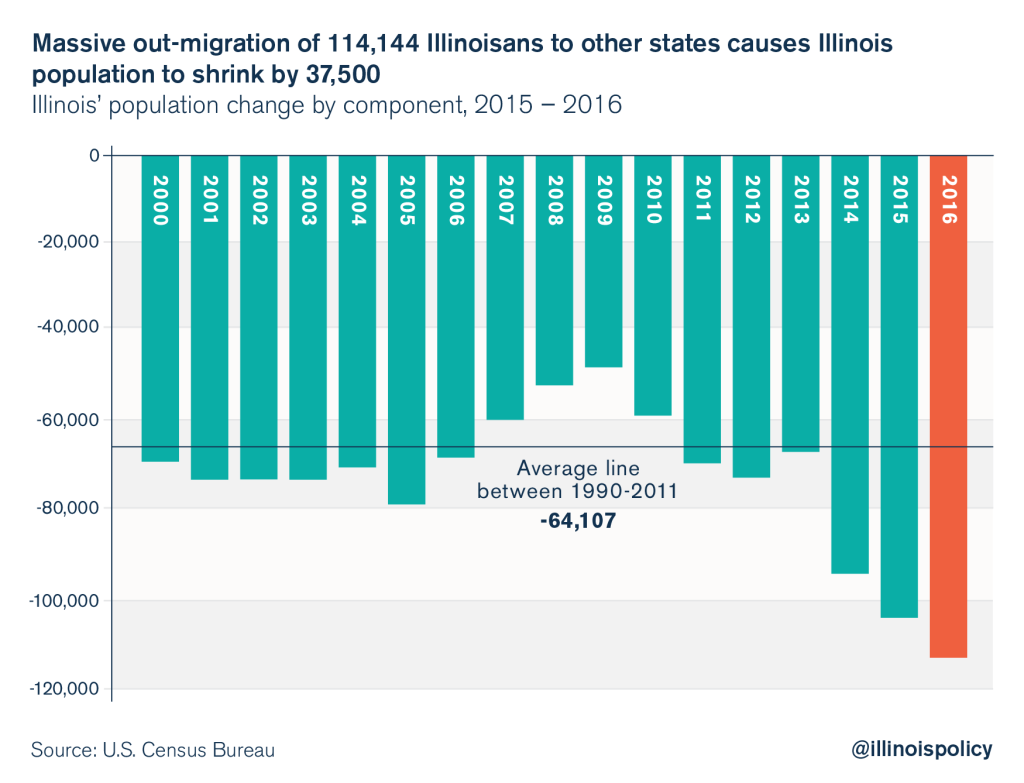 Illinois' rate of exodus is now one person every 4.6 minutes. That's a faster rate of flight than even Michigan experienced in its worst years as Detroit plunged into bankruptcy. And according to wealth flight data from the Internal Revenue Service, the net loss of one person every 4.6 minutes comes with a net loss of $30,000 of taxable income every 4.6 minutes, too.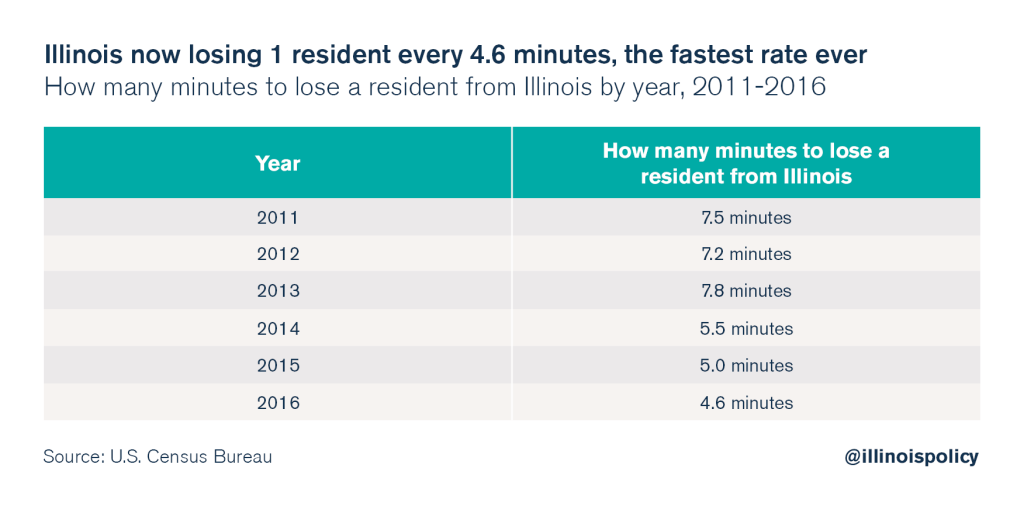 Illinois' population shrank by 37,500 people between July 2015 and July 2016 because the migration losses to other states overwhelmed the natural gains all states experience: more births than deaths and people immigrating to America from overseas. If there were no migration between states, every state would experience population growth every year. However, a few states lose so many people to other states that their populations shrink. Because Illinois lost so many people to other states, the Land of Lincoln's population shrank by 37,500 people, the worst of all states. West Virginia was second worst with its population shrinking by 10,000.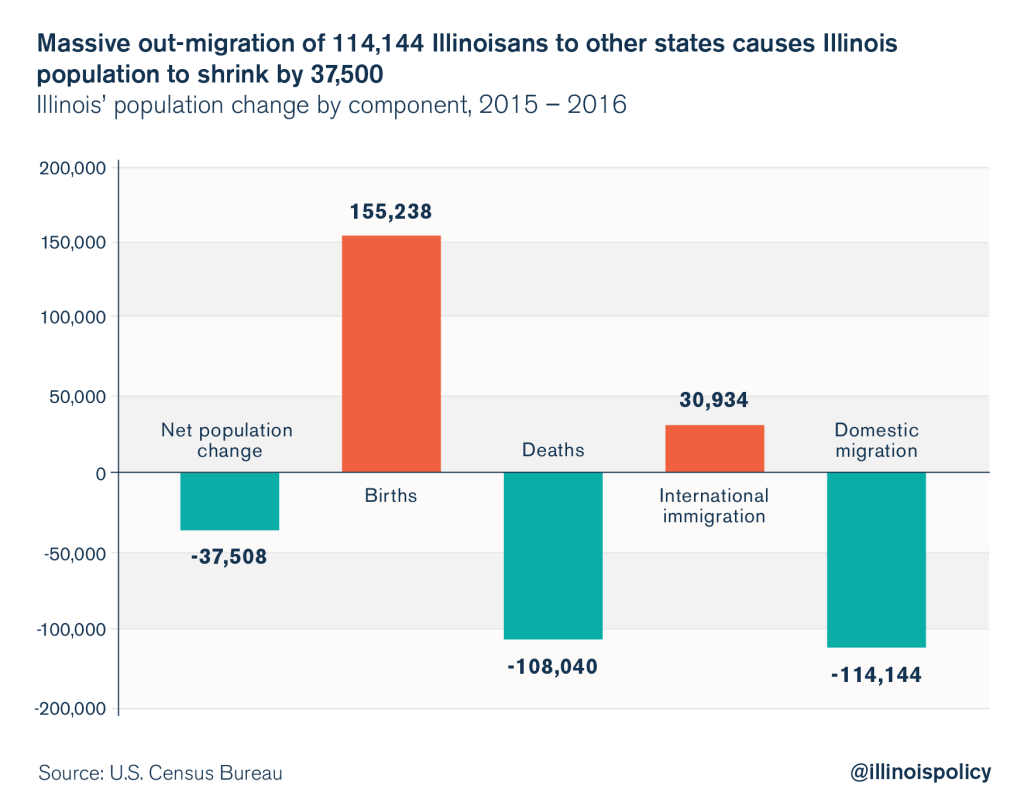 Pennsylvania is also shrinking: Its population contracted by 7,700 in the most recent year of data, compared with Illinois' shrinking by 37,500 people. However, Illinois is shrinking so much faster that Pennsylvania is poised to surpass Illinois to become the nation's fifth most populous state as soon as next year.
At the last census in 2010, Illinois had 130,000 more people than Pennsylvania. Now, the difference stands at 17,000, an amount Pennsylvania will make up in 2017 if next year's migration losses resemble this year's for both states. The population gap between Illinois and Pennsylvania is closing rapidly, and Illinois will soon drop to become the sixth-largest state in the U.S.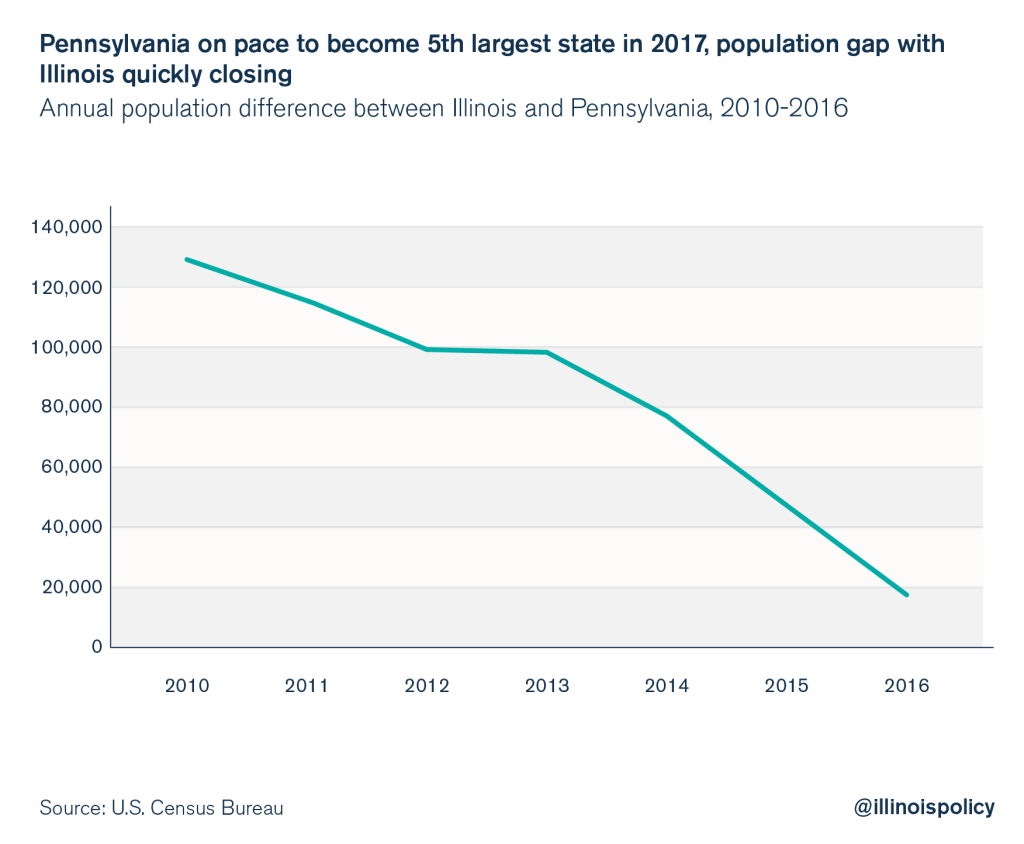 The alarming census data should grab the attention of Illinois policy makers and shift the conversation toward transformational reforms. Out-of-control spending continues to drive up taxes, and only changes to government-worker pension systems and collective bargaining laws can rein in those costs. In addition, the state's hostile investment and jobs climate is especially inhospitable for for blue-collar occupations such as manufacturing. Without businesses investing in Illinois, there will be no job creation for Illinois' middle class.
Perhaps most importantly, Illinoisans need to see changes in the state's political environment. The fact that Democratic lawmakers haven't found a single substantive economic or political reform on which they will agree with Gov. Bruce Rauner speaks volumes about the intransigence of the state's political class, and its refusal to work for the common good. The lawmakers who have driven the state into financial and economic peril and who have overseen a flood of out-migration are poorly suited to guide Illinois to a brighter future. Illinoisans need new leaders to address the problems the state is facing. Term limits for elected officials and a more equitable legislative map would be a powerful signal that Illinois is changing its ways.
Illinois is living through a man-made exodus. It must enact responsible spending, tax, regulatory and political reforms to show residents and job creators the state is serious about keeping its most valuable resource – its people – and welcoming businesses that can help them earn a living and stay here.