Illinois metro jobs data tell a tale of two states
Metropolitan jobs data show that from September 2015 – September 2016 the greater Chicago area is up approximately 49,000 jobs, while the rest of the state is down 6,000 jobs.
In Illinois, statewide jobs growth has been consistently weak for years, and a steady loss of manufacturing jobs has battered industrial communities. But the statewide jobs data do not tell the full story of what's happening in Illinois, which is increasingly a tale of two state economies.
Preliminary metro jobs data published by the Illinois Department of Employment Security, or IDES, show job gains concentrated in the area around Chicago, and losses throughout most of the rest of the state.
Illinois' preliminary statewide jobs growth was 42,700 from September 2015 to September 2016. The greater Chicago area accounted for 48,700 in jobs growth, which means that the rest of the state had 6,000 in job losses.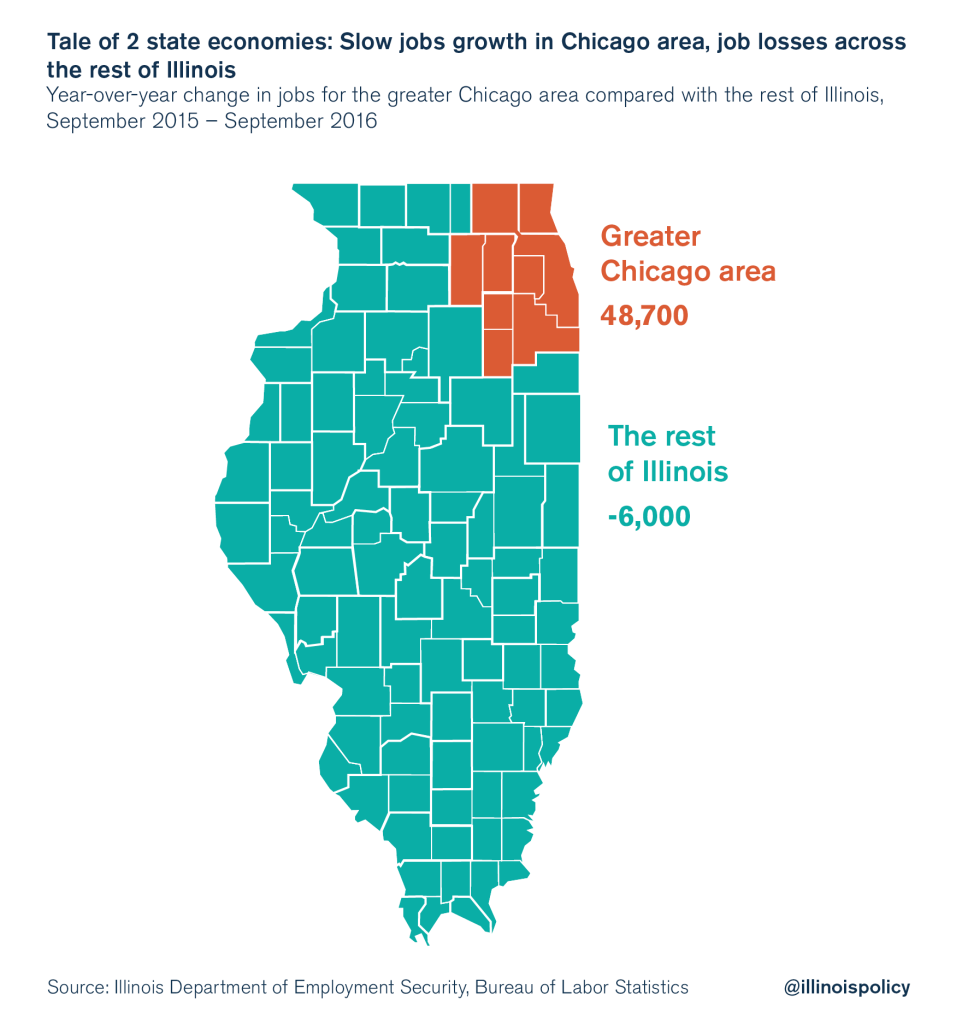 The information on specific metro areas backs up this view of the state. The jobs growth for the greater Chicago area was 48,700 year over year. That includes +40,300 for the Chicago-Naperville-Arlington-Heights metro division; +3,700 for the Elgin metro division; and approximately +4,700 for the Illinois portion of the Lake County-Kenosha County metro division.
The greater Chicago area's jobs growth works out to only 1.1 percent year-over-year. Although this would be considered a slow growth rate in most other areas of the country, it surpasses the growth seen in the rest of Illinois.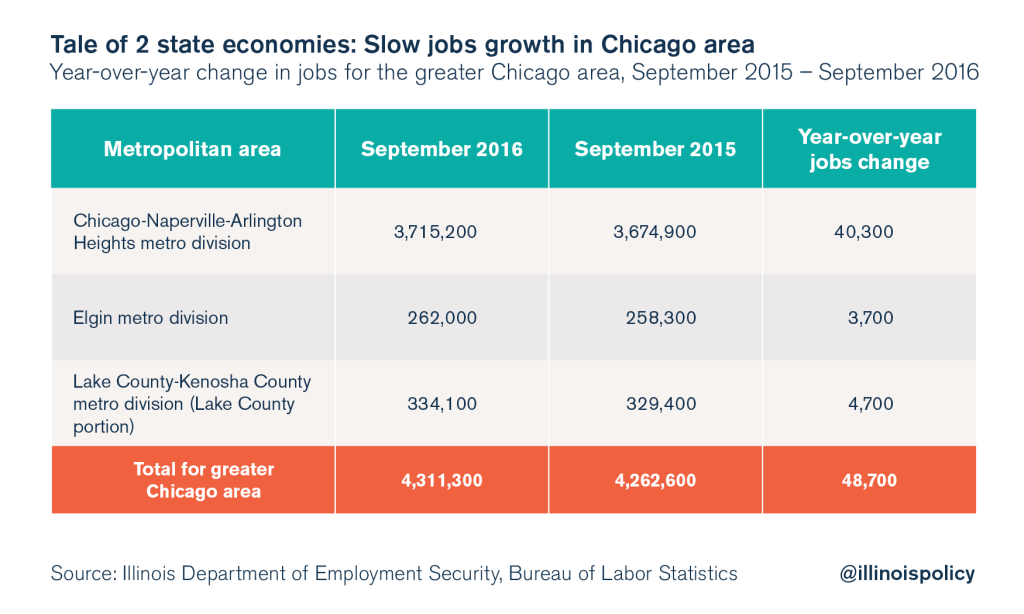 Downstate communities south of I-80 fared much worse than the greater Chicago area. In total, the communities outside of the greater Chicago area were down 6,000 jobs year over year, with most metro statistical areas showing negative jobs growth.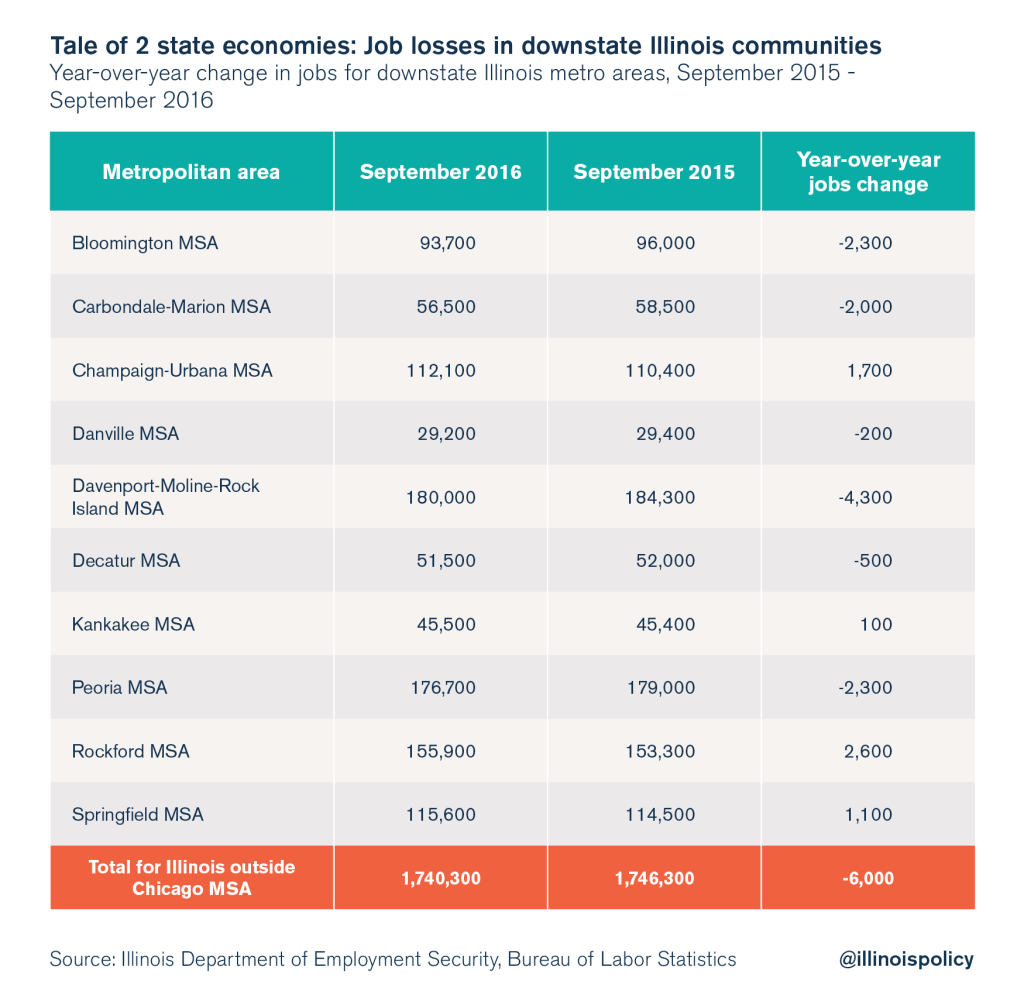 It is important to realize that behind the statewide jobs data are two different sides of the Illinois economy. No part of Illinois is experiencing strong growth, but the growth that does exist is largely enjoyed by residents in the greater Chicago area. Downstate communities, on the other hand, are suffering.
These data also have policy implications. The industrial and production communities in Illinois have been hit hard, while the service sector is getting by, if not thriving. Global changes partly drive this phenomenon, but it also stems from policy decisions within Illinois. Factors such as high property taxes and comparatively high workers' compensation costs have a much more severe effect on production sectors such as manufacturing than on service sectors such as business services.
Illinois' high taxes and unfriendly business climate damage the entire state, thwarting good job opportunities and driving the out-migration of people and income. Meanwhile, high property taxes and costly regulations like workers' compensation hurt Illinois' industrial communities.