Illinois ranks 3rd-to-last in U.S. for state lawsuit climate
Illinois ranked No. 48 of 50 states, and "Chicago or Cook County" was named the nation's worst local jurisdiction in a survey of executives and attorneys about the fairness and reasonableness of state liability systems.
The U.S. Chamber Institute for Legal Reform released on Sept. 12 its 2017 lawsuit climate survey, in which Harris Poll questioned more than 1,300 senior attorneys and other executives at large U.S. companies about the fairness of the 50 states' lawsuit environments.
Illinois came in at No. 48 for its lawsuit climate. Only Missouri and Louisiana fared worse. And for the third time since 2010, "Chicago or Cook County" ranked as the worst local jurisdiction, with 23 percent of respondents calling it the least fair and reasonable litigation environment in the country.
The survey asked in-house senior lawyers and other executives of companies with at least $100 million in annual revenues to grade states on their lawsuit climates, determined by factors such as the impartiality and competence of judges, damages awarded to plaintiffs, enforcement of rules governing who can file a lawsuit in the jurisdiction, treatment of class-action cases, and more.
Pollsters also asked whether a state's legal environment is likely to affect important business decisions for companies, such as where to locate or expand. Eighty-five percent of respondents said this factor is somewhat or very likely to affect important business decisions, up from 75 percent in 2015 and 70 percent in 2012.
The scores the states received in 2017 were closer than ever before in the survey's 15-year history, and Institute for Legal Reform President Lisa A. Rickard commented, "If this were a marathon, the pack of runners would be tightening, and running faster. States not keeping up on legal reform are being passed by."
Illinois' bottom-of-the-barrel score shows it is failing to compete on an increasingly important metric for companies. And not only does Illinois flunk the national lawsuit climate test, but its performance ranks worse than all of its neighboring states except Missouri. Iowa, Indiana, Wisconsin and Michigan all ranked in the top half of states for business-friendly lawsuit climates. Kentucky came in at No. 42, and Missouri finished just behind Illinois at No. 49.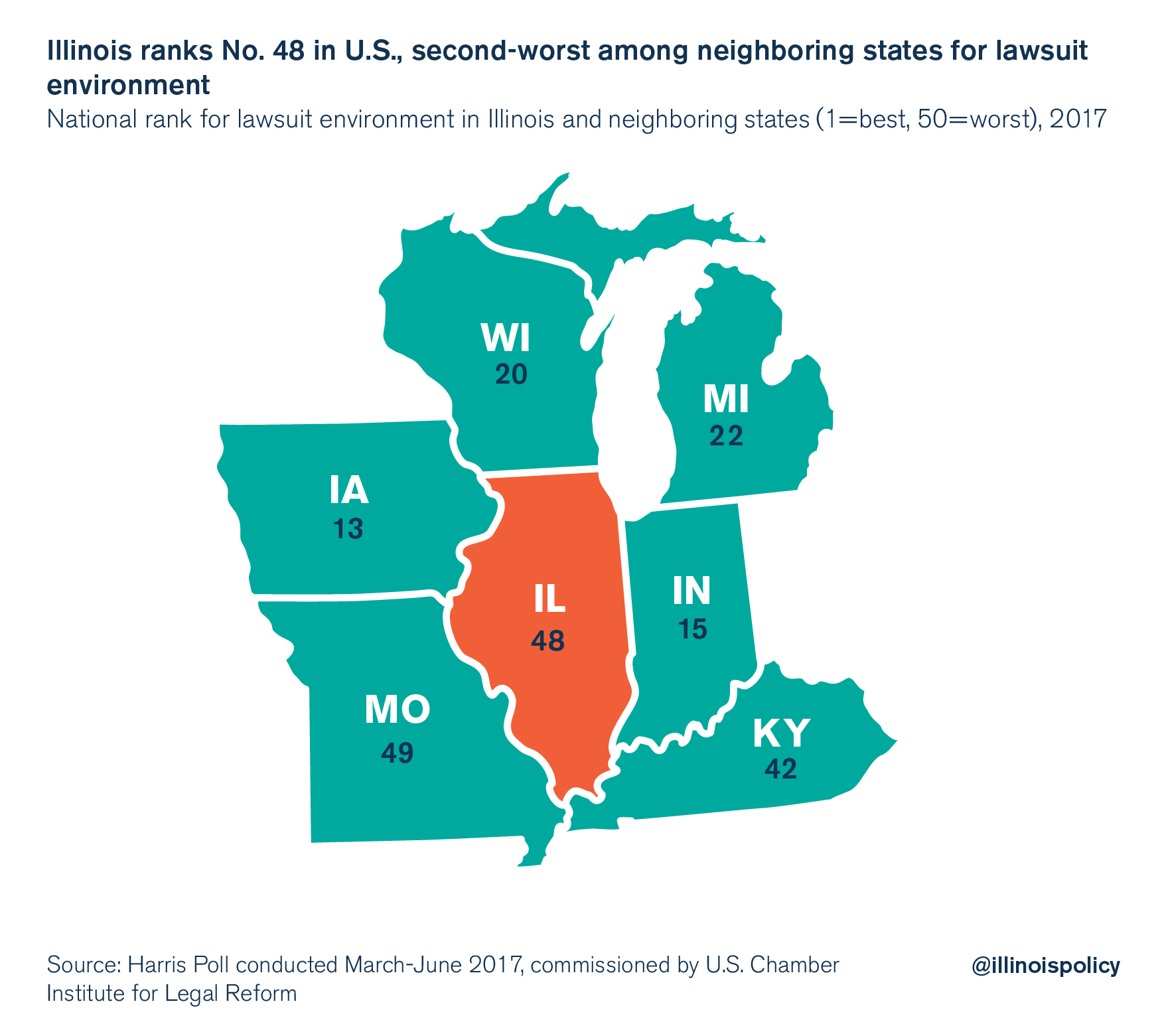 Illinois can't count on outranking Missouri for long, though. Since taking office in January, Missouri Gov. Eric Greitens has signed into law several lawsuit reform bills, which groups including the Missouri Chamber of Commerce and the Property Casualty Insurers Association of America have said should help improve the Show Me State's legal climate.
Illinois can't afford to drive businesses away with a hostile lawsuit environment. The Land of Lincoln already has lackluster jobs growth that is half the national average and that trails its neighboring states. Illinois property taxes are some of the highest in the country, and combined with the Midwest's costliest workers' compensation system, make the state an unfriendly place for businesses, including those that offer well-paying blue-collar jobs, such as manufacturers.
Companies such as retail giant Amazon, whose second headquarters Chicago Mayor Rahm Emanuel is trying to lure to the Windy City, are likely sizing up Illinois' and Chicago's anti-growth legal environments as they make their decisions about where to bring jobs and investment dollars. Lucky for those companies, there are other states just across Illinois' borders that already have or are actively working to create more hospitable legal climates.
The U.S. Chamber Institute for Legal Reform also released a report on ways to improve state legal systems. Illinois lawmakers would be wise to consider these proposed reforms.