Illinois sees fourth straight month of jobs growth in May
Illinois' jobs situation improved in May, but the state needs long-term solutions such as a spending cap to get on a path to fiscal health and assure investors more tax hikes are not on the horizon.
The Illinois Department of Employment Security released its monthly statewide employment data June 14 in conjunction with the Bureau of Labor Statistics, or BLS. The preliminary data reveal Illinois has experienced its fourth consecutive month of jobs growth in May, adding 8,600 jobs.
Illinois' unemployment rate fell to 4.3 percent from 4.4 percent over the month, which, while an improvement for the Prairie State, is still higher than the national unemployment rate of 3.8 percent.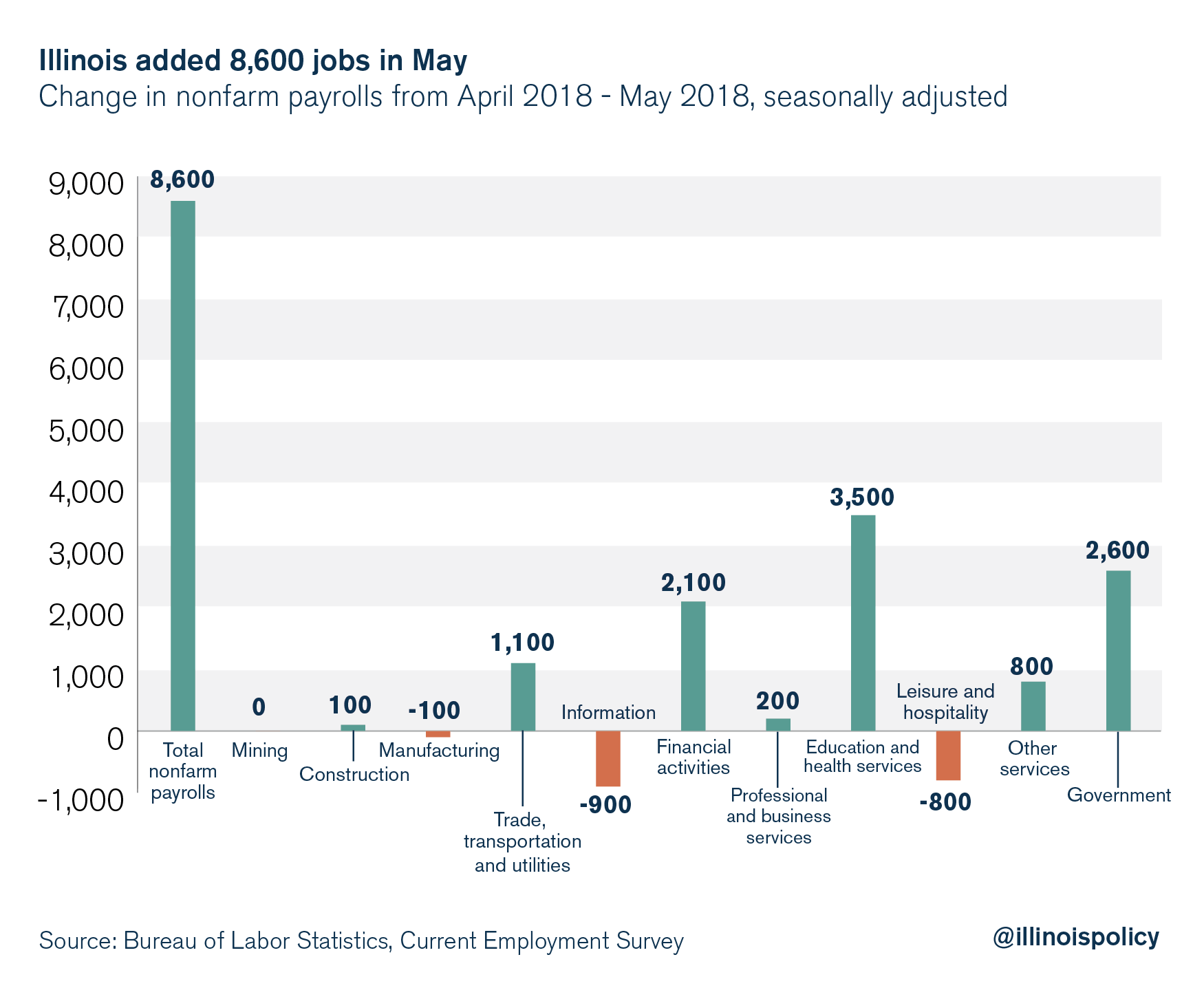 May's employment gains were led by the education and health sector, which added 3,500 jobs. The government sector showed the next largest gains, expanding payrolls by 2,600, and following close behind was the financial activities sector, which added 2,100 jobs. Trade, transportation and utilities created 1,100 jobs; other services generated an additional 800 jobs; professional and business services grew slightly, adding 200 jobs; and the construction sector added 100 jobs. The mining sector saw no change in its employment level.
A few industries in the Land of Lincoln did not show improvement in May. The information sector shed 900 jobs; leisure and hospitality dropped 800; and manufacturing saw payrolls dip by 100.
April figures revised downward
Although BLS originally reported payroll growth to the tune of 4,700 jobs for the month of April, revised figures have erased nearly half of those gains.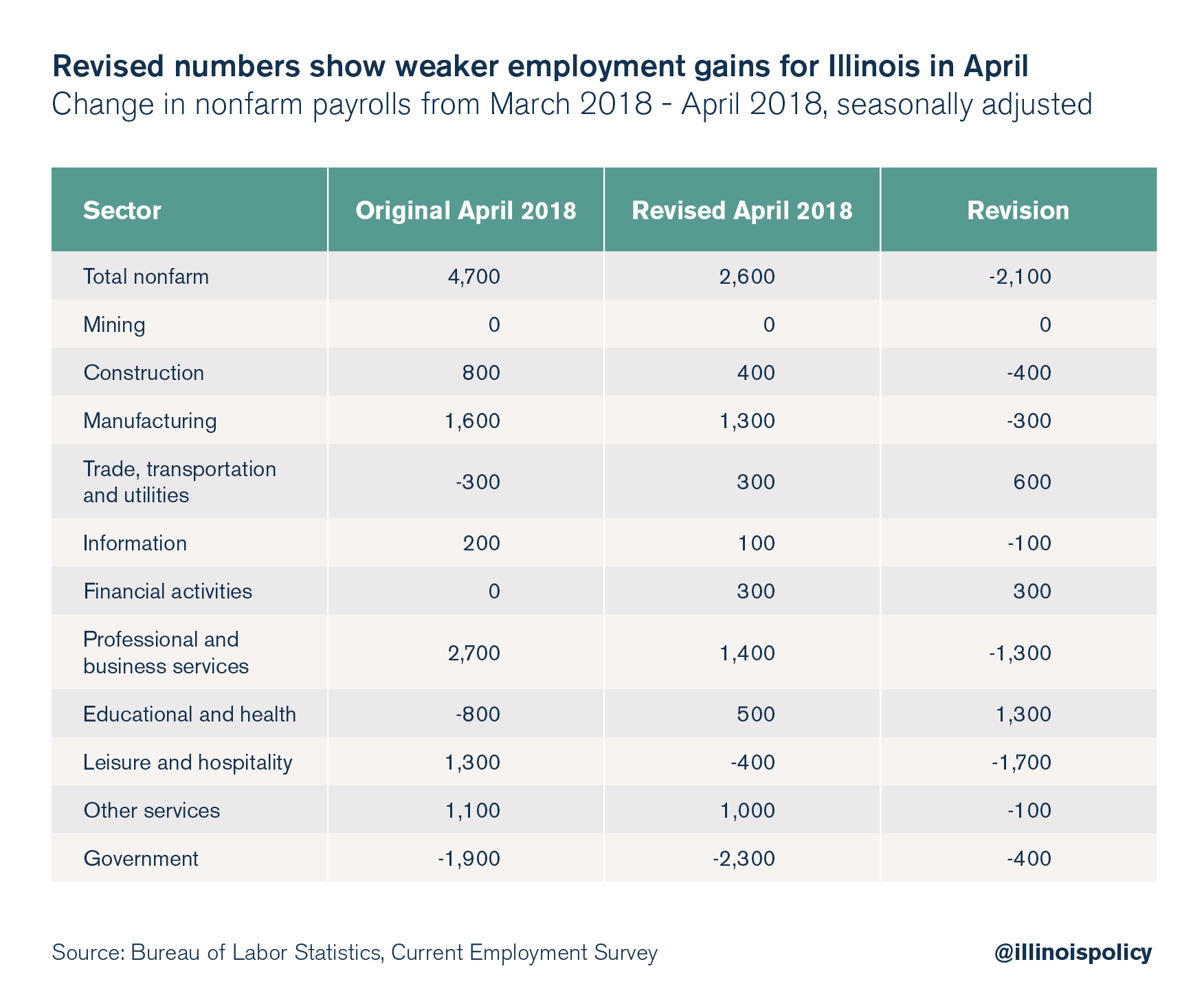 Most notably, the leisure and hospitality sector was originally reported to have expanded nonfarm payrolls by 1,300 but was revised to show a loss of 400 jobs. While most sectors of the economy saw moderate downward revisions, some industries received good news from the revision. BLS data originally showed an 800-job decline in education and health payrolls, but numbers have been revised to show an expansion of 500 jobs. Trade, transportation and utilities originally showed a decline of 300 jobs, but the numbers were later updated to show a gain of 300 jobs. Financial activities payroll estimates were also revised to show an increase of 300 jobs rather than no gain at all.
Illinois needs this streak to continue
Changes in nonfarm payrolls have been positive for four consecutive months. This is good news for the state, which has struggled to add jobs at the same rate as the rest of the nation.
While the state's economy has been slowly chugging along and making slight employment gains, poor public policy still drags it down. Investors and job-creators need assurance that the state is on a path to fiscal health and that another tax hike is not on the horizon. Unfortunately, the state's most recent budget is out of balance by as much as $1.5 billion.
While Gov. Bruce Rauner has indicated he will try to balance the budget through executive actions, long-term solutions to the state's cycle of overspending, borrowing and hiking taxes would go a long way to foster the economic conditions conducive to robust jobs growth. A spending cap, for example, would ensure government spends only as much as taxpayers can afford and would encourage more investment, job creation and economic growth.