Illinois sees worst month for manufacturing jobs since 2009
The state's August jobs numbers were poor across the board, but especially sobering for manufacturing.
Illinois' jobs climate continues to be weak, especially for the manufacturing middle class.
The Land of Lincoln lost 3,000 manufacturing jobs in August, according to preliminary data released Sept. 14 by the Illinois Department of Employment Security, or IDES. If that number holds, it will stand as the worst single-month loss of manufacturing jobs in Illinois since October 2009.
Manufacturing wasn't the only hard-hit industry. The leisure and hospitality sector experienced its worst month since at least 2000, losing 9,900 jobs according to IDES.
Those heavy losses in manufacturing and leisure and hospitality, as well as in professional and business services, drove a net loss of 3,700 nonfarm payroll jobs over the month.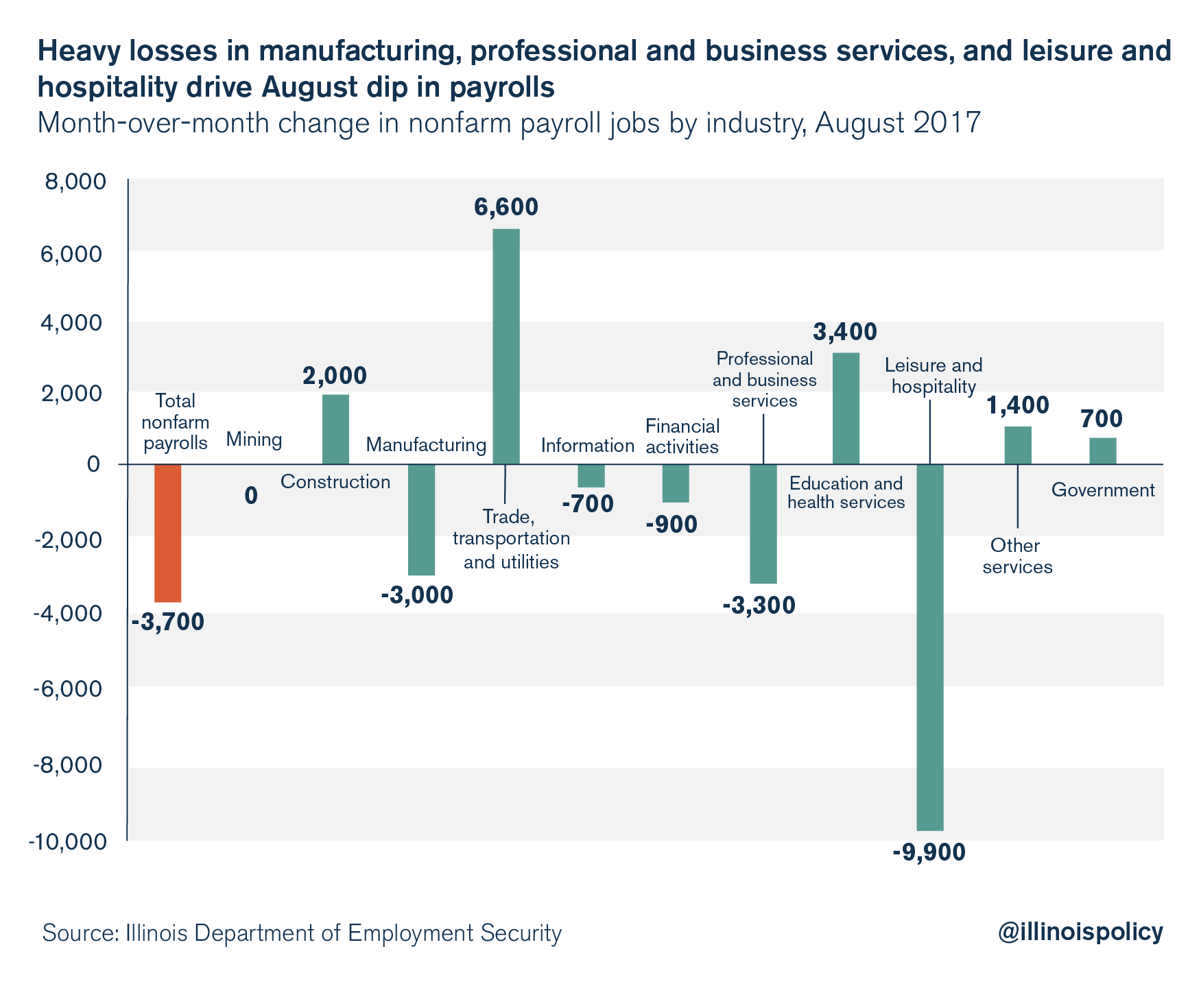 These preliminary numbers could be revised up or down. Preliminary data in August 2016, for example, showed even heavier manufacturing losses of 4,400 jobs, but that was later revised to a more modest loss of 300 manufacturing jobs.
Hopefully for Illinoisans, August was not as bad as preliminary data suggest.
The data for August also showed an uptick in the state unemployment rate despite a decrease in the labor force. The unemployment rate increased to 5 percent from 4.8 percent. This could have been a positive sign if the increase in the number of unemployed Illinoisans had been caused by a surge in labor force participation. But that was not the case in August, as the labor force declined by 0.4 percent.
"The Illinois economy is stuck in neutral with hardly any growth over the past several months," IDES Director Jeff Mays said in a press release. "As a result, this has caused the state to experience a rising unemployment rate over the past three months."
Unfortunately, Aug. 30 marked the one-year anniversary of a cry for help from Greg Baise, president and CEO of the Illinois Manufacturers' Association. He publicly pleaded for lawmakers to enact economic reforms to save the state's manufacturing middle class.
Since then, the General Assembly has not passed any significant reform to reduce the cost of workers' compensation, which is a heavy burden on manufacturers. Illinois is home to the highest workers' compensation costs in the region.
The same goes for property taxes, another policy pain point for manufacturers. Illinois is home to some of the highest property taxes in the nation.
Until lawmakers get serious about pro-growth economic reforms, there's little reason to think Illinoisans' long-term jobs prospects look any brighter.