Illinois' summer manufacturing meltdown: South Side Oreo manufacturer laying off 600
The state lost more than 40 manufacturing jobs per day through the first half of 2015.
Mondelez International, the maker of Chips Ahoy and Oreo cookies, became the sixth major manufacturer to announce the elimination of hundreds of Illinois manufacturing jobs in the month of July. The Deerfield, Illinois-based food company announced impending layoffs of 600 workers on July 29, along with plans to invest $130 million to install four new manufacturing lines in Salinas, Mexico, by mid-2016. The four new lines in Mexico will replace nine older, less efficient manufacturing lines on Chicago's South Side that currently churn out the brand-name cookies.
Illinois' manufacturing meltdown is not just a July phenomenon, although the headlines have certainly heated up over the summer. According to data from the Bureau of Labor Statistics, Illinois has been losing manufacturing jobs all year. Over the first half of 2015, Illinois lost manufacturing jobs in five out of six months, for a net loss of 7,300 factory jobs through June. On the other hand, Michigan and Indiana have piled on thousands of new factory jobs through the year's halfway point, with the Wolverine State up 12,800 jobs and the Hoosier State up 6,700 factory jobs through June.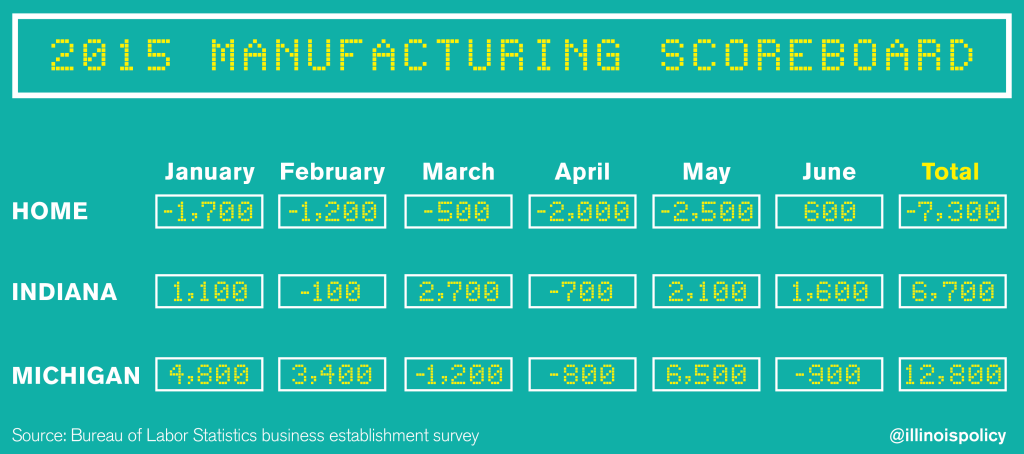 After a rough first six months of the year, the manufacturing headlines turned extremely negative in July, with manufacturers moving out every week, including:
A July 29 announcement by Mondelez International that it will lay off 600 manufacturing workers from its South Side facilities
A July 24 announcement by Mitsubishi Motors that it will close down production facilities in Normal, Illinois, jeopardizing 918 automotive manufacturing jobs
A July 16 announcement by General Mills that it will shut down its manufacturing plant in West Chicago, Illinois, laying off 500 workers
A July 15 announcement by energy processor Bunge North America that it will shut down its plant in Bradley, Illinois, laying off 210 workers
A July 14 announcement by machine-maker DE-STA-CO that it will move 100 manufacturing jobs from Wheeling, Illinois, to Nashville, Tennessee
A July 6 announcement by an as-yet-unnamed manufacturer that it will move 510 jobs paying $55,000 per year from the Chicago area to East Chicago, Indiana
The July announcements total more than 2,800 manufacturing jobs to be lost going forward, and that's only counting the major employers that make headlines for closures. Under the surface, still more manufacturers are slowly downsizing or shifting their labor-intensive production to other states. On top of all that, few if any manufacturers consider expanding in Illinois, as evidenced by the words of Caterpillar CEO Doug Oberhelman, who has written that while Caterpillar would love to expand in Illinois, it cannot be justified under the current policy regime.
What's perhaps most surprising about this summer's manufacturing meltdown is the deafening silence coming out of the General Assembly in Springfield. The first month of the budget shutdown was accompanied by six major manufacturers opting out of Illinois' terrible industrial policy regime. Gov. Bruce Rauner has identified three key policy reforms that will help make manufacturing happen in Illinois: workers' compensation reform, lawsuit reform and a freeze on property taxes. House and Senate Democrats, on the other hand, have been unwilling to call a vote on any of Rauner's bills, and have been completely devoid of an alternative plan to address the state's obvious industrial crisis.
Through the first half of 2015, even before factoring in the July meltdown, Illinois was losing 40 manufacturing jobs per day. Each day of legislative inaction is another day where dozens of manufacturing families find out they aren't going to be able to make ends meet this year. The General Assembly should do the right thing and take action to keep these factory jobs in Illinois.