Illinois taxpayers pay $15,000 per AFSCME worker in annual health care costs
AFSCME balks at Gov. Bruce Rauner's proposal that state workers chip in more for their Cadillac health insurance.
Illinois' contract with the American Federation of State, County and Municipal Employees – the state's largest government-worker union – expired on June 30, 2015. Since then, AFSCME officials have been clamoring for a "fair contract," with demands including Cadillac health insurance at little cost – hardly a fair proposal for state taxpayers, who can't afford to keep paying for such exorbitant state-worker benefits.
Under the expired contract, taxpayers cover nearly $15,000 per AFSCME worker in annual health care costs, though workers themselves pay just $4,452 toward their own coverage. Meanwhile, private-sector workers have seen rate increases of up to 49 percent in the Illinois health care exchange in 2016 alone.
The same AFSCME workers who receive health care perks most private-sector Illinoisans couldn't even dream of don't think Gov. Bruce Rauner's proposal to rein in costs is fair. So what else is AFSCME ignoring in the governor's plan?
Free retiree health care would continue
While Rauner is asking AFSCME employees to contribute more toward their health insurance premiums, his proposal must be viewed in light of the other benefits that AFSCME employees will continue to receive, including free health care at retirement.
The state contributes an amount equal to five percent of an AFSCME retiree's health premiums for each full year of creditable service – up to 100 percent. This means that if an employee works for 20 years, the state will contribute 100 percent of his health premiums. His health care premiums will be fully covered during retirement. This benefit is virtually unheard of in the private sector and is worth $200,000 to $500,000 for each retired employee.
Rauner's most recent offer proposed no increases to retirement premiums. So even if a retiree did not have 20 years of creditable service and is therefore not eligible for 100 percent coverage at retirement, his current monthly premium would be unchanged under the governor's most recent offer.
A modest increase in premium payments
Illinois is in financial ruin, and nearly 20 other unions compromised with the state on contracts that will help alleviate the pain. AFSCME, however, wants even better health care than union members already enjoy. The governor is proposing that workers pay more toward their health care. AFSCME glosses over the fact that employees were paying very little toward their premiums, and focuses only on the fact that costs would go up under Rauner's proposal.
Under the governor's plan, Illinois taxpayers would still have to subsidize 60 percent of AFSCME workers' annual health care costs or over $11,600 per worker annually. Workers would be asked to pay 40 percent of their costs, or $7,728 a year, up from 23 percent.
Under the previous contract, there were two different health insurance plans from which AFSCME employees could choose: the Quality Care Health Plan, or QCHP, and Managed Care Health Plans, or MCHP. The plans differed in coverage (although both provide exceptional benefits), and therefore the premiums differed. Premiums also differed depending on the salary range of the employee. Employees could add additional coverage for dependents.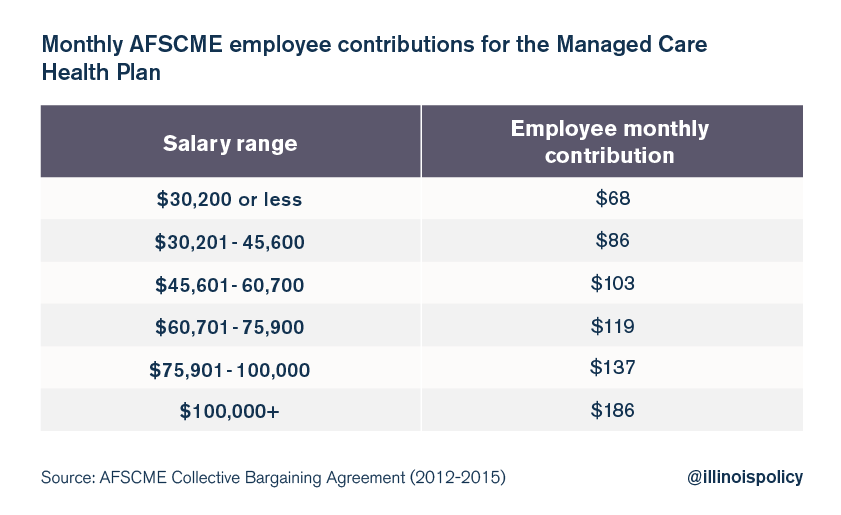 Under QCHP, an employee would contribute an additional $249.00 per month for one non-Medicare dependent, and just $287.00 per month for two or more non-Medicare dependents.
Under MCHP, an employee would contribute the weighted average of $113.00 a month for one non-Medicare dependent, and just $159.00 a month for two or more non-Medicare dependents.
As of June 30, 2015, when the last AFSCME contract expired, the median AFSCME salary was $63,660. For a family of four, that employee contributed just $431 a month for QCHP, or just $278 a month for MCHP.
Furthermore, there were more than 2,000 AFSCME employees earning $100,000 or more when the contract expired, with many earning well over $200,000. Under the previous contract, these employees would pay $211 a month for QCHP or $186 a month for MCHP. If one of these employees wished to cover his or her family of four, these premiums would rise to just $498 a month for QCHP or $345 a month for MCHP.
These contributions are startlingly low, especially when compared with the health care costs private-sector Illinsoians face. Illinoians on the state health insurance exchange face yearly increases. Between 2013 and 2015, premiums jumped 132 percent for younger individuals. In 2016, it is projected that the average premium for all individuals in Illinois will grow by another 22 percent. Significantly, there is no available information on rate increases for the type of platinum-level health insurance AFSCME employees receive – because that level of insurance isn't even provided to private-sector Illinoisans in the state exchange.
What's more, these perks don't even take into account state workers' total compensation. Illinois state workers are the highest-paid of any state workers in the country, when adjusted for cost of living. AFSCME workers in particular have seen salary increases not realized by workers in Illinois' private sector. Between 2005 and 2014, AFSCME worker salaries increased more than 40 percent. But private-sector earnings remained virtually flat. And a career AFSCME-worker retiree will earn $1.6 million over the course of his retirement.
Taken together, the state's taxpayers simply cannot afford to continue providing platinum-level health insurance for such rock-bottom premiums, while their own incomes stagnate and personal health premiums rise. AFSCME needs to do what is fair for all of Illinois.