Illinois taxpayers will pay steep penalty rate in $500M bond issuance
Illinois has the lowest credit rating among the 50 states, forcing taxpayers to pay hundreds of millions of dollars more in borrowing costs than residents of states in better fiscal condition.
Illinoisans are footing the bill for the state's fiscal failures, and that bill is about to get even pricier. The state – meaning taxpayers – will soon be forced to pay a large penalty when Illinois issues nearly $500 million in bonds to fund infrastructure projects.
Illinois' worst-in-the nation credit rating means the state government will pay a penalty interest rate over and above what states with good credit ratings pay – not unlike the punishing interest rates people with poor credit scores are forced to pay.
And since Illinois residents eventually repay all state borrowing through taxes, they can expect to pay even higher taxes to cover the higher cost of borrowing.
For years, Illinois paid a relatively small premium to borrow money. Before 2009, while Indiana, Iowa or Missouri, all AAA-rated states, could borrow money at 4.5 percent, for example, Illinois borrowed at 4.7 percent – a premium of just 0.20 percentage points.
In fact, Illinois and AAA-rated states borrowed at very similar rates from 2000 through 2008. Illinois rates were just slightly higher during that period. But beginning in 2009, Illinois' borrowing rates jumped compared with the borrowing rates of the better-managed AAA-rated states.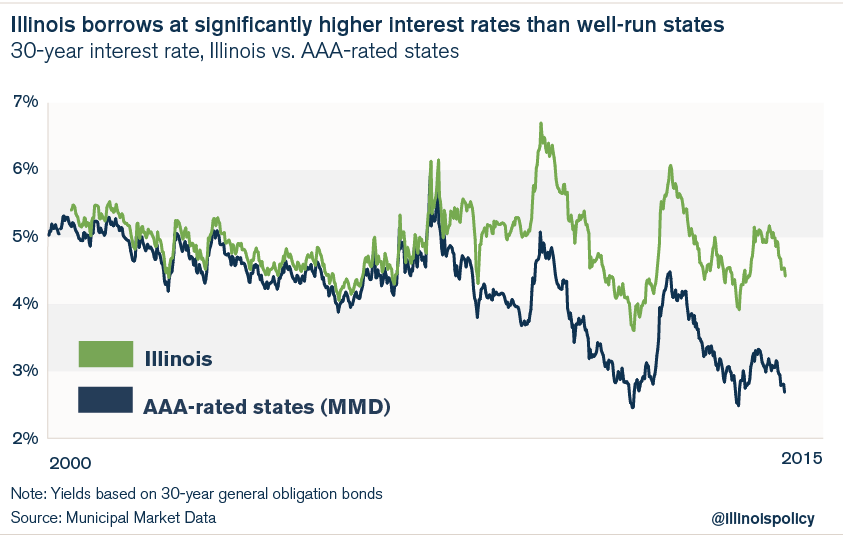 Once the fiscally damaging policies of former Gov. Rod Blagojevich – which were continued by Gov. Pat Quinn – became evident, lenders began charging Illinois much higher rates compared with those paid by AAA-rated states. Illinois was downgraded 13 times by the three major credit-rating agencies during Quinn's tenure, leaving Illinois with the nation's worst credit rating. As a result, Illinois now pays the highest borrowing premium of any state in the country.
The 0.20 percentage-point difference between Illinois' borrowing rate and those of better-run states has now jumped to nearly 2 percentage points. The penalty Illinois pays means hundreds of millions of wasted taxpayer dollars due to the failure of previous governments to pass structural spending and pension reforms.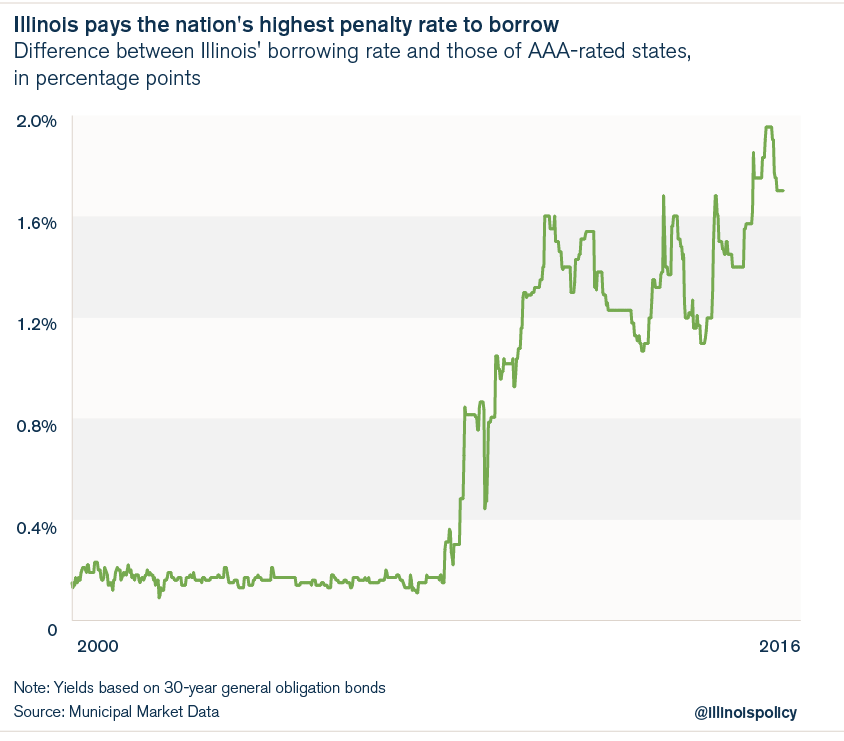 Illinois has been spending and borrowing money it doesn't have for years, and now taxpayers are paying the price. Politicians succumbing to pressure to pass a budget that just continues this damaging pattern would only make that worse.
Gov. Bruce Rauner is right not to sign off on a budget that perpetuates the status quo. This course might be painful in the short term, but it's what's required to reverse the failed policies of the past two decades – which got the state to this point in the first place.