Illinois workers remain idle despite national rebound
The state and most of its urban areas are failing to get residents back to work at rates matching the national average.
Illinois is trailing the national jobs recovery, clear evidence that its economy has been one of the hardest hit due to COVID-19 and associated state-mandated lockdowns. New data shows the failure isn't only statewide but is seen in most of Illinois' urban centers.
Four Illinois metropolitan areas outperformed the rest of the nation but 11 lagged it in putting people back to work after they were idled by the economic downturn, according to data released July 23 by the U.S. Bureau of Labor Statistics.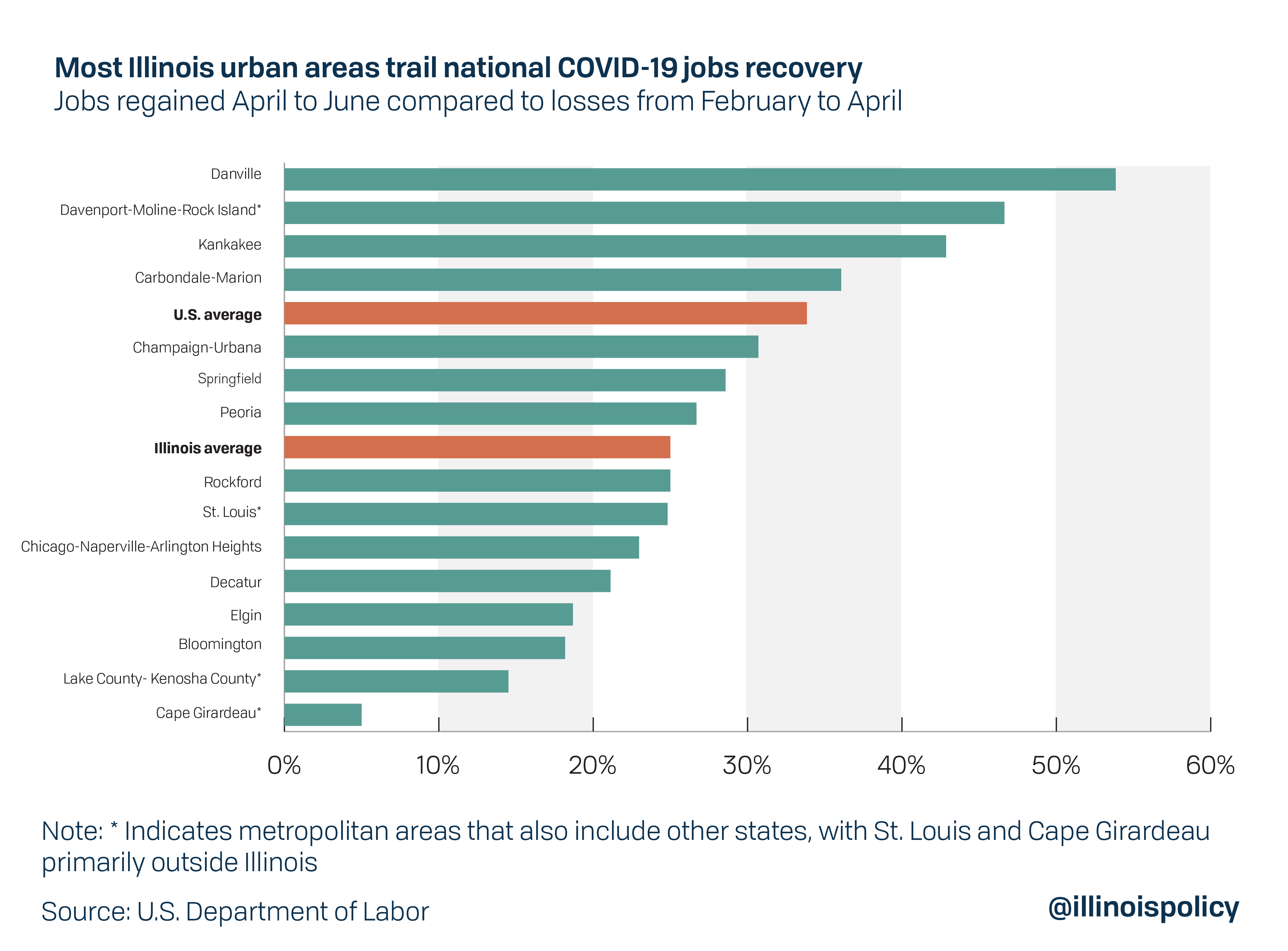 Areas such as Danville, Davenport-Moline-Rock Island (which includes parts of Iowa), Kankakee, and Carbondale-Marion have outpaced the nation in regaining jobs from April-June that were lost from February-April. Of the metros that are primarily within Illinois, Lake County–Kenosha County, Bloomington, Elgin, Decatur, and Chicago-Naperville-Arlington Heights are all trailing both the state and national rebound. Rockford, Peoria, Springfield and Champaign-Urbana are outperforming the statewide rebound, but still lag the rest of the nation.
Slow jobs growth is the primary reason Illinois has trailed all Midwestern and neighboring states in pulling workers off of unemployment rolls and getting them back into the workforce. New unemployment claims remain far higher than normal. While Illinois claims are dropping, new claims are falling faster throughout the rest of the nation – despite what some headlines claim.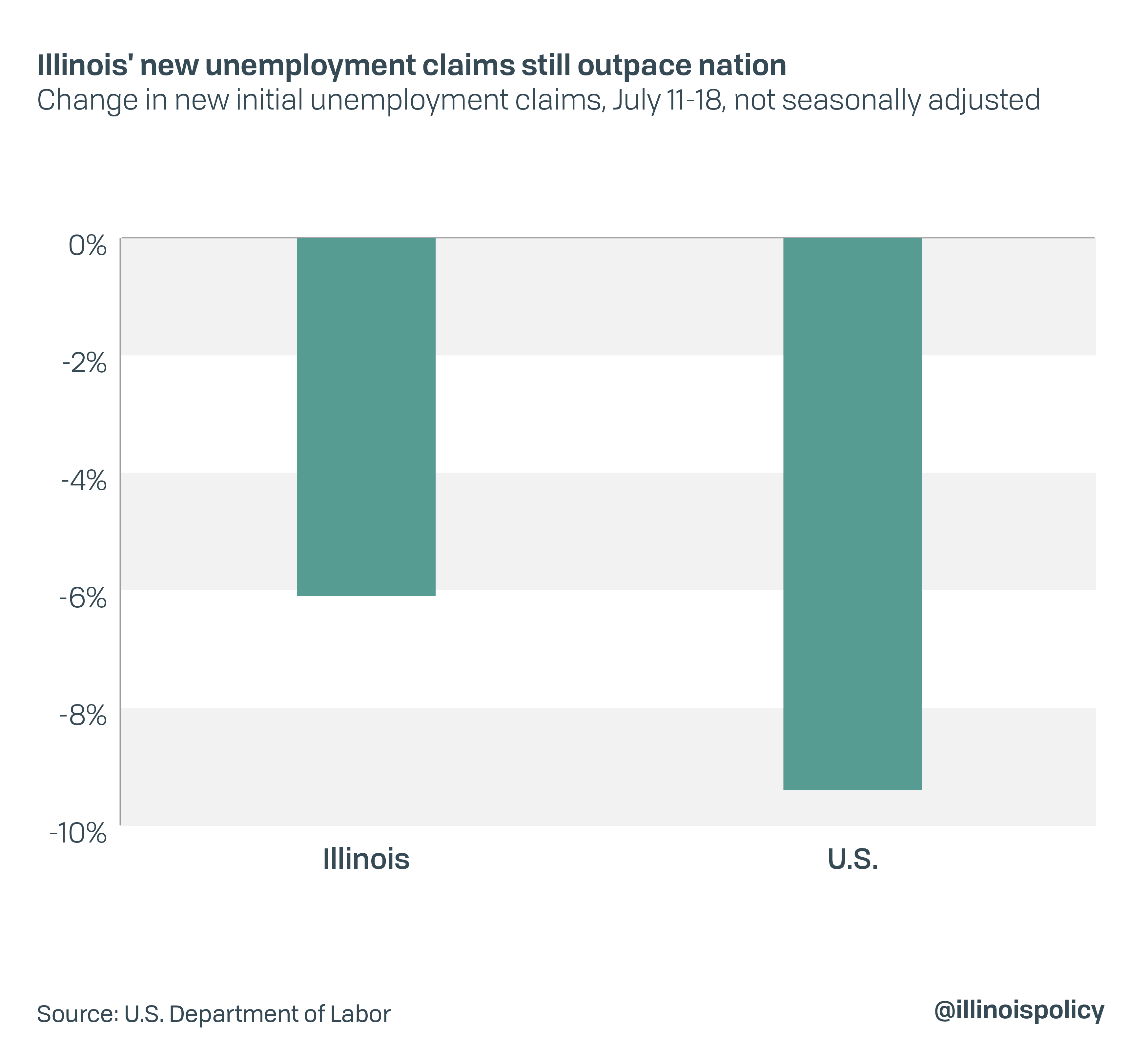 Making matters even worse, Chicago has begun to reimpose COVID-19 lockdown measures on bars, gyms and spas while Gov. J.B. Pritzker has already  threatened to do so. If these measures spread throughout Illinois, the state is at risk of losing the 94,200 jobs the hospitality sector has re-gained since April. The sector remains down 223,200 jobs since February.
The reinstatement of lockdown measures comes just weeks after Illinois began easing restrictions that were among the toughest in the nation and coincided with the leisure and hospitality industry being hit hardest by jobs fallout.
Harsher lockdown measures have been associated with greater job losses during the COVID-19 pandemic. As Chicago, and potentially the rest of the state, pursue further lockdown measures, many "temporary" business closures are likely to become permanent.
According to the Illinois Restaurant Association, 20% of food establishments are expected to remain closed due to COVID-19-related economic fallout. If that estimate is correct, it means nearly 5,100 businesses will be forced to shut their doors permanently. While the 20% estimate is troubling, the closures could be far worse. A survey showed 70% of businesses in the industry did not expect to survive if the crisis lasted for four months, while 85% expected to close permanently if the COVID-19 crisis persisted for six months. Business closures of this magnitude would mean that 17,800 to 21,700 Illinois restaurants would remain closed for good.
Lockdowns hurt, as the evidence suggests most small businesses have less than two months of cash on hand while the median small enterprise has more than $10,000 in monthly bills and less than one month of cash on hand. Illinois' small businesses employ the majority of Illinois workers. Allowing businesses to open again is an important step to save lives and livelihoods.
As new data on COVID-19 emerges, Illinois will have to adapt to changing circumstances.
Still, research shows the sequential lift of a lockdown is the best way to mitigate both the human cost of the virus and the economic damage.
Illinois voters need to consider the potential for the COVID-19 economic damage to be magnified by the progressive income tax hike state leaders are seeking Nov. 3. Economists argue against increasing taxes during a recession. A progressive tax will increase taxes up to 47% on more than 100,000 small businesses just as they are trying to recover from the COVID-19 economic damage. Those small businesses are responsible for the vast majority of new jobs in Illinois.
A safe return to work is the first step to tackling growing racial gaps and to reviving the Illinois economy. A tax increase would be a grave error.