Instead of tax hikes, reform higher education to prioritize students over administrators
Illinois spends more money on retirement costs than on university operations – and tuition keeps rising to prop up this overspending. Instead of hiking taxes to maintain current spending habits in higher education, politicians should shift priorities from propping up six-figure administrators to keeping tuition affordable for students.
Cash-strapped Illinois state colleges and universities have been a focal point as budget gridlock ensues in Springfield, and university officials are demanding action.
Chicago State University, for example, has spent hundreds of thousands of dollars on lobbyists to try to procure state funding. And it appears to have worked, to a degree: More than $20 million is appropriated for CSU in the Senate's "compromise" budget plan, which includes $5 billion in tax hikes. But the current budget gridlock isn't what's plaguing higher education in Illinois. Colleges and universities are facing financial troubles of their own making. Instead of focusing on keeping tuition low for students, universities have used an influx of state and federal funding to go on a hiring spree.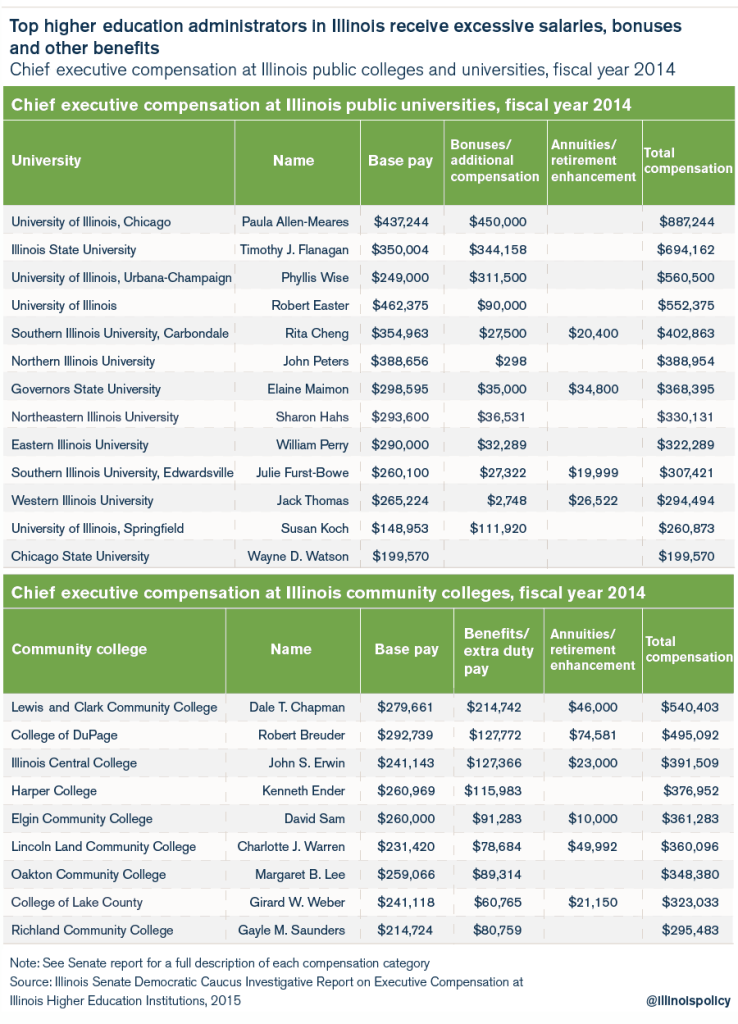 According to an Illinois Senate Democratic Caucus report, the rate at which colleges and universities across the nation are hiring administrators far outpaces the hiring of professors. Illinois' number of administrators increased 50 percent faster than the number of instructors between 2001 and 2011. In 1975, the administrator-to-student ratio for higher education institutions nationally was one administrator for every 84 students. By comparison, in Illinois that ratio was approximately 1-to-45 in 2011.
That's unmanageable both for the state's finances and for students.
The state is now spending more money on retirement costs than on university operations. A decade ago, retirement costs made up only 20 percent of the state's total higher education spending. Today, that percentage has ballooned to 53 percent. As spending on retirements rose from 2006 to 2015, state spending on higher education operations fell by over $150 million.
Not only are those unaffordable costs passed on to taxpayers, but they also place a heavier burden on students and put higher education out of reach for many.
According to the Illinois Board of Higher Education, tuition has increased dramatically at Illinois' public universities for more than a decade. Combined student tuition and fees grew anywhere from 74 to 112 percent between 2006 and 2016, depending on the university.
At the University of Illinois at Urbana-Champaign, the public university with the highest tuition and fees in the state, average tuition now costs $15,626 annually, up 80 percent since 2006. In fact, Illinois' average in-state tuition and fees for four-year public universities is over $13,000. That's 42 percent to 67 percent higher than the tuition in neighboring states.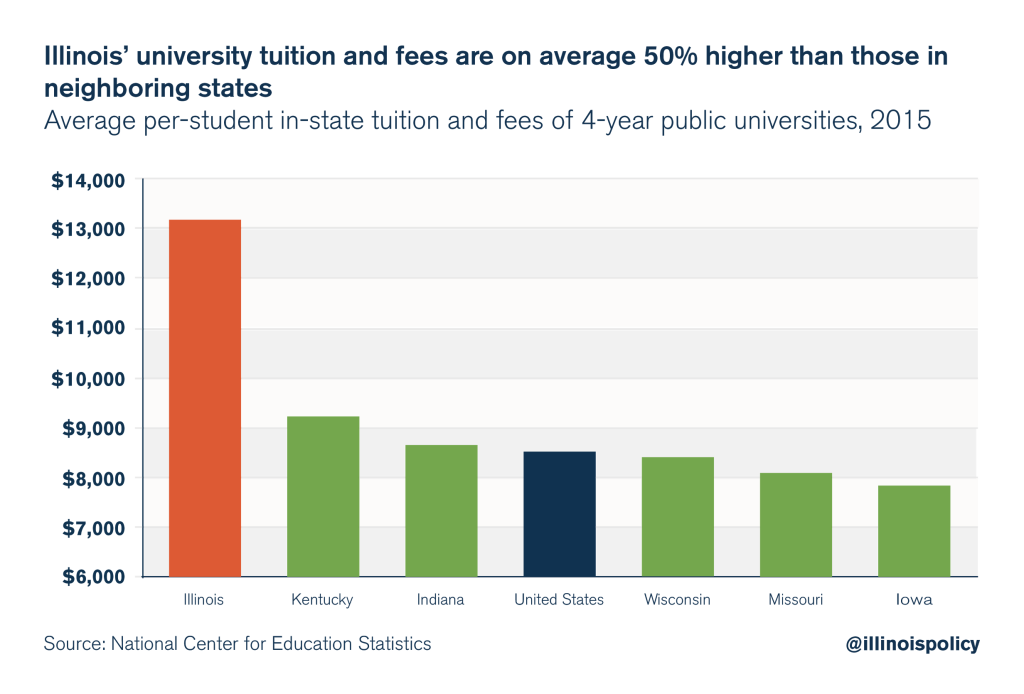 Illinois colleges and universities should freeze and then begin to reduce the cost of tuition. To do that, first they must reform their operational spending, and eliminate administrative bloat – then pass the resulting savings on to students.
In addition to structural reforms to improve the state's business and tax climate, a balanced budget agreement must also feature change in the state's higher education funding. Taxpayers, students and prospective students shouldn't bear the brunt of politicians' reckless spending.