Jobs report: Illinois' March jobs growth near top of rankings in Midwest
Illinois gained 14,700 payroll jobs on net in March, and compared relatively well with other states in the region for the month, trailing only Ohio in monthly jobs growth. Despite this growth, however, the unemployment rate increased to 6.5 percent. The state also lost 3,100 manufacturing jobs on net.
Illinois gained a net 14,700 payroll jobs in March, putting Illinois in the black for jobs in 2016, according to March data from the Illinois Department of Employment Security. The state unemployment rate rose to 6.5 percent in March from 6.4 percent in February, driven by an increase of 9,600 Illinoisans who are unemployed.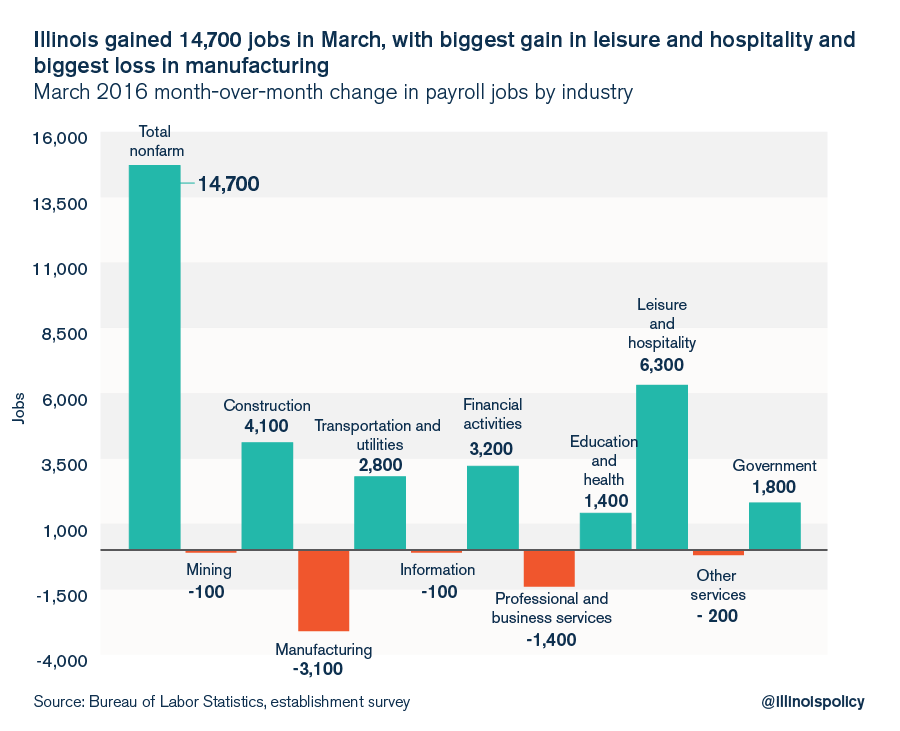 Illinois' March payroll jobs report revealed a second strong month in a row for the state. Illinois added 14,700 jobs on net, with significant gains in leisure and hospitality (+6,300); construction (+4,100); financial activities (+3,200); and trade, transportation and utilities (+2,800). Manufacturing was the only sector to show significant job losses (-3,100) with losses also coming from professional and business services (-1,400).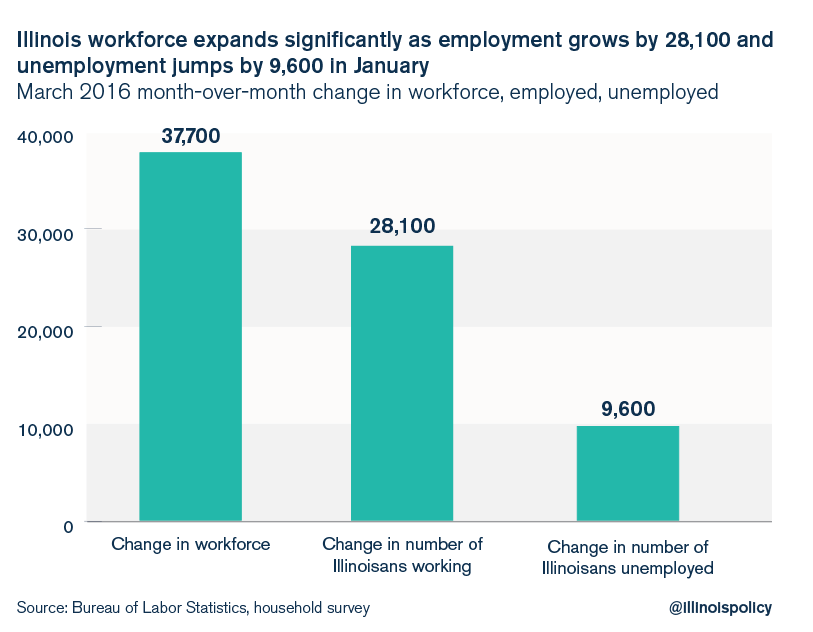 Illinois' household survey data, which estimates the raw number of people employed and unemployed regardless of industry, showed Illinois' workforce grew by 37,700 in March, with employment growing by 28,100 and unemployment growing by 9,600. The growth in the number of unemployed people is the reason the state's unemployment rate ticked up in March to 6.5 percent from February's 6.4 percent.
Given that Illinois' workforce shrank consistently during the recession era, the recent expansion of the workforce is a positive sign, despite the fact that the growing workforce is contributing to Illinois' rising unemployment rate.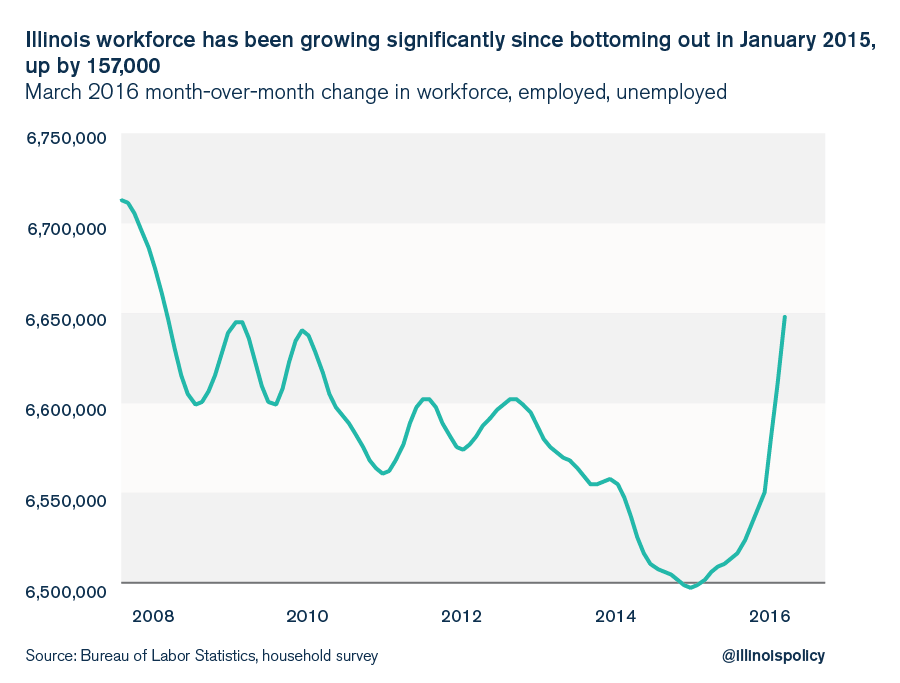 Illinois' workforce contracted by over 225,000 from before the beginning of the Great Recession and shrank by 61,000 in 2014 alone. The state's workforce bottomed out in January 2015, just as Gov. Bruce Rauner took office. But since January 2015, Illinois' workforce has grown by an impressive 157,400. It's not immediately clear whether there is a relationship between the expansion of the state's labor force and Rauner's tenure as governor. However, a change in workforce sentiment has occurred, and this warrants further investigation.
One possible contributor to Illinois' growing workforce is the explosive growth in the number of Uber and Lyft drivers in the Chicago area and throughout the state. It is possible that many drivers were previously detached from the workforce and have since re-engaged due to new work opportunities in a field with low barriers to entry. The significant growth in the number of "driver-partners" with these technology companies could account for some, though likely not all, of the workforce expansion.
Regional comparisons
Illinois compared relatively well with other states in the region for the month of March, trailing only Ohio in monthly jobs growth. In terms of percentage growth, Wisconsin had a better jobs growth rate even though Illinois had a higher jobs number. This is because Wisconsin's economy is significantly smaller than Illinois'.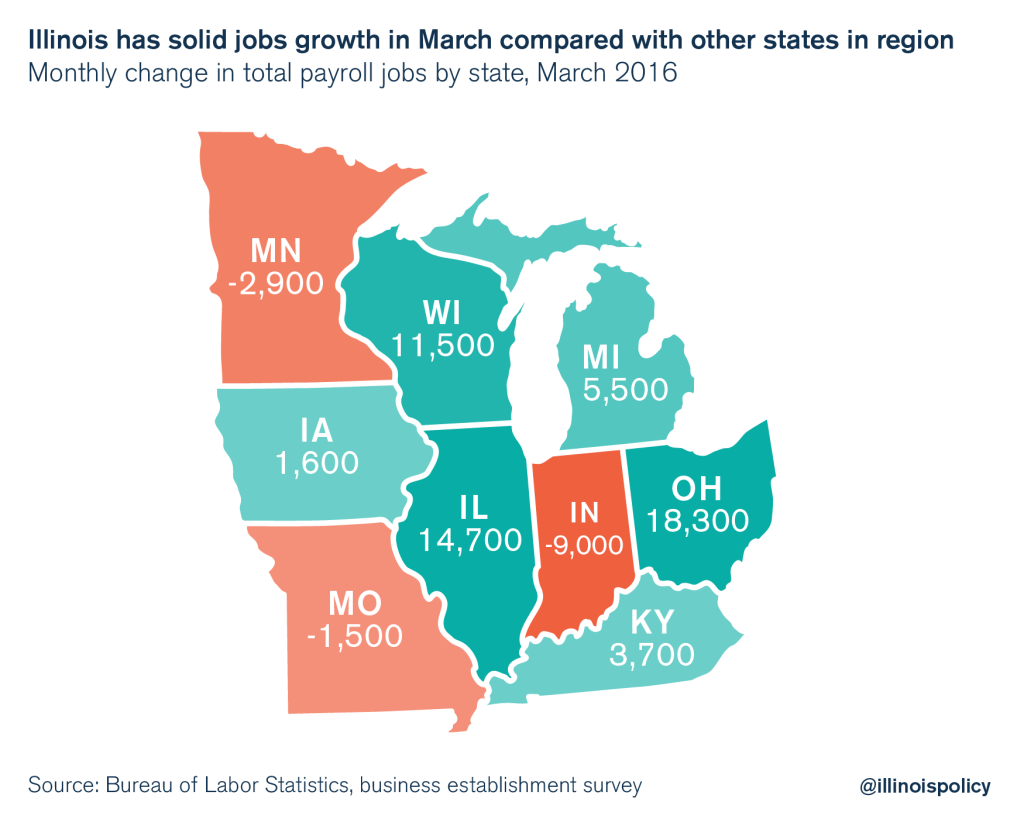 The manufacturing sector shed jobs in most states in the region, with Illinois having the second-worst loss of any state. Only Wisconsin had an especially strong showing on the manufacturing front, gaining more than 4,000 manufacturing jobs.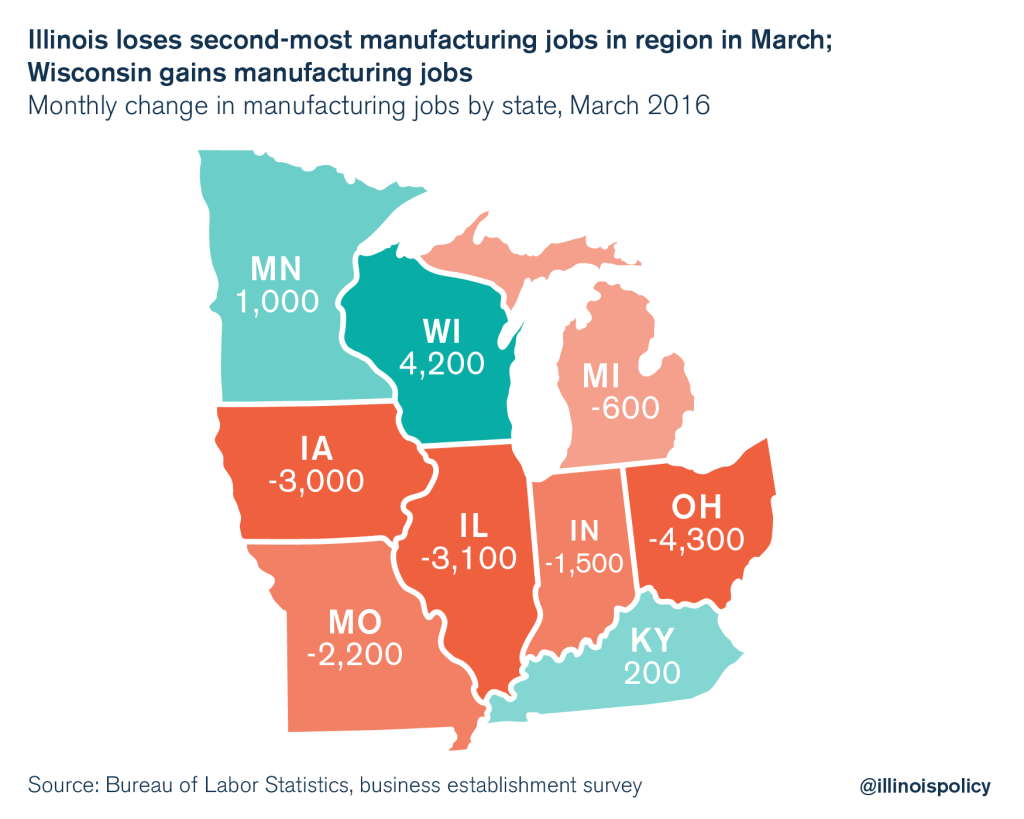 Illinois continues to have the weakest manufacturing recovery in the region. All states experienced a manufacturing jobs bottom in 2009 or 2010. Since each state's respective bottom, though, Illinois has had the worst manufacturing jobs recovery.
Illinois has seen interesting developments in its labor markets over the last year. The state has experienced significant growth in its workforce, and has had two months of strong jobs growth, with an upward revision to its initially bleak 2015 jobs numbers.
However, Illinois workers are now treading water rather than enjoying vigorous and sustained growth. Illinois' job-creation rate is still one of the weakest in the region over almost any significant time period, and the state's manufacturing job market has been extremely weak.
Illinois cannot achieve strong jobs growth and lasting economic recovery without addressing the state's structural uncompetitiveness on industrial policies and overly burdensome tax and regulatory regimes. Reform must include fixing the state's workers' compensation system, freezing property taxes, and changing laws on the spending side to make a property-tax freeze sustainable.
Further structural changes should include tort reform to transform Illinois' hostile lawsuit climate into one that is pro-growth and pro-market rather than pro-litigation or pro-business. And companies looking to build or expand manufacturing facilities increasingly consider Right-to-Work laws in their decisions. Worker freedom should be part of the discussion about attracting the types of jobs and encouraging the economic growth that both employers and workers want to see and from which even labor unions could benefit.
Though Illinois' budget gridlock has been a serious problem, the labor-market data does not show the budget impasse has affected jobs growth. But larger structural reforms would have a deep impact on labor markets and would foster new opportunities for Illinois workers and their families.