Unemployment rate drops as Illinois workforce shrinks by 33,600 during summer moving season
Manufacturing weakness driving Illinois unemployment up; dropout and out-migration driving unemployment down.
Another month of workforce dropout shows Illinois needs a friendlier environment for entrepreneurs and businesses. Illinois' workforce shrank for the third consecutive month in July, contracting by 33,600 people. This comes in the wake of 35,000 Illinoisans dropping out of the labor force in June, and 8,500 leaving the workforce in May. A shrinking workforce during summer months in Illinois is not surprising, given that summer is prime moving season and previous Bureau of Labor Statistics, or BLS, data show working-age adults driving Illinois' out-migration. Sustained workforce dropout is the entire reason Illinois' unemployment rate has fallen to 5.8 percent from the nation's highest at 6.6 percent in April.
Despite the long-term negative trends in the state's labor markets, Illinois' net gain of 11,600 payroll jobs in July was a bright spot. But unfortunately, as with previous job gains in Illinois, blue-collar workers did not share in much of the good news. The divergence between white-collar and blue-collar job opportunities continued in July as job gains were concentrated in white-collar occupations like education and health services (+5,400), and other services (+4,200), while job losses were concentrated in blue-collar occupations like construction (-2,700) and manufacturing (-300), as well as in financial activities (-1,000).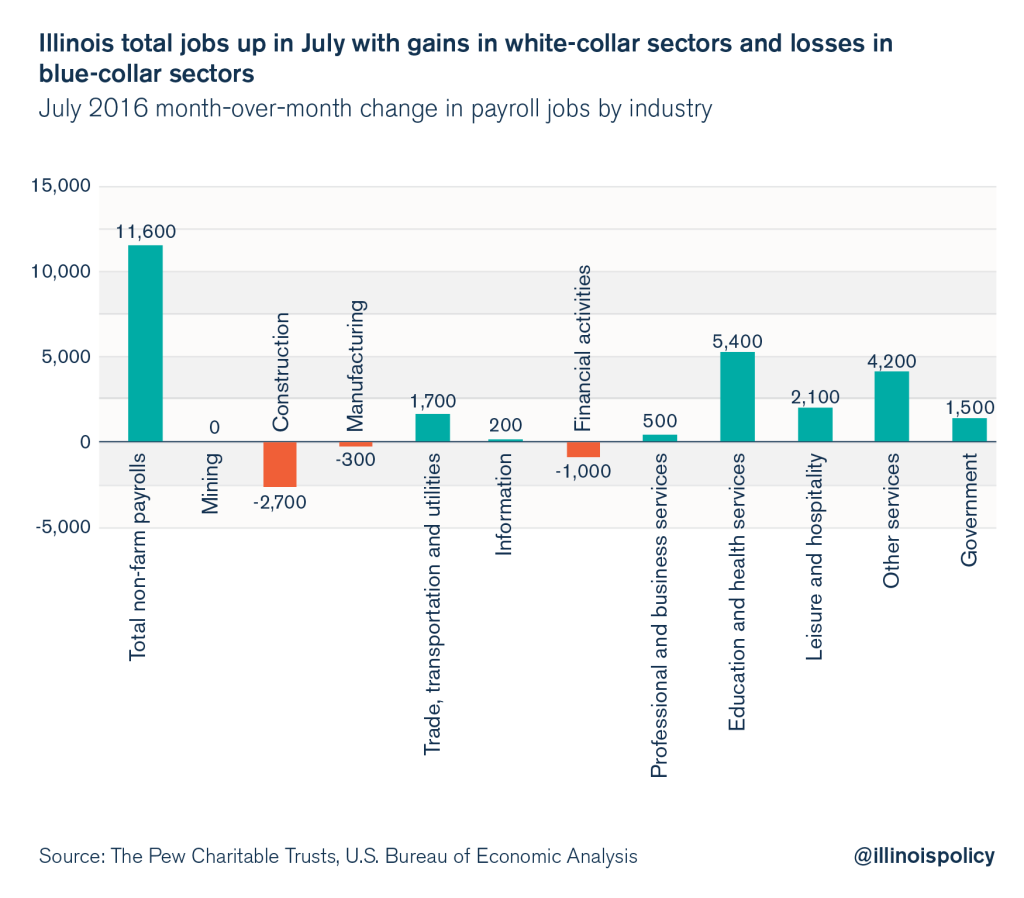 The household portion of the July BLS survey revealed Illinois' workforce contracting 33,600 on the month. Some 7,400 of those Illinoisans came from the ranks of the employed, and 26,300 came from the ranks of the unemployed – disheartened job seekers who have stopped looking for work.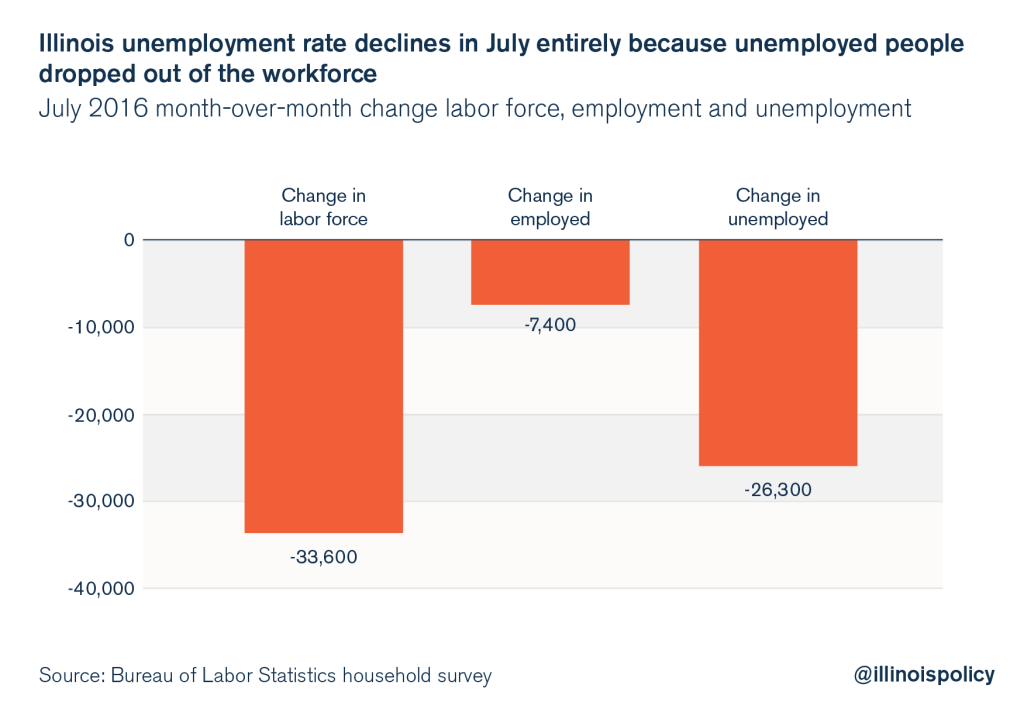 This year's workforce data resemble the preliminary data from the summer of 2014, which showed significant summer workforce dropout driving down the unemployment rate. The 2014 data were later smoothed out through data model adjustments, but the summer dropout effect very well could indicate working-age Illinoisans leaving the state during the summer moving months. Both BLS and IRS data already show Illinois is losing working-age adults to other states. A shrinking summer workforce is consistent with this pattern.
Manufacturing weakness driving Illinois unemployment up; dropout and out-migration driving unemployment down
The July monthly briefing from Illinois' Commission on Government Forecasting and Accounting, or COGFA, pointed to Illinois' weak manufacturing labor market as a primary driver of the state's comparatively high unemployment rate. The report noted:
A recurrence of manufacturing in the rust belt drove the Midwest unemployment rate below the national rate…Illinois, however, is an exception.
Even from Illinois' factory work bottom in January 2010, the Land of Lincoln has seen its manufacturing jobs grow by only 3.6 percent. If Illinois simply achieved the Rust Belt average growth of 15 percent since then, the state would have another 63,000 manufacturing jobs. Undoubtedly, Illinois' weak manufacturing jobs growth is driving up the state's unemployment rate, especially in industrial areas like Peoria, Decatur, Rockford and southern Cook County.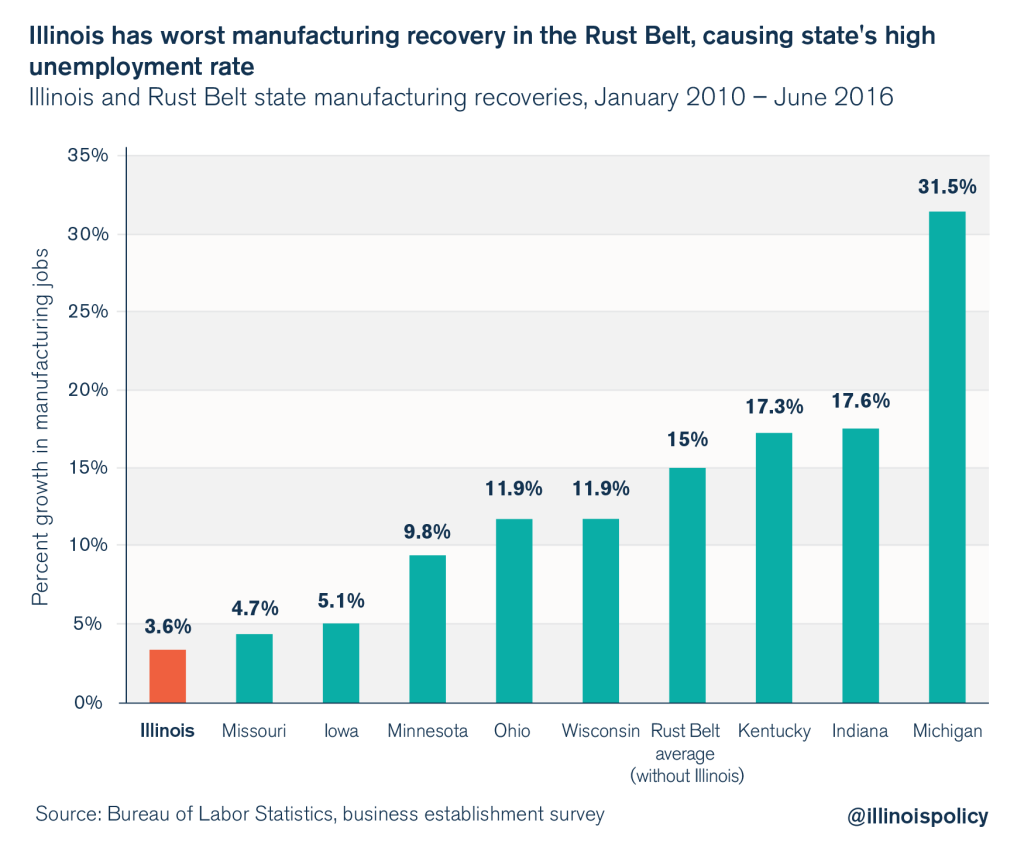 On the other hand, the out-migration of working-age adults and unemployed Illinoisans is undoubtedly driving down the state's unemployment rate. Illinois' workforce dropout seems to ramp up in summer months, which is moving season.
The unfortunate cycle in Illinois starts with an unfriendly business climate, which breeds joblessness, which in turn drives up the unemployment rate, especially in manufacturing communities. Out-migration and workforce dropout among discouraged workers then drive down the unemployment rate, as those who can't find good jobs in the Land of Lincoln either quit looking for work or leave for other states with better opportunities. Both of these effects are apparent in Illinois' workforce dropout and massive out-migration.
Illinoisans need more work opportunities, especially in manufacturing communities. The July jobs report showed overall workforce dropout and continued divergence between white-collar and blue-collar opportunities. The jobs increasing are for service workers, while production workers are seeing shrinking job opportunities in Illinois.
Illinois needs a three-pronged policy approach to generating better jobs and economic growth. It should include:
Spending reforms to decrease Illinois' tax burden over time
Tax structure reforms so the tax code encourages growth rather than punishes entrepreneurs
Economic regulatory reforms to encourage jobs growth and business development in the Land of Lincoln
The data on Illinois' economy support this. A bad tax and regulatory climate creates unemployment and capital flight, which leads to fewer opportunities for Illinoisans and more out-migration. The state's long-term fiscal problems cannot be solved without substantially better economic growth. Strong economic and jobs growth should be Illinois policymakers' top goal.