Just 19% of CTU's spending in 2021 was to represent teachers
Only $134 of each Chicago Teachers Union member's dues is actually spent on representing Chicago Public Schools teachers. The rest is spent on other CTU leadership priorities and on the union hierarchy.
Representing members is supposed to be a union's core purpose, but just 19% of the Chicago Teachers Union's spending in 2021 was on "representational activities."
Those are the activities "associated with preparation for, and participation in, the negotiation of collective bargaining agreements and the administration and enforcement of the agreements." The rest was spent on administration, politics and other union leadership priorities, according to CTU's LM-2 filed with the U.S. Department of Labor for the 2021 fiscal year.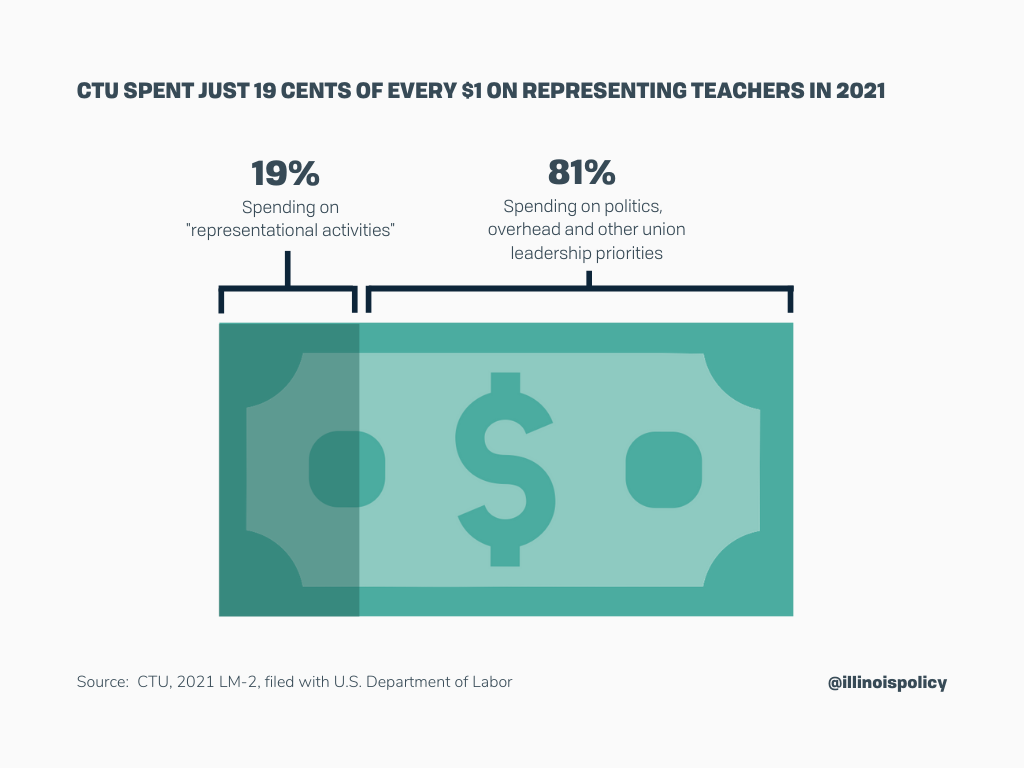 To place this in perspective, the Wise Giving Alliance, a project of the Better Business Bureau, maintains a nonprofit should spend at least 65% of its total expenses on program activities. If a union were a non-profit, that would mean it should be spending 65% on representation.
While the Wise Giving Alliance tracks spending by charities, it stands to reason CTU's spending of just 19% on representation – the purpose of a union – should be a cause for concern among members.
That might be why the Illinois Federation of Teachers – CTU's parent union – has seen a nearly 18% drop in membership since 2017.
Chicago Public Schools teachers who want out of CTU have other options, but they need to act during August if they want to stop their dues from flowing to CTU and its affiliates this school year.
Just $134 of each member's dues spent on representing CPS teachers
CTU members pay about $1,200 a year in dues for representation.
Only $705 of that amount stays with CTU. The rest is passed up the chain to IFT, the American Federation of Teachers and other union entities.
So just $134 of each member's dues is actually spent on representing Chicago teachers.
Neither IFT nor AFT prioritize representing members, either. IFT admitted only 24% of its spending in 2021 was on representing members. AFT didn't fare much better, with just 31% of its spending in 2021 on teachers.
CPS teachers have other options
Chicago educators who want more control over their dues have options:
Teachers can get liability insurance and legal protection elsewhere. Educators can join other associations, such as the Association of American Educators. AAE, which has 29,000 members across the country, provides liability insurance and legal protection to public school employees – typically at a fraction of the cost of union membership.
Teachers can opt out of union membership and keep all employer-provided benefits. By opting out of union membership, a teacher stops paying dues to the union yet retains all benefits that are provided in the collective bargaining agreement with the school district.
But teachers interested in opting out must act soon. CTU typically imposes an August deadline to end dues deductions.
For more information, visit LeaveCTU.com.