Kentucky governor-elect: 401(k)-style plans for new government employees
Kentucky's governor-elect wants 401(k)s for new government employees.
Kentucky may be the next state in the nation to transition its government workers from pensions to self-managed retirement plans such as 401(k)s. The state's leadership realizes that a big crisis means big opportunities to innovate, offering fairness for workers in the form of control over their retirements, and fairness for taxpayers by getting a handle on an unsustainable system.
"We have to change the system for people not yet in it," said Gov.-elect Matt Bevin. Bevin said he plans to propose his solutions in the next legislative session.
The Kentucky Retirement Systems, or KRS, is among the worst-funded in the nation. KRS recently reported it had $16.1 billion in assets, or just 45 percent of what it needs today to ensure it can pay out future retirement benefits.
Transitioning new government workers to 401(k)-style plans won't solve Kentucky's current fiscal problems, but it will stop the bleeding and send a signal that the state is ready to take on government-worker pension reform.
Michigan was the first state to begin offering new state workers 401(k)-style plans in 1996. Virginia, Tennessee, Georgia, Utah and Rhode Island have all included self-managed plans as part of their government-worker retirement systems since 2008. Oklahoma is the most recent state to move many of its new workers onto 401(k)-style plans, enacting legislation in 2014.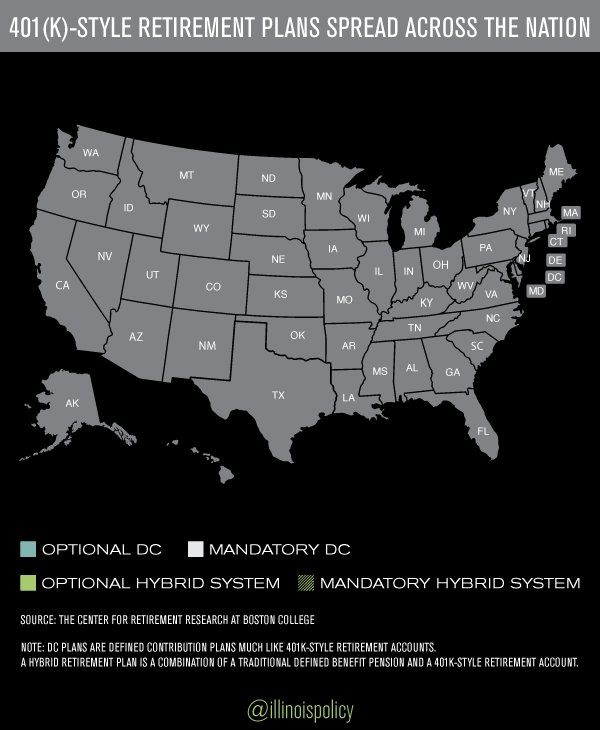 Bevin also wants to let Kentucky's current government employees transfer their vested assets into a 401(k)-style plan if they so choose.
The Kentucky governor-elect's reform ideas contrast with the lack of pension-reform initiative in Illinois. Since the Illinois Supreme Court ruled the state's modest pension reforms under Senate Bill 1 unconstitutional in May 2015, lawmakers have done nothing to move needed reforms along.
But there are still many changes Illinois lawmakers can make immediately to address, and at the very least slow down, Illinois' growing government-worker pension crisis. Here are three to get them started:
The pension plan for Illinois lawmakers is the most bankrupt of the five state-run pension plans – it has just 16 cents for every dollar it should have today to meet its future obligations.
With no unions to oppose reforms, Illinois politicians should lead by example and transition their own pensions into self-managed plans such as 401(k)s.
2. Offer 401(k)s for new workers
The Illinois Supreme Court's ruling on SB1 doesn't affect the retirement plans offered to new government workers.
Illinois lawmakers should follow the lead of states across the country – from Michigan to Oklahoma to Alaska – and adopt self-managed plans for all new state and municipal workers.
And Illinois doesn't have to look far for a model self-managed plan. Illinois' State Universities Retirement System has offered an optional 401(k)-style plan to its employees since 1997. Approximately 18,000 state-university workers have opted into the plan since its creation. Those workers don't have to worry about pension-fund bankruptcy – they own their own retirement accounts.
3. Offer optional 401(k)s to current employees
Government workers shouldn't be trapped in insolvent, politician-run retirement plans over which they have no ownership. Many workers, especially younger ones, believe the current pension system may be broke by the time they retire and would prefer to have self-managed plans. The state should offer opt-in self-managed plans for current workers so they have the option to own and control their own retirement plans.
Click here to see more reforms the Illinois General Assembly can take on immediately, including letting municipalities file for bankruptcy.