Legal food carts roll into Chicago, but roadblocks abound
So far, only two food carts have been licensed to sell tamales in Chicago.
An otherwise ordinary fall day turned joyous on Sept. 24, 2015.
Dozens of food-cart street vendors rallied at Chicago City Hall to show support for an ordinance that would legalize the vendors' trade. Approximately 1,500 food carts – beloved by their communities in Chicago's predominantly Hispanic neighborhoods – had operated in an underground economy for decades.
No longer.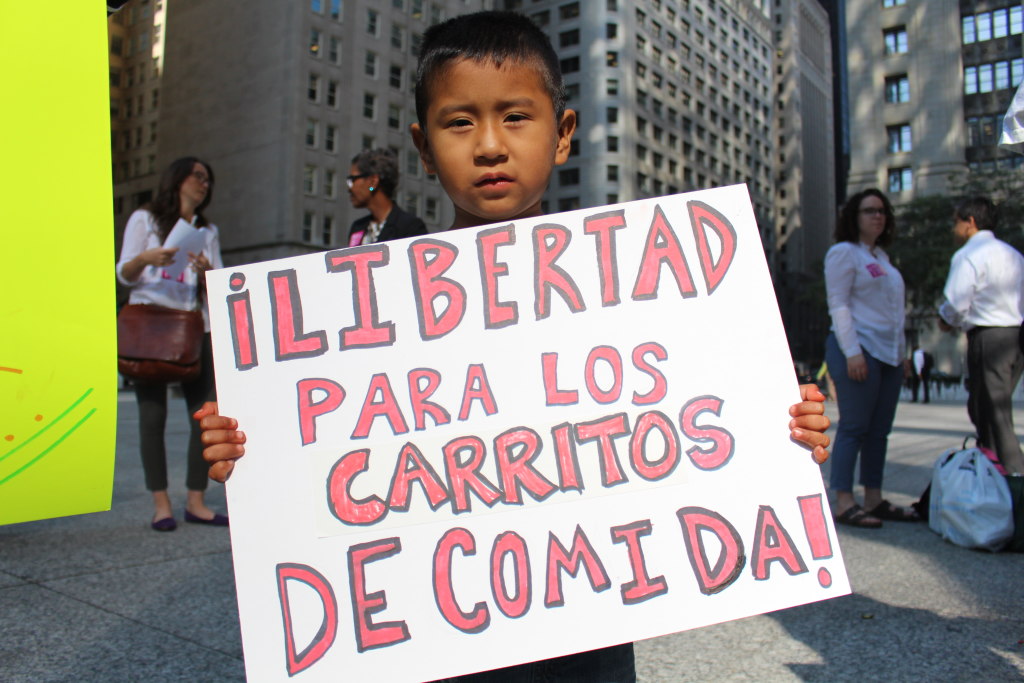 Chicago City Council voted unanimously to legalize food carts. It was a landmark first step for an important part of the city's culinary culture. Longtime vendors, such as Claudia Perez, were overjoyed.
It's now been nearly a year since the confetti settled. But food-cart freedom still has a long way to go in Chicago.
A slow roll
Food-cart legalization came with high hopes.
A 2015 economic analysis by the Illinois Policy Institute showed food carts had the potential to create up to 6,400 new jobs and generate up to $8.1 million in new state sales-tax revenue and up to $8.5 million in new city and county sales-tax revenue.
But that assumed a strong flow of licenses out of City Hall.
Today, a mere four food carts are permitted to roll down city pavement.
The Celio family owns Chicago's first and only licensed tamale carts. Abraham and his wife, Maria, began preparations to start their own restaurant, Yolis Tamales, soon after the city legalized food carts in 2015.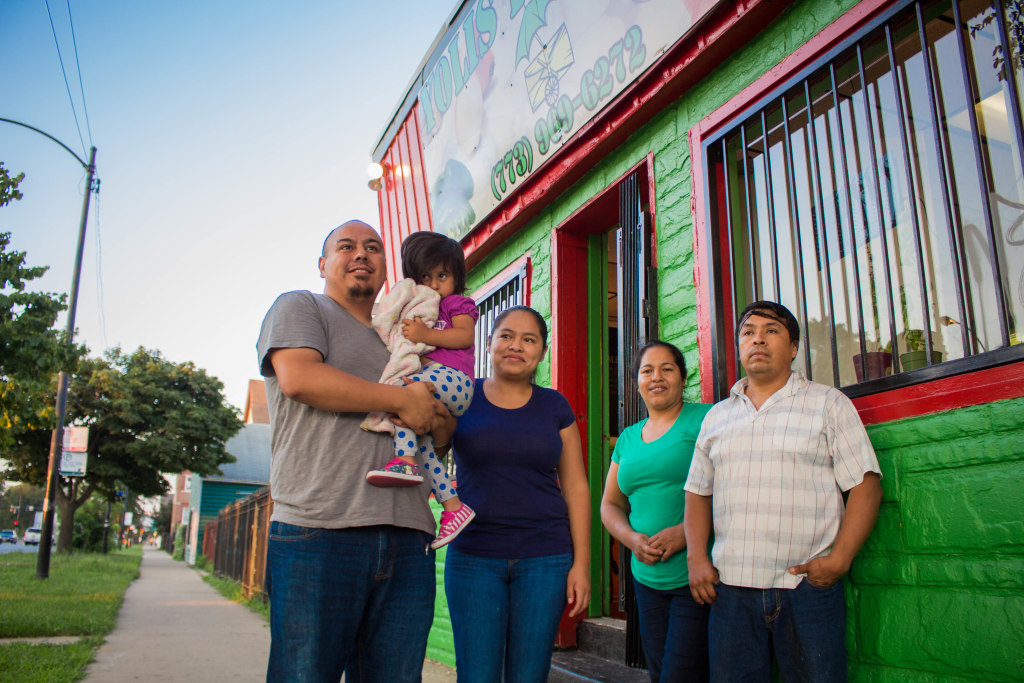 Abraham built the carts himself to fit the ordinance's strict specifications. On June 22, 2016, the city granted him two permits.
"We feel a lot of pride, a lot of happiness," Maria said. "And we feel more secure and confident in selling our food. We aren't working with the fear of being fined."
Abraham is the first member of his family to own a business. He anticipates the revenue from the carts will drive a majority of his profits, while the brick-and-mortar location serves as a home base.
He echoed Maria's sentiments.
"We feel proud and safe," he said. "I feel happy for my father, who doesn't have to worry about police anymore. But at the same time, I feel sad for people who still struggle and have not been able to get the license."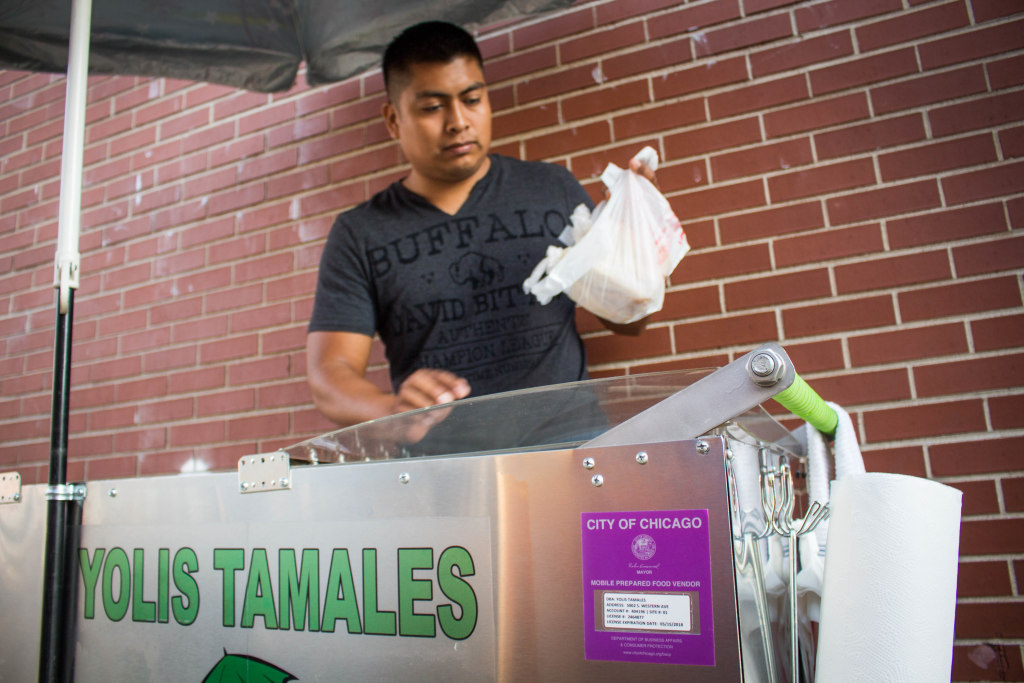 One of the biggest barriers to getting licensed, according to Abraham, is cost.
While major cities such as New York, Boston and Denver charge under $100 annually for food cart licenses, Chicago hits entrepreneurs with a $350 permit fee each year per cart.
Another expensive regulation is the city's requirement that all vendors pre-prepare all food sold from their carts in a licensed commercial kitchen. While the Celio family was able to invest thousands of dollars to build a commercial kitchen of their own, many other vendors would need to use a shared kitchen. This comes with more licensing fees – up to $330.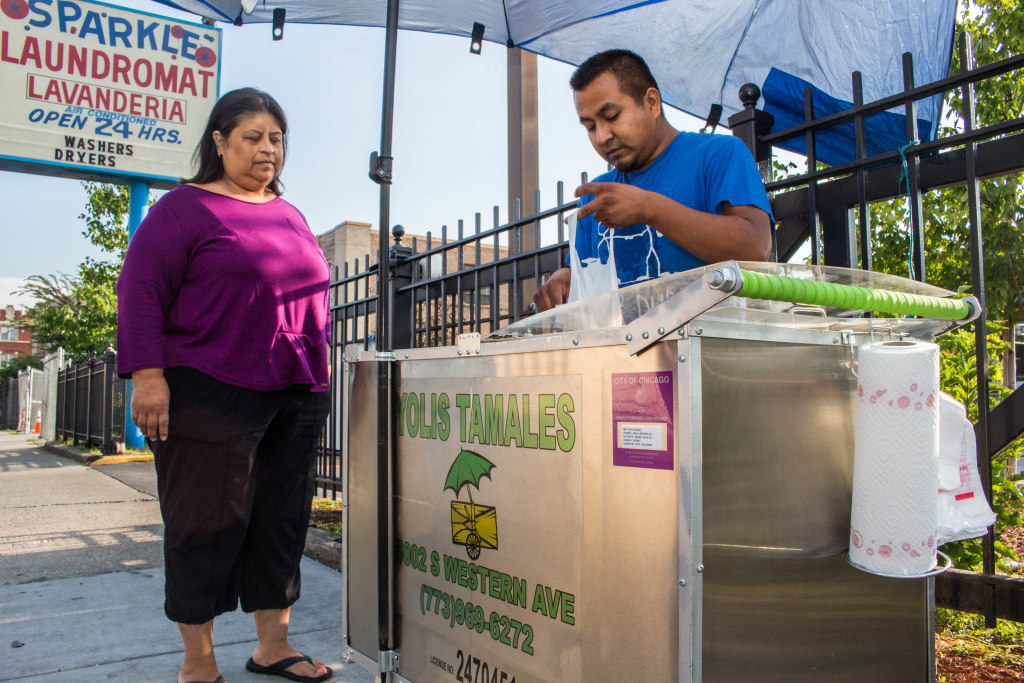 Many of Chicago's low-income entrepreneurs choose the food-cart business due to its low startup costs, but find that on top of rent for the shared kitchen, insurance and the cost of ingredients, it can be difficult to shoulder hefty city fees.
Something's got to give.
Beyond allowing for food preparation on carts, as Chicago did with food trucks in 2012, one major policy lever the city can pull to encourage more legal food carts is pretty simple: Make it cheaper to start up.
One alderman is trying to do just that.
Expanding access
On Sept. 14, Alderman Roberto Maldonado, 26th Ward, introduced an ordinance to reduce license fees for food carts.
The proposed ordinance slashes prices on the following licenses:
Mobile prepared food vendor: to $100 from $350
Shared kitchen, owner: to $350 from $660
Shared kitchen, supplemental: to $200 from $330
Shared kitchen, long-term user: to $200 from $330
Shared kitchen, short-term user: to $50 from $75
Should City Council pass these changes, the cost of getting licensed would drop by more than half for some applicants. It would also encourage the opening of more shared kitchens, slashing the cost of that license nearly in half.
"We have the opportunity to create jobs and generate highly needed revenue for the city of Chicago," Maldonado said. "The first step is breaking down financial barriers by reducing licensing fees. We should be encouraging the entrepreneurial spirit, not limiting it."
Abraham believes lowering these costs would be a big step in the right direction, showing the food-cart community the city is serious about encouraging culinary commerce.
In the meantime, he and Maria are focused on growing their own small business and caring for their daughter, Evelyn.
"It's great that she can grow up in this business environment." Abraham said. "The kitchen has become like a second home for her. Who knows? She might want to hold down the fort someday."