Majority of Illinois metro areas lost jobs in September
The September metro jobs report follows statewide numbers that showed one of the worst months for payroll jobs since the Great Recession.
A majority of Illinois' metro areas shed payroll jobs in September, according to an Oct. 26 data release from the Illinois Department of Employment Security.
Illinois businesses lost jobs in eight metro areas, with the largest losses coming in Danville (down 1.1 percent, losing 300 jobs), Elgin (down 0.7 percent, losing 1,900), Rockford (down 0.5 percent, losing 700) and Champaign (down 0.5 percent, losing 500).
Nonfarm jobs increased in six metro areas, with the largest increases in Kankakee (up 2.3 percent, adding 1,000 jobs), Carbondale-Marion (up 2.0 percent, adding 1,200), and Bloomington (up 1.5 percent, adding 1,400).
Total nonfarm jobs in the Chicago-Naperville-Arlington Heights Metro Division increased (up 0.3 percent, adding 11,100).
Without those Chicago-area gains, the state would have suffered twice as much job loss in September: -0.4 percent instead of -0.2 percent. The data is indicative of a growing divide between the Chicago area supported by big business and a highly skilled population and the rest of the state.
While Illinois has been successful at keeping large businesses and carving out special deals for select companies, it has forgotten that small businesses and entrepreneurs create the most jobs.
According to data from the Bureau of Labor Statistics, jobs growth in the U.S. is driven disproportionately by small businesses.
Small firms accounted for 64 percent of the net new jobs created between 1993 and 2011 (or 11.8 million of the 18.5 million net new jobs). Since the latest recession, from mid-2009 to 2011, small firms, led by the larger ones in the category (20-499 employees), accounted for 67 percent of the net new jobs.
Only Iowa lags behind Illinois in average annual employment growth among neighbor states since the end of the recession. This is not surprising since state policies have favored the haves and forgotten the have-nots.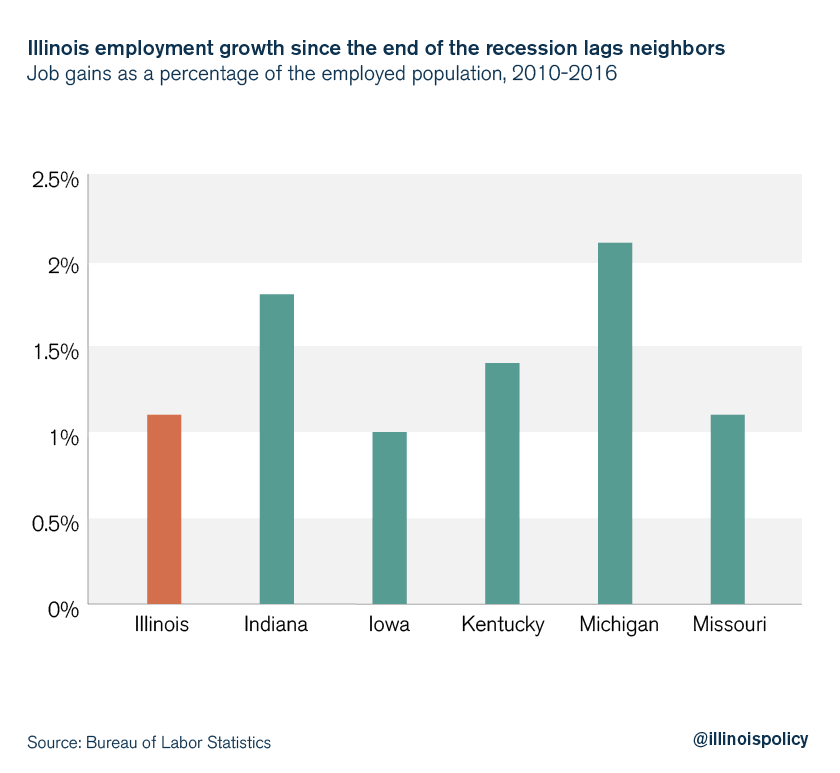 Prevailing wage laws that favor high-wage union workers at the expense of more construction jobs and occupational licensing requirements that are exceptionally burdensome for lower-income workers are just a couple examples of Illinois policies that reduce the growth rate of state employment.
Additionally, Illinoisans keep less of their income after property and income taxes than residents of every surrounding state.
And unfortunately, the largest income tax hike in Illinois history is only going to make matters worse, since higher taxes discourage investment and job creation.