McConnell says he favors allowing states to declare bankruptcy
As Illinois teeters on the edge of a junk credit rating, one key policymaker is floating bankruptcy as a solution.
U.S. Senate Majority Leader Mitch McConnell favors allowing states to declare bankruptcy over offering federal bailouts to mismanaged states. No state has ever formally declared bankruptcy, and it is not currently authorized by federal law.
"I would certainly be in favor of allowing states to use the bankruptcy route. It saves some cities. And there's no good reason for it not to be available. My guess is their first choice would be for the federal government to borrow money from future generations to send it down to them now so they don't have to do that. That's not something I'm going to be in favor of," McConnell said.
McConnell's comments come just days after Illinois Senate President Don Harmon requested a federal bailout for Illinois worth more than $40 billion, including $10 billion in direct pension bailouts. Aside from Harmon's letter, Congress has been facing calls to provide additional financial aid to state and local government as part of stimulus efforts to fight the economic fallout of COVID-19.
McConnell went on to argue many states "have done it to themselves with their pension programs." He's right.
States including Illinois, New Jersey and Connecticut have racked up massive debt burdens through their own policy actions, mostly for public employee retirement benefits. These debts have overburdened taxpayers, limited governments' ability to provide essential services, and endangered the retirement security of public workers who are counting on pension systems doomed to run out of money without reform.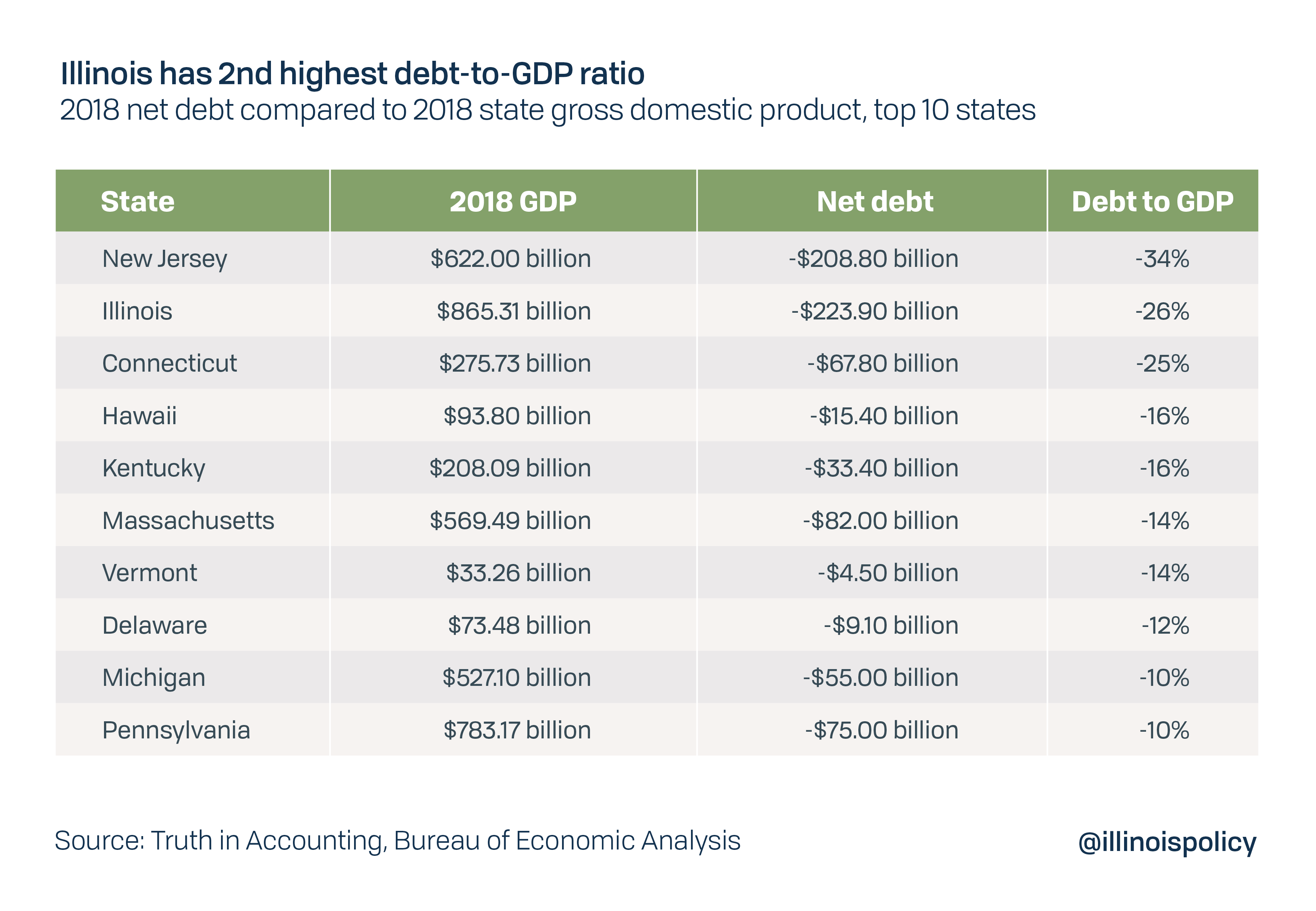 Asking the federal government to bail out these states would unfairly burden taxpayers nationwide who had no role in creating the problem.
Notably, political leaders in New Jersey at least began an effort to fix state finances with structural spending reform before the COVID-19 crisis. New Jersey Senate President Stephen Sweeney, a Democrat and private-sector union official, has been pushing for significant changes to government worker health care and pension systems.
The same cannot be said in Illinois, where leaders have taken no steps to structurally reform the state's largest cost drivers since 2015, when the Illinois Supreme Court blocked an earlier attempt at pension reform. Gov. J.B. Pritzker has consistently opposed an amendment to the state constitution that would allow for pension reform.
Pritzker also said a lot of senators disagree with McConnell about bankruptcy over a bailout for Illinois.
"As the nation grapples with the impacts of this virus, every state is facing budget shortfalls and we need partners in Congress who will work with us on real solutions, instead of using this crisis to propose an ideological Hail Mary," his office stated. "The State of Illinois prioritizes its debt payments and is working to ensure we remain on firm fiscal footing through this crisis and we are working with partners who believe a federal response is needed to address unique challenges of this time."
Illinois is home to the nation's worst pension crisis and lowest credit rating, just one notch above junk status.
A recent report from the Illinois Policy Institute, "Illinois Forward," details the history of the state's self-made financial crisis as well as commonsense reforms to balance budgets, reduce debt and protect taxpayers.
The right way to rescue Illinois is with reform, not bailouts.
If the federal government provides any financial assistance to Illinois or other troubled states, the aid should come with significant strings attached. The federal government should require fiscal constraints that ensure budgets are balanced, accounting is transparent, and pensions are affordable and sustainable for taxpayers.With economic fallout from COVID-19 blowing massive holes in state budgets, reforms must come soon. Eventually, bankruptcy may be the only option.